AMD Launches Ryzen Pro 4000 Series

Following the successful roll-out of its mainstream mobile APUs earlier this year, today AMD is launching the business oriented versions of those chips – the Ryzen Pro 4000 Series.
Like its mainstream counterpart, the new Ryzen Pro 4000 processors are based on the Zen 2 microarchitecture fabricated on TSMC 7-nanometer process. Aimed at the enterprise sector such as large businesses, schools, and other similar organizations that have to manage a large number of devices, the Pro versions include a set of enterprise features not found in the mainstream Ryzen mobile chips. To that end, the new processors offer 24-month image stability and 18-month software stability. These processors offer extended manageability features, supporting things such as Microsoft Endpoint Manager and come with Memory Guard. These are AMD's equivalent of Intel's vPro, AMT, and SIPP. It's worth pointing out the Memory Guard is limited to just TSME.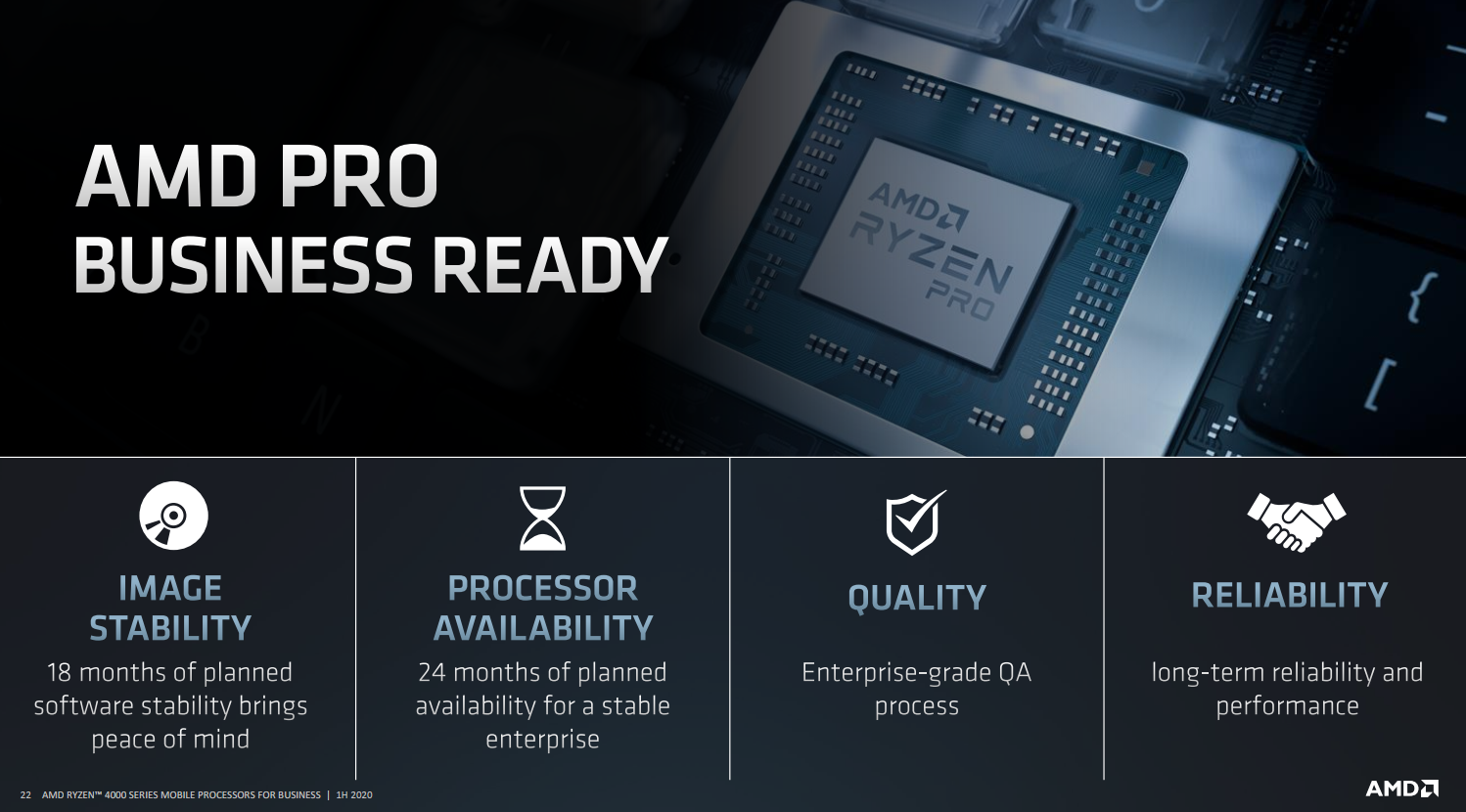 Ryzen Pro 4000 Series
In total AMD is launching three new SKUs one from each of the main Ryzen families (3, 5, and 7). As with the mainstream line, these processors target the 15 W TDP nodebook market and feature four to eight cores and eight to sixteen threads. All models support DDR4-3200 or LPDDR4-4266 and have a configurable TDP-down of 10 W and TDP-up of 25 W. Depending on the mode, they also integrate a Radeon Vega GPU with between 5 and 7 execution units.
Ryzen Pro 4000 Processors
Model
Cores
Frequency
GPU
Frequency
Base
Max
Ryzen 3 PRO 4450U
4 / 8
2.5 GHz
3.7 GHz
Radeon Vega 5
1.4 GHz
Ryzen 5 PRO 4650U
6 / 12
2.1 GHz
4.0 GHz
Radeon Vega 6
1.5 GHz
Ryzen 7 PRO 4750U
8 / 16
1.7 GHz
4.1 GHz
Radeon Vega 7
1.6 GHz
In terms of succession, the new SKUs are designed to succeed the prior Zen+ PRO 3300U, PRO 3500U, and PRO 3700U parts which were released about a year ago. Because Picasso was limited to four cores, the jump from the last generation to the new parts is fairly substantial in terms of multi-threaded performance. AMD says that notebooks based on the new processors should start launching this quarter with more designs launching throughout the year.