Intel Launches Entry-Level Comet Lake Xeon Ws
In late April Intel launched 10th generation desktop processors based on Comet Lake. Today, the company is completing its Comet Lake lineup with the final round of processors – this time targeting entry-level workstations along with new vPro desktop and mobile processors.
Entry-Level Xeon W
The new entry-level workstation processors are being branded as the Xeon W-1200 series, meaning Intel is adding them at the bottom of the Xeon W stack below the W-2200 series and well below the high-end W-3200 series. What's odd about this addition is that the new processors deviate from Intel's historical branding. Normally we would expect these processors to go into the Xeon E family as was done with last generation (Coffee Lake E Refresh). Will Intel insert another series of processors below the W-1200 series or is this the end of the road for the Xeon E family? Since its introduction in 2017, the Xeon W family was reserved to processors based on Intel's server microarchitecture (i.e., Skylake and Cascade Lake). Now, Intel is adding a new series that is based on the client microarchitecture (i.e., Comet Lake). While the difference on the surface might not seem significant, under the hood the entirely different microarchitecture means the core arrangement, cache organization, and even ISA support is entirely different.
Since the W-1200 series is based on Comet Lake, Intel is keeping the socket the same (LGA-1200) whereas the W-2200 and W-3200 rely on the more expensive LGA-2066 and LGA-3647 platforms. At the same time, this limits the chip's capabilities to the standard client 16x PCIe lanes. It's worth pointing out that although these processors are very similar to the mainstream consumer parts, they do require the new W480 chipset and will not work with the new Z490 chipset.
Xeon W-1200 vs. W-2200 vs. W-3200
Series
Xeon W-1200
Xeon W-2200
Xeon W-3200
Microarchitecture
Comet Lake
Cascade Lake
Cascade Lake
Max ISA Support
AVX2
AVX-512
AVX-512
Platform
FCLGA-1200
FCLGA-2066
FCLGA-3647
Price Range
$255 – $539
$294 – $1,333
$749 – $7,453
TDP Range
35 W – 125 W
105 W – 165 W
160 W – 205 W
Cores (Threads)
6 (12) – 10 (20)
4 (8) – 18 (36)
8 (16) – 28 (56)
Memory
2x DDR4-2933
4x DDR4-2933
6x DDR4-2933
PCIe Lanes
16
48
64
Max Turbo
4.4 GHz – 4.8 GHz
3.9 GHz – 4.6 GHz
4.0 GHz – 4.4 GHz
Turbo Max
4.7 GHz – 5.1 GHz1
4.7 GHz – 4.8 GHz1
4.2 GHz – 4.6 GHz
1 – Not all SKUs support TBM3/TVM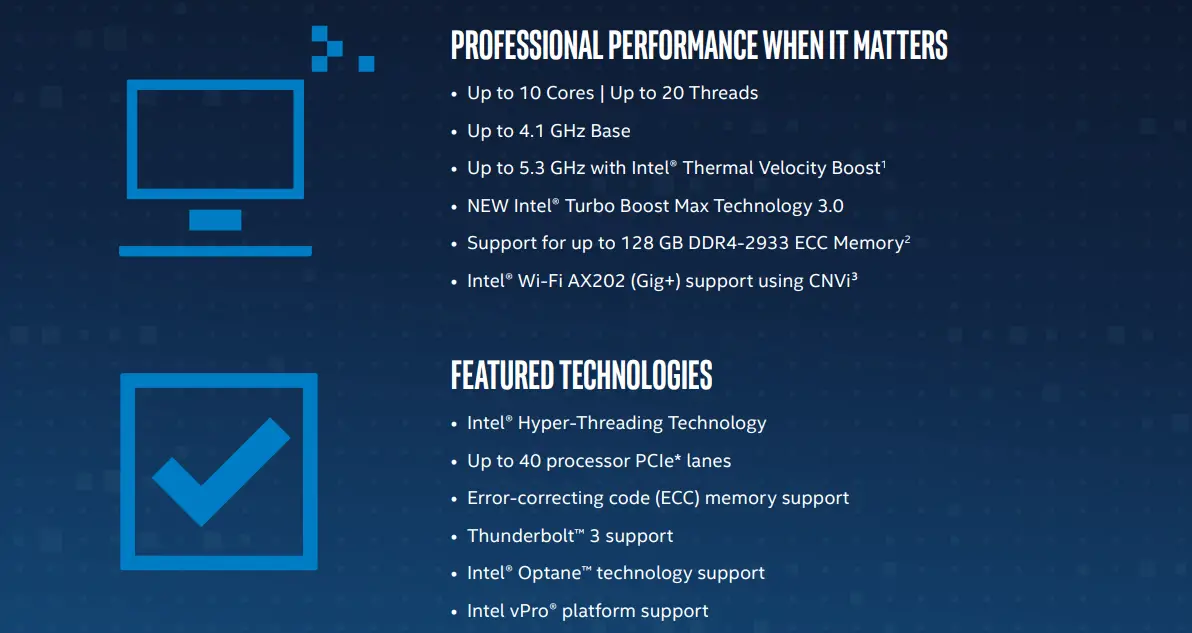 W-1200 Series
In total 7 desktop workstation processors and 2 additional mobile workstation processors are being announced. The mobile SKUs actually go by the W-1000 series branding and have a 'M' suffix denoting a 15 W TDP model. The desktop variants come in three different TDP ranges. The standard SKUs are all 80 W while the low-thermal versions (T-suffixed SKUs) are 35 W. Additionally, Intel is introducing a new 'P' suffix denoting a performance model with a much higher TDP of 125 W. All models come with UHD Graphics P630, support up to 128 GiB of DDR4-2933 ECC memory, and they are are all vPro-enabled meaning they come with all the usual enterprise features from Intel including AMT and EMA management technologies as well as 15-month stable image guarantees.
CML Xeon W Processors
Model
RCP
C/T
TDP
L3
Frequency
Base
Turbo
Desktop Workstation
W-1250
$255
6C/12T
80 W
12 MiB
3.3 GHz
4.4 GHz
W-1250P
$311
6C/12T
125 W
12 MiB
4.1 GHz
4.5 GHz
W-1270
$362
8C/16T
80 W
16 MiB
3.4 GHz
4.7 GHz
W-1270P
$428
8C/16T
125 W
16 MiB
3.8 GHz
4.7 GHz
W-1290T
$494
10C/20T
35 W
20 MiB
1.9 GHz
4.7 GHz
W-1290
$494
10C/20T
80 W
20 MiB
3.2 GHz
4.6 GHz
W-1290P
$539
10C/20T
125 W
20 MiB
3.7 GHz
4.8 GHz
Mobile Workstation
W-10855M
6C/12T
45 W
12 MiB
2.8 GHz
? GHz
W-10885M
8C/16T
45 W
16 MiB
2.4 GHz
? GHz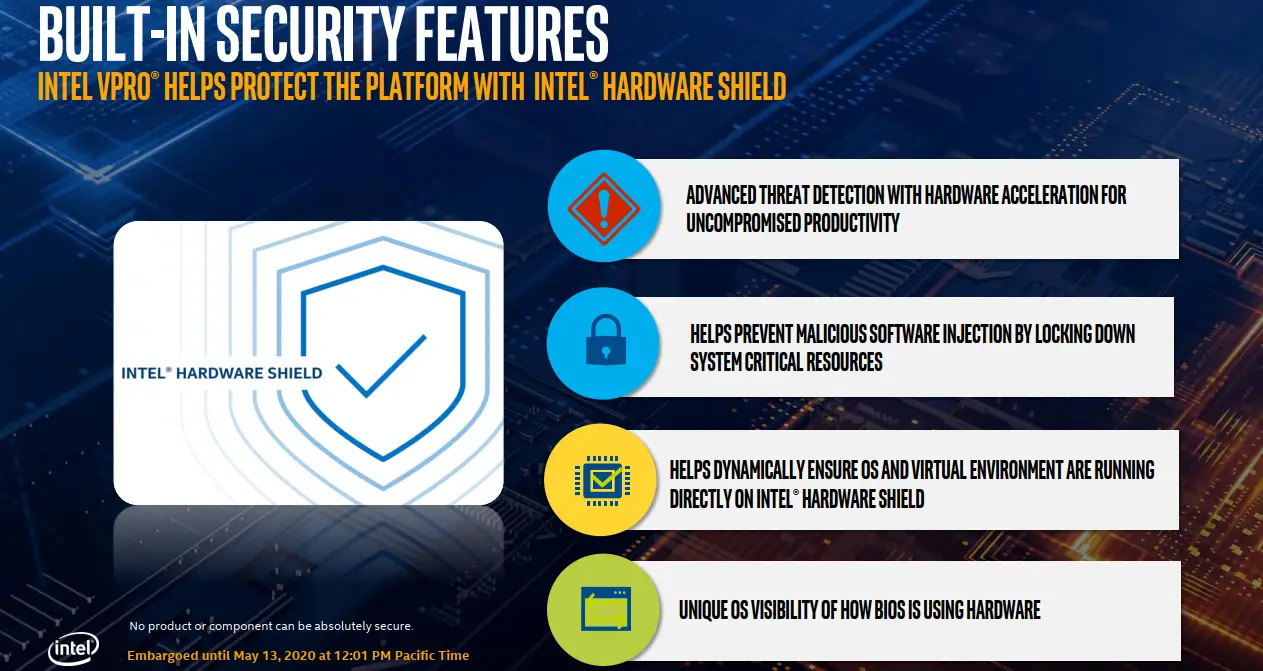 ---
Related Articles
---