Intel Launches New Comet Lake 10th Gen Mobile Processors With More Cores, LPDDR4X Memory
Two weeks ago Intel launched the first series of 10th Generation Core processors based on the Ice Lake microarchitecture. Today, Intel is launching more 10th Gen processors. Those processors, however, are not based 10-nanometer Ice Lake but instead what's essentially another 14-nanometer refresh – with a minor twist. Intel says that over 90 designs are on their way to hitting retail shelves for the holiday season this year.
When comparing the two 10th Gen architectures, Intel is positioning Comet Lake above Ice Lake when it comes to productivity tasks. They clock much higher and Intel is offering up to six cores with Comet Lake. Likewise, Ice Lake is positioned slightly below Comet Lake in the product stack with only up to four cores and slightly lower frequencies – albeit on improved Sunny Cove cores – but with a new I/O Thunderbolt 3 subsystem and a fairly powerful integrated graphics.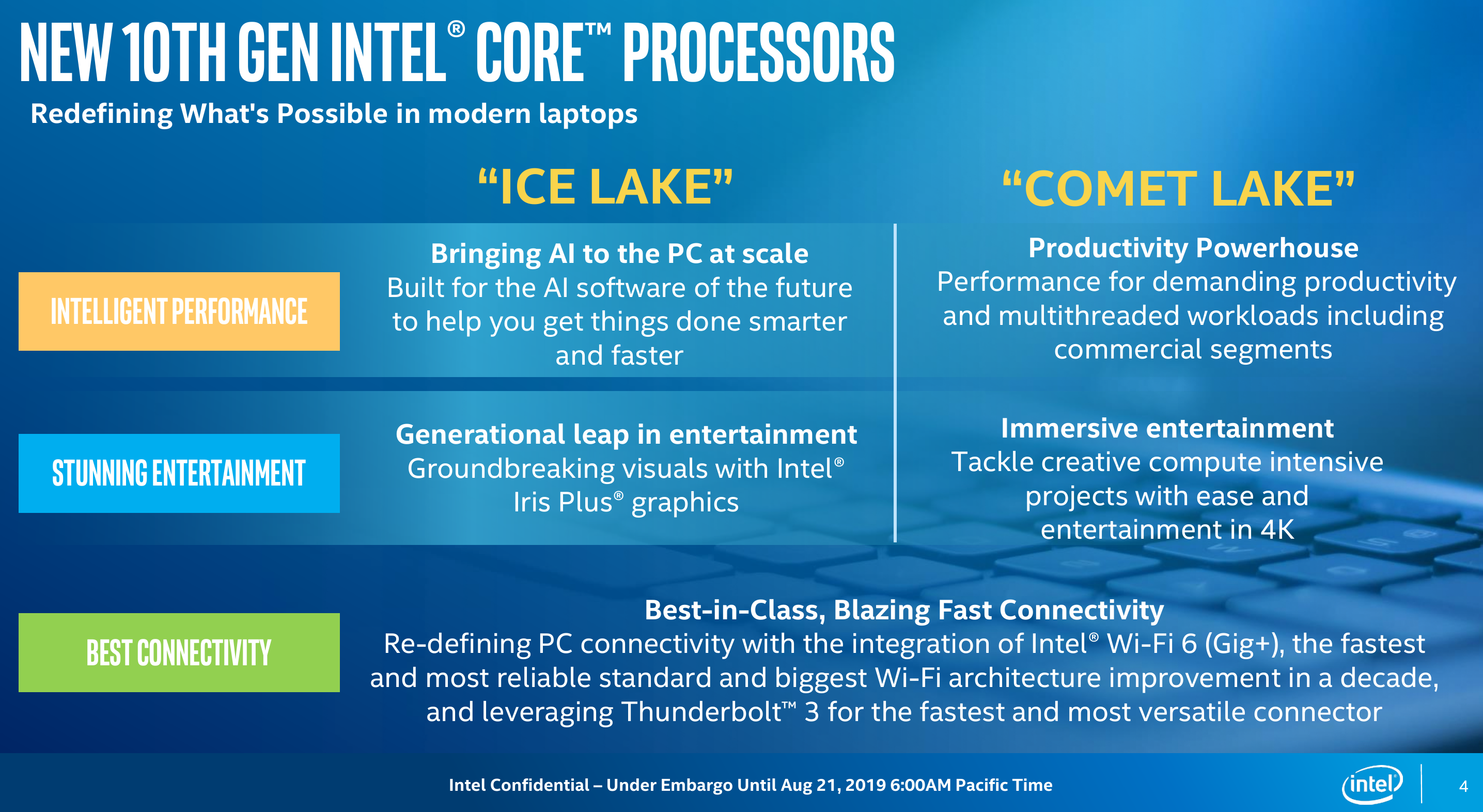 Same Generation, Two Architecture, And a Messy Naming Scheme
The two architectures can be differentiated based on the suffix. Ice Lake will have a graphics tier suffix ranging from G1 to G7. Comet Lake will have the more traditional naming scheme with the U and Y suffixes representing the Y and U Series.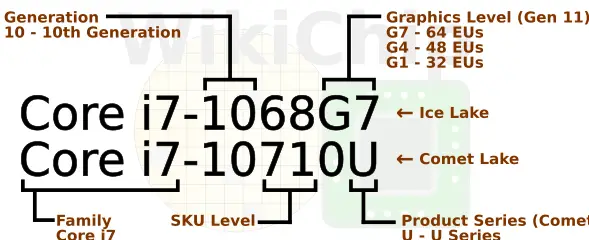 A Refresh – With a Twist
Comet Lake is very much another refresh, building on top of Whiskey Lake U. Though Intel isn't exactly standing still even on their 14-nanometer. One of the new additions to 10th Gen is the introduction of a new hexa-core processor. This is the first mainstream mobile series to feature six cores. Previously this core count was reserved to Intel's premium performance H-series.
One very interesting feature with Comet Lake is the addition of LPDDR4X memory support of up to 2933 MT/s in the U series. This is possibly the very first 10-nanometer IP to get back-ported back to 14-nanometer. This means that in terms of memory interfaces, Comet Lake reached parity with Ice Lake. However, it's worth noting that Ice Lake supports significantly higher data rates – up to 3733 MT/s. This is almost 30% lower bandwidth or roughly 47 GB/s versus the 60 GB/s of Ice Lake. In terms of bandwidth per core for the quad-core parts, you are looking at a peak of roughly 15 GB/s on Ice Lake and 11.75 GB/s on Comet Lake.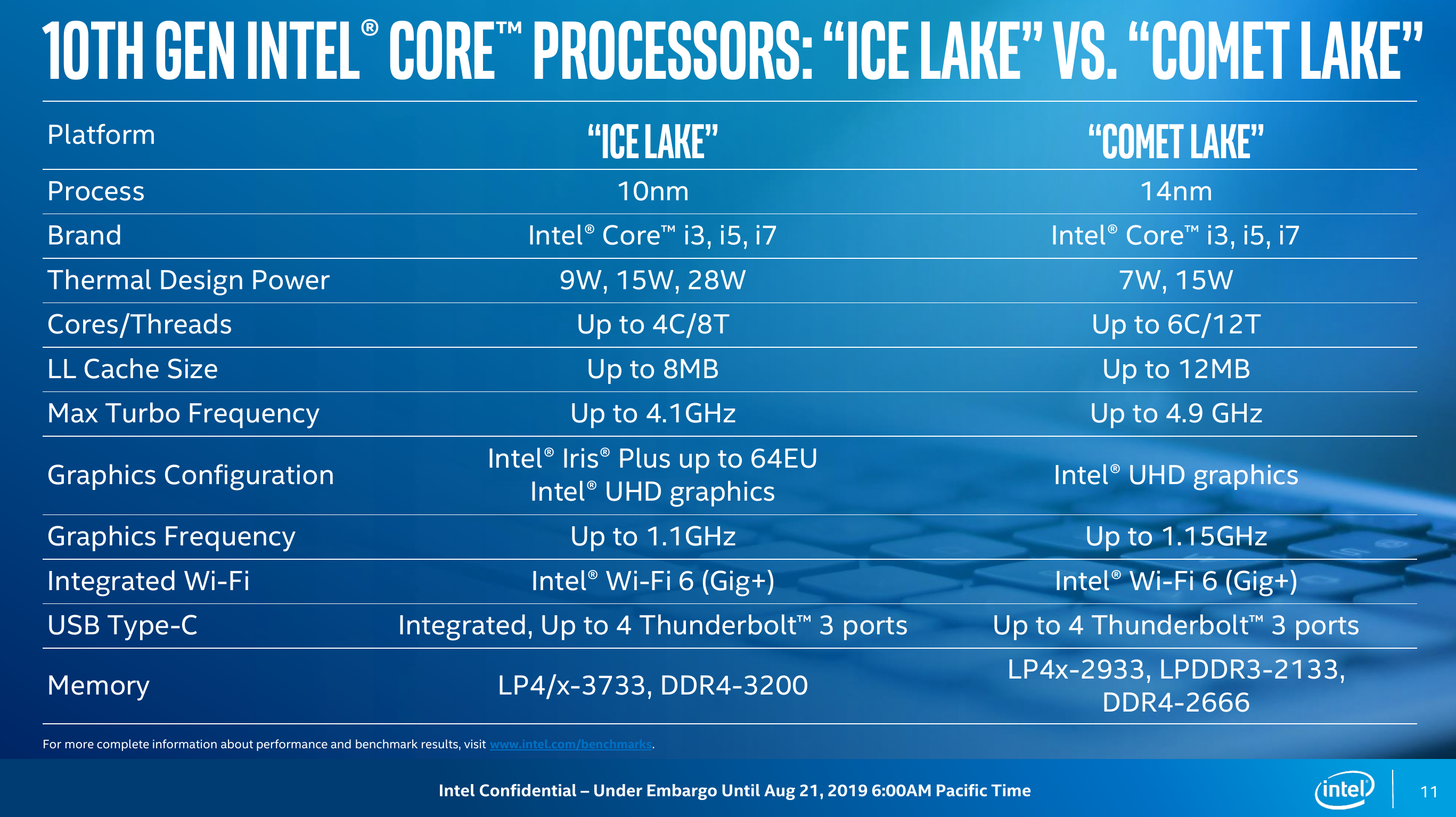 SKU List
In total eight new processors are being launched – four U series and four Y series. All the U parts are 15 W TDP with a configurable TDP-up of 25 W while the Y parts are all 7 W TDP with a configurable TDP-down of 4.5/5.5 W and TDP-up of 9 W. Note that there is just one six-core 15 W U-series part.
10th Generation Mobile "Comet Lake" Processors
Model
C/T
Base
Turbo
GPU
Single
All
EUs
Turbo
U-Series
Core i7-10710U
6/12
1.1 GHz
4.7 GHz
3.9 GHz
24
1.15 GHz
Core i7-10510U
4/8
1.8 GHz
4.9 GHz
4.3 GHz
24
1.15 GHz
Core i5-10210U
4/8
1.6 GHz
4.2 GHz
3.9 GHz
24
1.10 GHz
Core i3-10110U
4/8
2.1 GHz
4.1 GHz
3.7 GHz
23
1.00 GHz
Y-Series
Core i7-10510Y
4/8
1.2 GHz
4.5 GHz
3.2 GHz
24
1.15 GHz
Core i5-10310Y
4/8
1.1 GHz
4.1 GHz
2.8 GHz
24
1.05 GHz
Core i5-10210Y
4/8
1.0 GHz
4.0 GHz
2.7 GHz
24
1.05 GHz
Core i3-10110Y
2/4
1.0 GHz
4.0 GHz
3.7 GHz
24
1.00 GHz