Intel launches the Xeon D-2100 series of low-power edge processors
Today Intel has launched their lower-power series of microprocessors based on the Skylake server microarchitecture. The Xeon D-2100 series is very similar to the Skylake-SP (Xeon Scalables) processors but are specifically designed for dense edge networking, IoT and cloud servers.

SKUs
Intel Xeon D-2100 Series
Model
Cores
Base
Turbo (All)
Turbo (Max)
TDP
Price
Edge Server and Cloud SKUs
D-2191
18
1.6 GHz
2.2 GHz
3.0 GHz
86 W
$2,407.00
D-2161I
12
2.2Â GHz
2.8Â GHz
3.0Â GHz
90 W
$962.00
D-2141I
8
2.2Â GHz
2.7Â GHz
3.0Â GHz
65 W
$555.00
Network Edge and Storage SKUs
D-2183IT
16
2.2Â GHz
2.8Â GHz
3.0Â GHz
100 W
$1,764.00
D-2173IT
14
1.7Â GHz
2.3Â GHz
3.0Â GHz
70 W
$1,229.00
D-2163IT
12
2.1Â GHz
2.6Â GHz
3.0Â GHz
75 W
$930.00
D-2143IT
8
2.2Â GHz
2.7Â GHz
3.0Â GHz
65 W
$566.00
D-2142IT
8
1.9Â GHz
2.5Â GHz
3.0Â GHz
65 W
$438.00
D-2123IT
4
2.2Â GHz
2.7Â GHz
3.0Â GHz
60 W
$213.00
Integrated Intel QuickAssist Technology SKUs
D-2187NT
16
2.0Â GHz
2.4Â GHz
3.0Â GHz
110 W
$1,989.00
D-2177NT
14
1.9Â GHz
2.3Â GHz
3.0Â GHz
105 W
$1,443.00
D-2166NT
12
2.0Â GHz
2.3Â GHz
3.0Â GHz
85 W
$1,005.00
D-2146NT
8
2.3Â GHz
2.5Â GHz
3.0Â GHz
80 W
$641.00
D-2145NT
8
1.9Â GHz
2.5Â GHz
3.0Â GHz
65 W
$502.00
No low-power SKUs?
One thing that sticks out is the fact that there are actually no parts under 60 W. While those parts are in fact the lowest-power Skylake-based server processors, prior Xeon D generation (based on Broadwell) featured parts with a TDP as low as 20 W with most parts being around 35-45 W. This is a rather large change. It's possible we might see lower TDP SKUs later on, but for the time being there is a missing upgrade path for many of those lower TDP parts.
Single-chip solutions
Like prior generation of Xeon D processors, those new processors are also a single-chip solution. That is, both the chipset and the processor die is incorporated into the same package, resulting in a fairly dense server solution.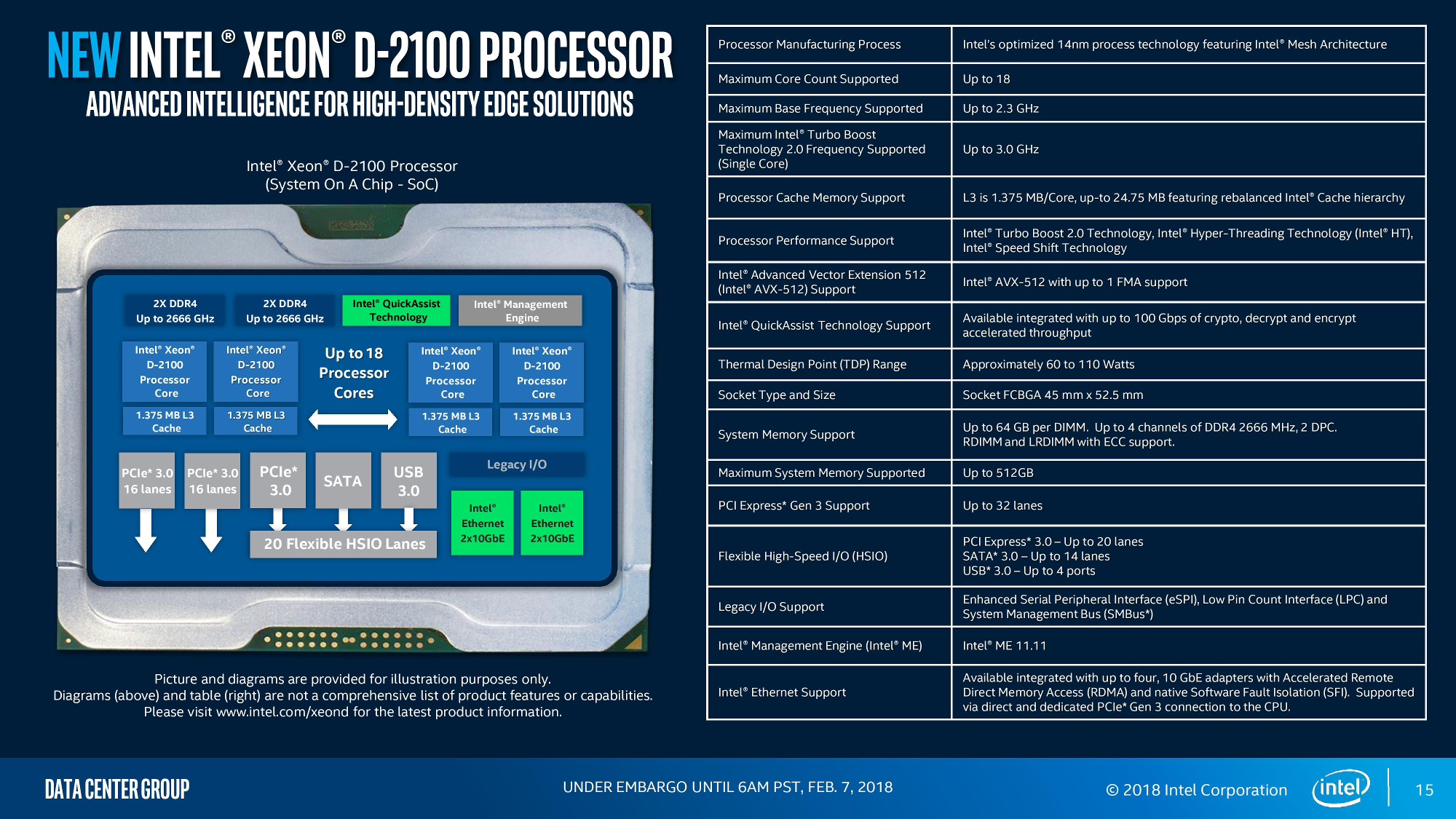 In addition to the 32 PCIe lanes from the microprocessor itself, provided from the chipset is 20 configurable high-speed I/O (HSIO) lanes. Those lanes can be confirmed as either up to 20 PCIe lanes, up to 14 SATA 3.0 lanes, or up to 4 USB 3.0 ports.
Segmentation
For the most part, all of those Skylake DE parts have all the features enabled. The main differentiation is frequency and core count. Where the segmentation comes in is in the application. All the SKUs can have one of the three suffixes:
I – Integrated Ethernet. Those SKUs have four 10 Gbp Ethernet ports (just requires an external PHY)
T – High Temperature. Those SKUs have a package TCASE rating of 90 °C
N – Integrated Ethernet & QuickAssist Technology. Those SKUs have both integrated Ethernet as well as Intel's QuickAssist technology
Features
All Xeon-D models are based on Intel's server Skylake microarchitecture and range from 4 to 18 cores, meaning it's making use of the low core count and the high core count die variants.
All the SKUs support 512 GiB of four channels ECC DDR4 memory which is double the memory channels and more than double the bandwidth versus previous generations.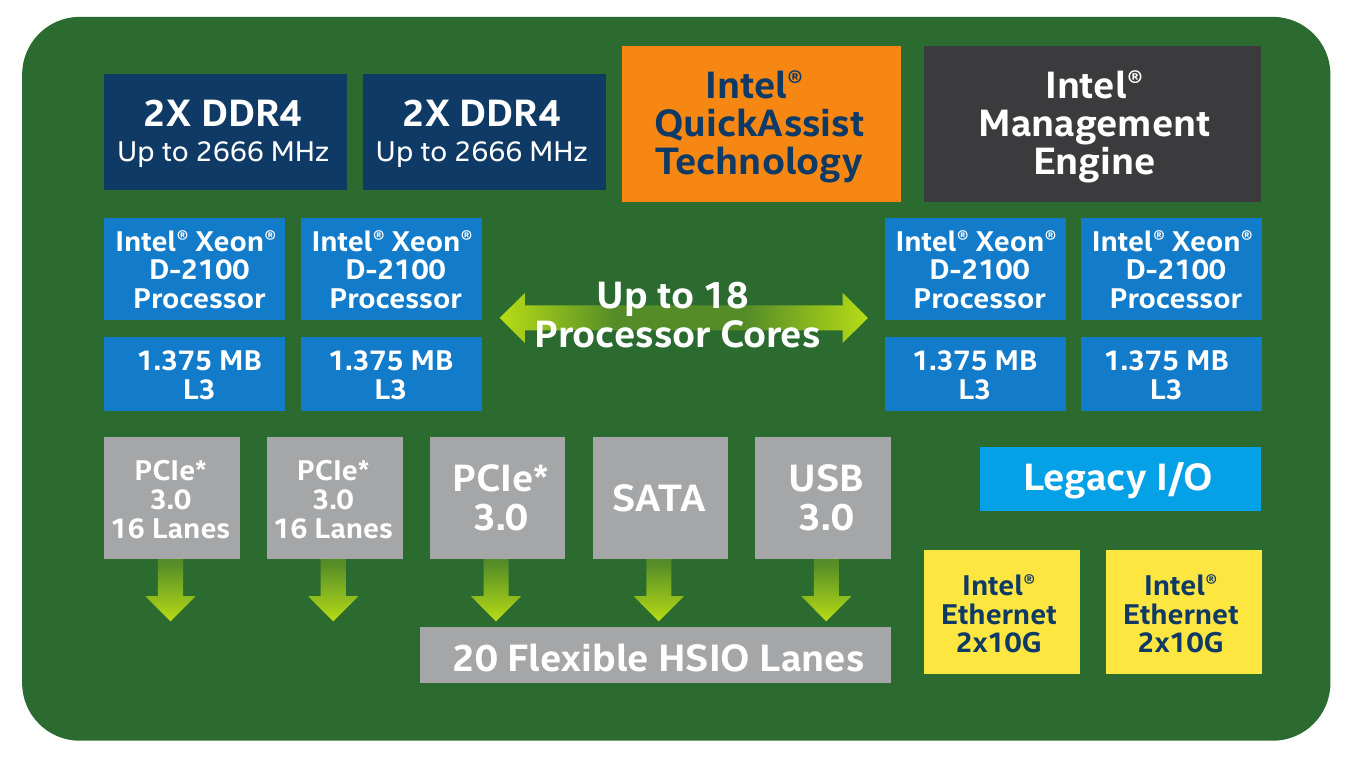 Being based on the Skylake server microarchitecture means those chips do use the new Mesh architecture. All parts also have AVX-512 support but only support a single FMA unit.
Performance Claims Fine Print
As usual, we do not bother with reporting the manufacturer performance claims. However, one thing did catch our attention.

Benchmark results were obtained prior to the implementation of recent software patches and firmware updates intended to address exploits referred to as "Spectre" and "Meltdown". Implementation of those updates may make these results inapplicable to your device or system.
This statement has started appearing in all recent Intel presentations since their disclosures. Performance claims were done before applying the recent Spectre and Meltdown mitigations to which those parts are inherently vulnerable to.