X-Gene 3 gets a second chance at Ampere with a new 32-core 16nm ARM processor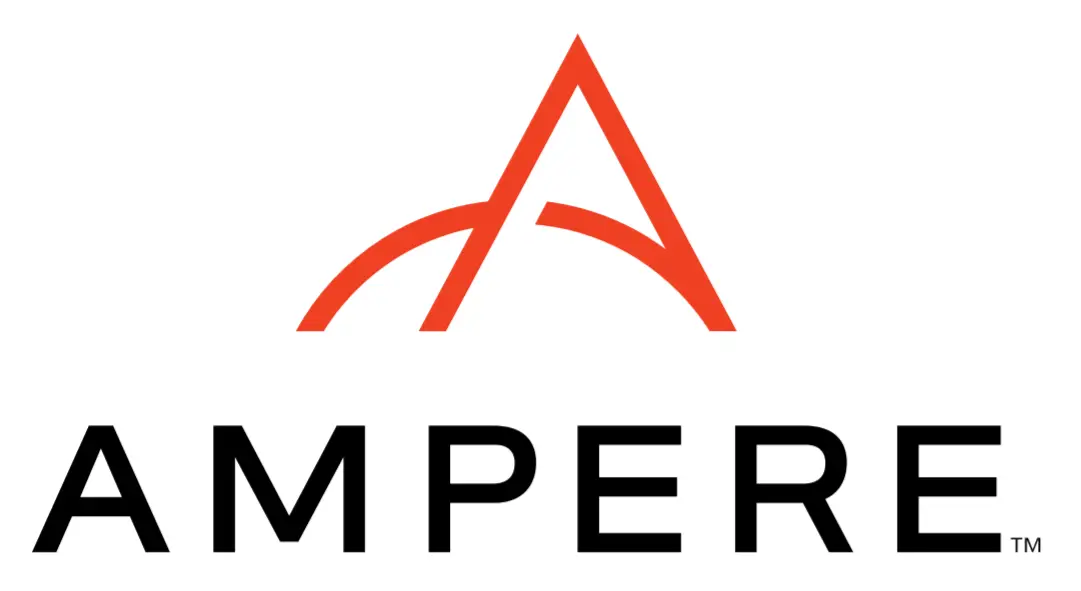 Earlier today a new company has emerged with an announcement of a new 32-core ARM server processor.
Before diving into their chip, it's worth touching on the company itself. Ampere Computing is a new fabless company financed by the Carlyle Group. Their main focus is CPU design for high-performance cloud datacenters.
Ampere is led by CEO and chairman Renee James, a 28-year Intel veteran and former president. Ampere senior team also consists of chief architect Atiq Bajwa, another 30-year Intel veteran architect, EVP of hardware, Rohit Vadwans, 26-year Intel veteran former head of platform engineering, and Sr. fellow Greg Favor, ex AMD fellow and K6/7 team and AMCC Arm lead architect.
A New Chip? Not Exactly
So where is this new processor coming from? Back at HotChips 26 in 2014 AppliedMicro presented their second-generation custom core – the X-Gene 2 based on the 28nm Shadowcat microarchitecture. In their presentation, AppliedMicro discussed their future roadmap which introduced the X-Gene 3. The X-Gene 3 was planned for TSMC's 16nm process based on a their new Skylark microarchitecture design.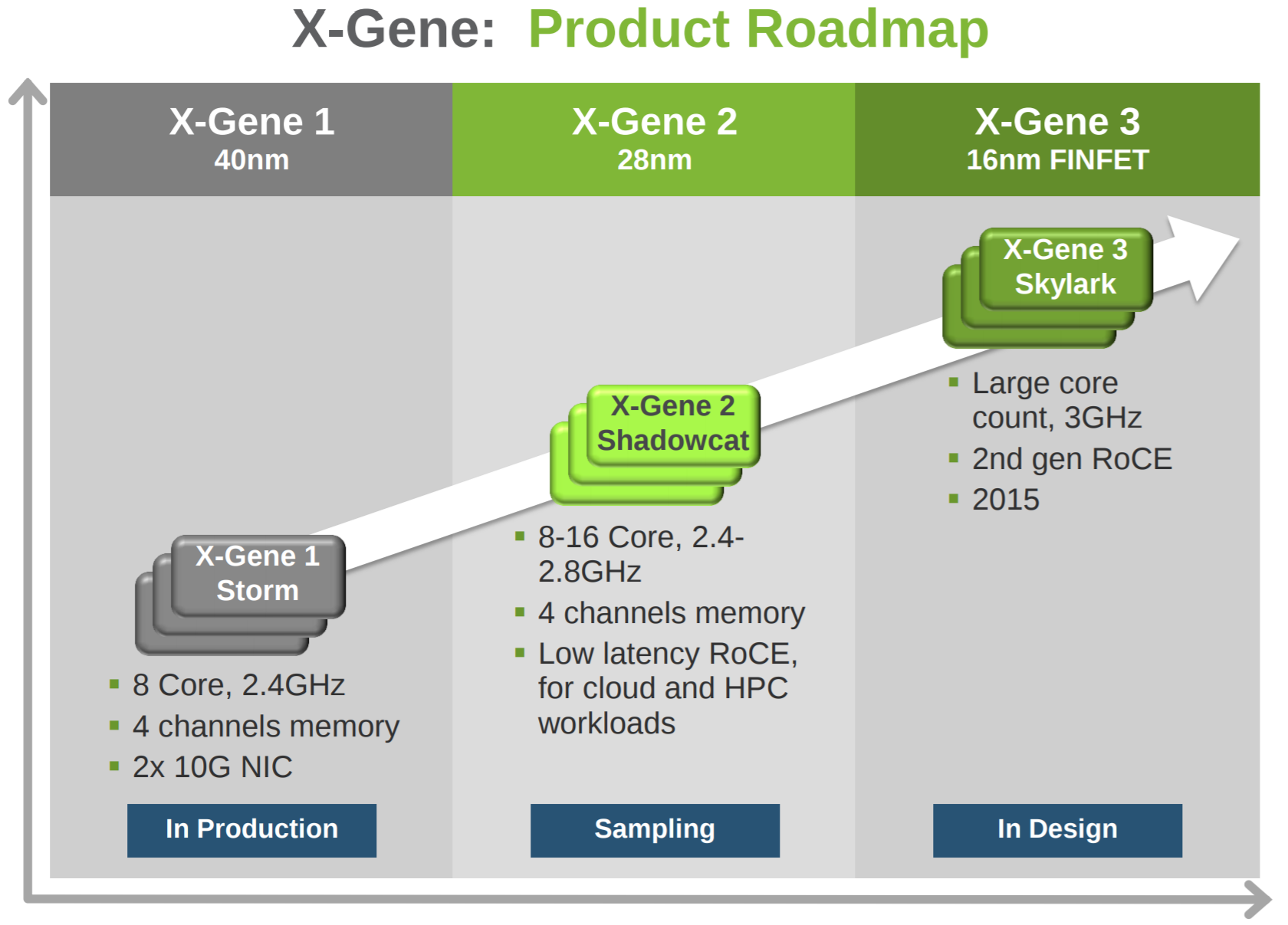 X-Gene 3, however, never made it to mass production. Suffering from losses from previous generation of server processors, AppliedMicro sold to Macom by late 2016. Macom was never particularly interested in X-Gene 3 although they considered it a fairly valuable asset. In March 2017, Macom announced that the X-Gene 3 was finally sampling. Around the same time, Macom began soliciting offers for the assets which is where the Carlyle Group comes into this story. Carlyle Group, a private investment firm, bought the IP and assets from Macom – this includes the designs, team, and just as important, the ARMv8 architectural license.
Long story short, Ampere is the reincarnation of AppliedMicro's original X-Gene 3 (a Skylark design).
The odd part is that up until last week, Ampere listed much of this info on their website. However, with today's announcement, it seems that any mention of "X-Gene 3" or "Skylark" has been expunged from their product page. Additionally, Ampere has told us that the current architecture codename is no longer Skylark either. We're not really sure why that is given X-Gene was a fairly recognizable brand but it's pretty clear that they are trying to build a brand new name for themselves.
eMAG
Ampere's first product, eMAG, taped out already and is sampling to customers. We're hearing that general availability should be around mid-year. Ampere has also stated that second and third generation chips are already in development. We were told by Ampere that they have made various improvements and added features to the original Skylark design although they didn't go into detail.
Fabricated on TSMC's 16FF+ process, Amperes claims to be 90% higher performance per dollar versus Intel's Xeon Silver and over 40% high performance per watt over Intel's Xeon Gold.
Ampere's initial product is a 32-core, 32-thread single-sockets ARMv8 microprocessor. The original X-Gene 3 was supposed to operate at 3 GHz with a turbo of 3.3 GHz and an estimated TDP between 110 W and 125 W. Ampere's chip has a 3.3 GHz turbo and a TDP of 125 W and while they've not disclosed the base frequency, we expect it to be around 3 GHz.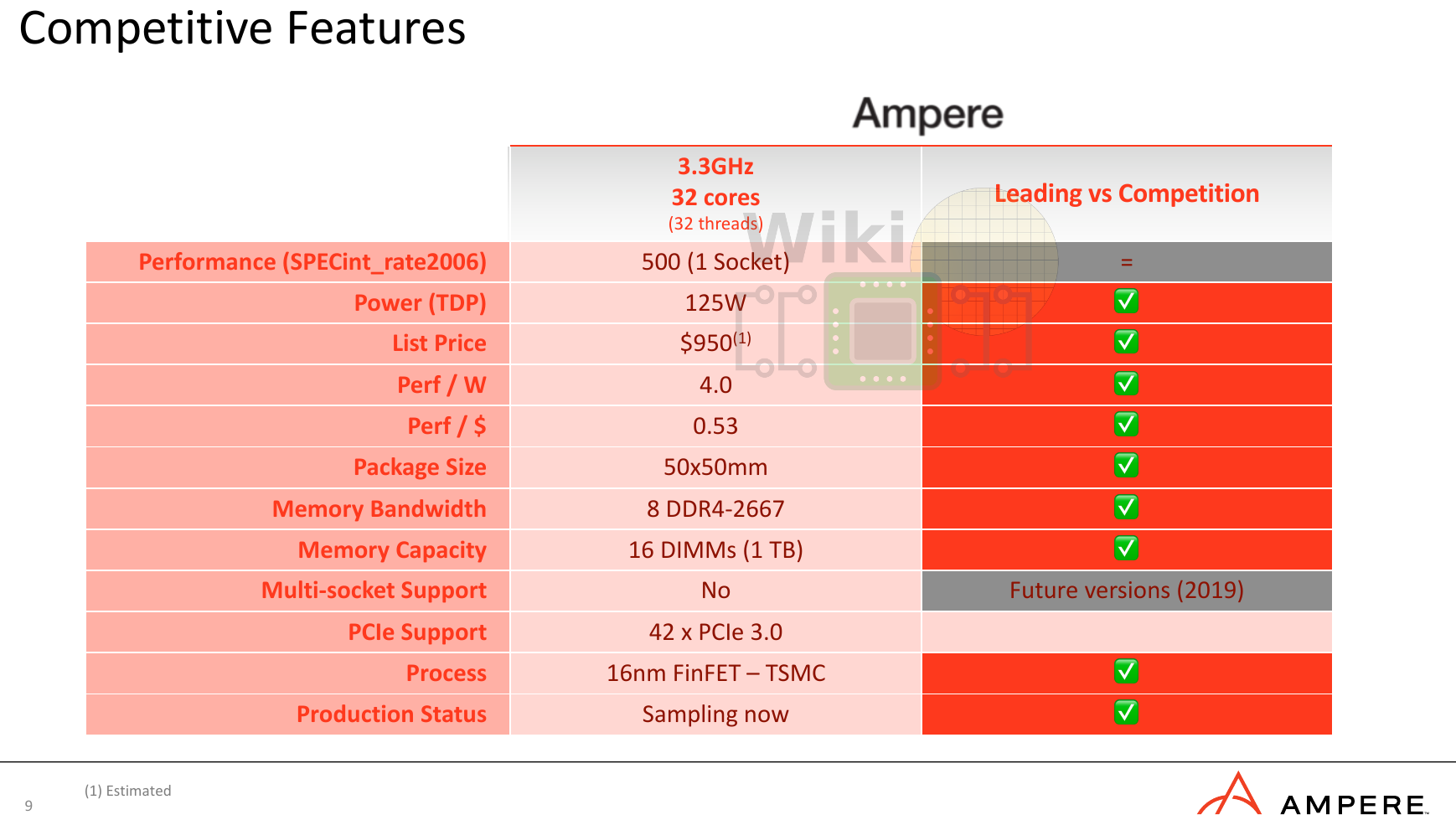 Ampere's current chip is a single-socket solution, but from the table, above we can see that they have multiprocessing support planned for next year, likely with their next-generation chip.
The specific details of the core architecture have not been disclosed, but the 32 custom cores consist of 16 core duplexes which are attached to a coherent switch. Attached to this switch is the 32 MiB of level 3 cache as well as eight 64-bit DDR4-2667 ECC-enabled memory controllers. With up to 16 DIMMs for a total of 1 TiB, with the eight memory controllers, the chip will have a maximum bandwidth of 171 GB/s – the highest of the currently available options, only matched by Cavium's ThunderX2 and AMD's EPYC.
This processor also incorporates 42 lanes of PCIe Gen 3, 4 SATA Gen 3 ports, and 2 USB 2.0 ports.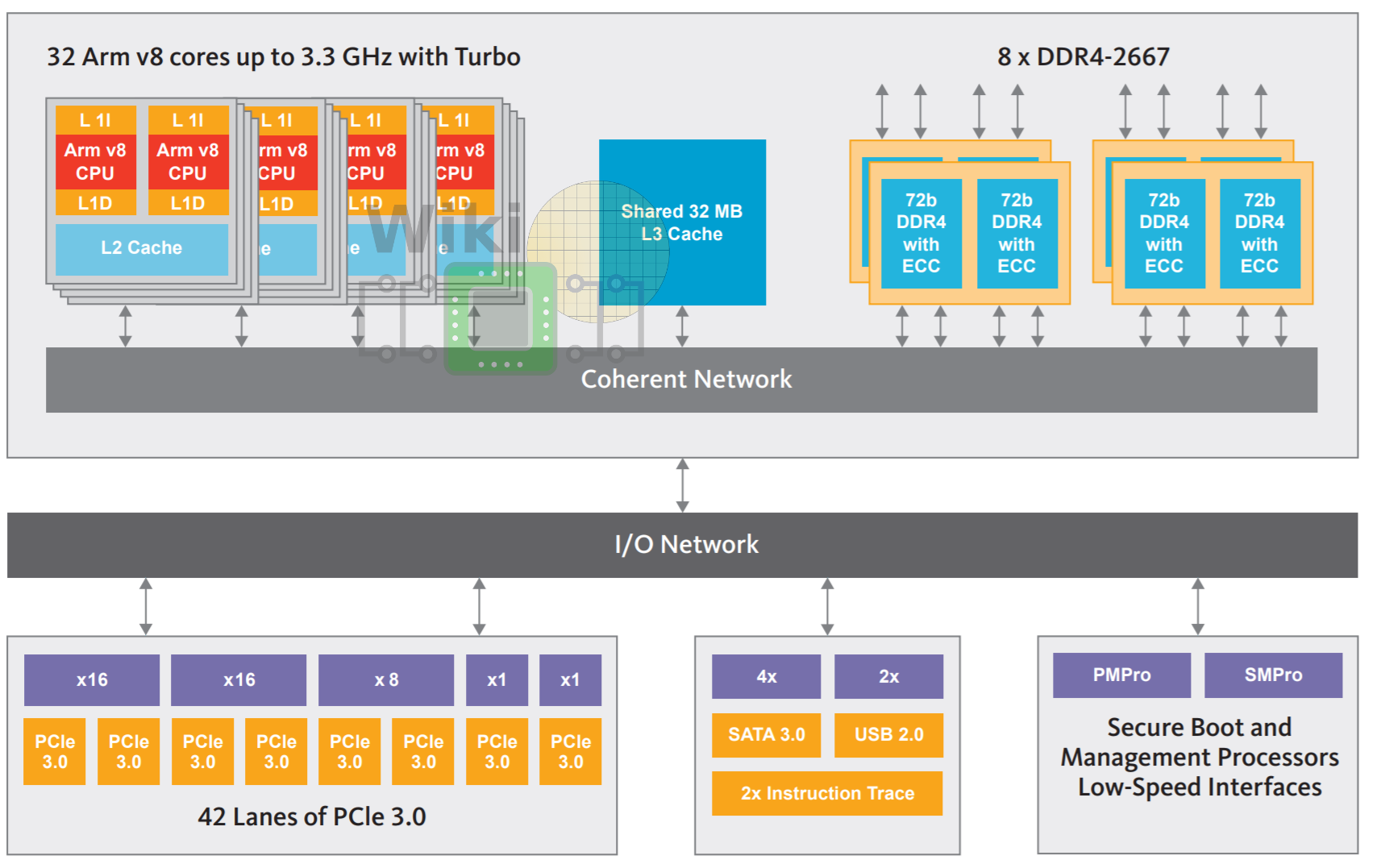 At around $950, this processor is fairly competitive but it's not alone in this market, there are other established ARM designers such as Cavium and most recently Qualcomm as well smaller players such as Socionext. Back in November, Qualcomm launched their Centriq processors with the cheapest model, the Centriq 2434, costing just $888 and integrating 40 cores but with 6 memory channels and only 32 PCIe lanes.
The ARM Ecosystem
The ARM ecosystem is still playing catch-up but Ampere seems convinced the time is right. They listed cloud workloads that they consider fairly optimized for their chip.
The company has recruited some serious talent but Ampere's attempt to penetrate the server market will quickly prove to be a fairly expensive endeavor. For them to succeed this processor needs to hit it out of the park. If it doesn't, their next-generation chip will absolutely have to in order for funding to not run out.