Leaked Intel Server Roadmap Shows Sapphire Rapids With DDR5/PCIe 5.0 For 2021, Granite Rapids For 2022
Intel's server roadmap going all the way out to 2022 has surfaced in a Huawei event presentation. Just last week the company announced the Sapphire Rapids codename for the first time. Intel confirmed that Sapphire Rapids will succeed both Cooper Lake and Ice Lake in the 2021 timeframe.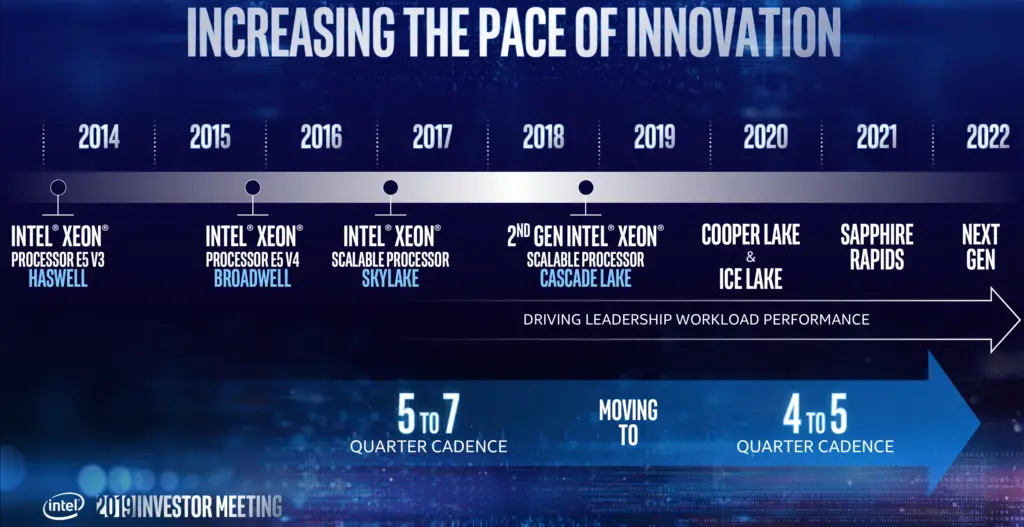 Leaked Roadmap
The leaked roadmap is from an April 2019 Huawei event presentation at Saint Petersburg.
Cooper Lake & Ice Lake
Perhaps the most interesting part of the lineup is Cooper Lake which will come in two flavors – Cooper Lake SP and Cooper Lake P (though it's unclear if that meant to be 'AP'). Cooper Lake P appears to target 4-way and 8-way SMP while Cooper Lake SP is aimed at 2-way SMP. In terms of platform features, both Ice Lake SP (10nm) and Cooper Lake SP (14nm) are fairly similar as they are both compatible with the Whitley platform. Both variants will have eight channels of DDR4 memory with Cooper Lake staying with PCIe Gen 3 while Ice Lake moving to PCIe Gen 4. If the roadmap is accurate on the core count, we can expect up to 48 cores from Cooper Lake and up to 26 cores with Ice Lake. It's worth pointing out that Ice Lake in this roadmap is only listed under the 2-socket category which may or may not mean there might be other configurations not shown in this roadmap. Also note that Ice Lake incorporates Sunny Cove cores.
A third variant, Cooper Lake P, is a little bit more interesting. It appears to make use of a different "Cedar Island" platform instead of the Whitley platform. According to the roadmap will feature 2 more UPI links for a total of 6 as well as 26 cores or less.
Sapphire Rapids
Sapphire Rapids SP is placed at Q1 2021 which does confirm Navin Shenoy statement from last weeks Investor Meeting. Sapphire Rapids will make use of the Eagle Stream platform which we know to be accurate. The platform will supposedly support eight DDR5 memory channels and PCIe Gen 5. In-line with Intel's 10-nanometer Agilex FPGAs announcement, Eagle Stream appears to also introduce the Compute Express Link (CXL) which previously went under the name Intel Accelerator Link (IAL).
Granite Rapids
Granite Rapids SP appears to fast-follow Sapphire Rapids in 2022. Though not confirmed by this roadmap, we do expect it to be based on the company's 7-nanometer process. Granite Rapids appears to make use of the same Eagle Stream platform as Sapphire Rapids and thus keep stay with 8 channels of DDR5 memory, PCIe Gen 5, and CXL.
Optane DC DIMM
Not much is revealed by the roadmap regarding 3D XPoint DIMM but we now have a few new codenames and a timeline. Intel's first generation Optane DC Persistent Memory went under the codename Apache Pass. Their next-generation, Barlow Pass, will be introduced with Cooper Lake and Ice Lake. The roadmap hints that there are least two future generations in the work – Crow Pass and Donahue Pass which will be used in the Sapphire Rapids and Granite Rapids processors respectively. In addition to their new near-year server processor cadence, it appears that their Optane DC DIMM will go on a yearly cadence as well.
3D XPoint DIMM
Processor
Optane DC DIMMs
Intro
Cascade Lake
Apache Pass
2017
Cooper Lake
Ice Lake
Barlow Pass
2019
2020
Sapphire Rapids
Crow Pass
2021
Granite Rapids
Donahue Pass
2022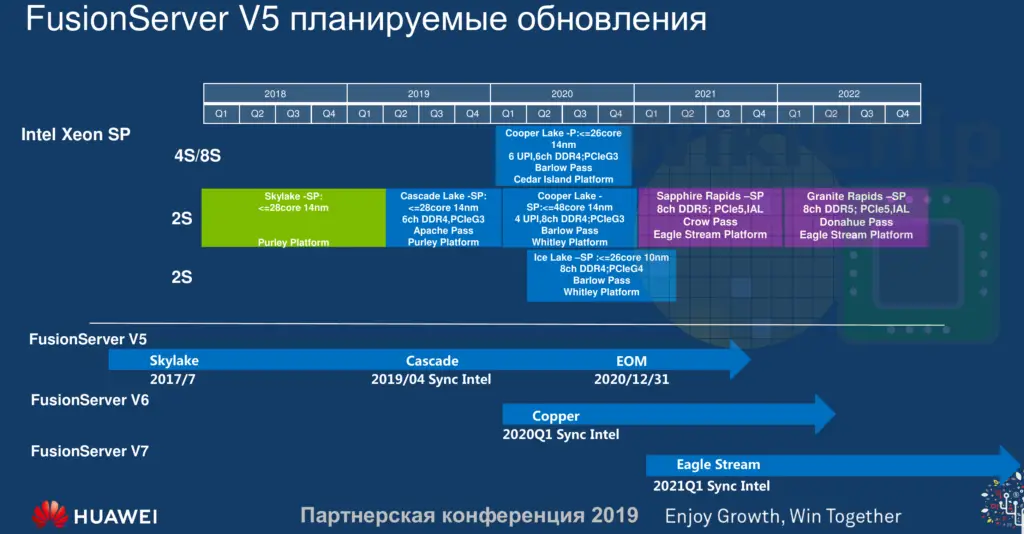 Source: Event-платформа Huawei (Saint Petersburg 2019 Event)