Intel Launches 10th Gen Ice Lake Lineup: 11 New Mobile Chips
The long wait is over. Today Intel is finally launching Ice Lake. While those chips have been shipping since late May the OEM embargo did not lift until today. You can expect consumer thin-and-light premium laptops and 2-in-1s to start showing up in retailers effective today.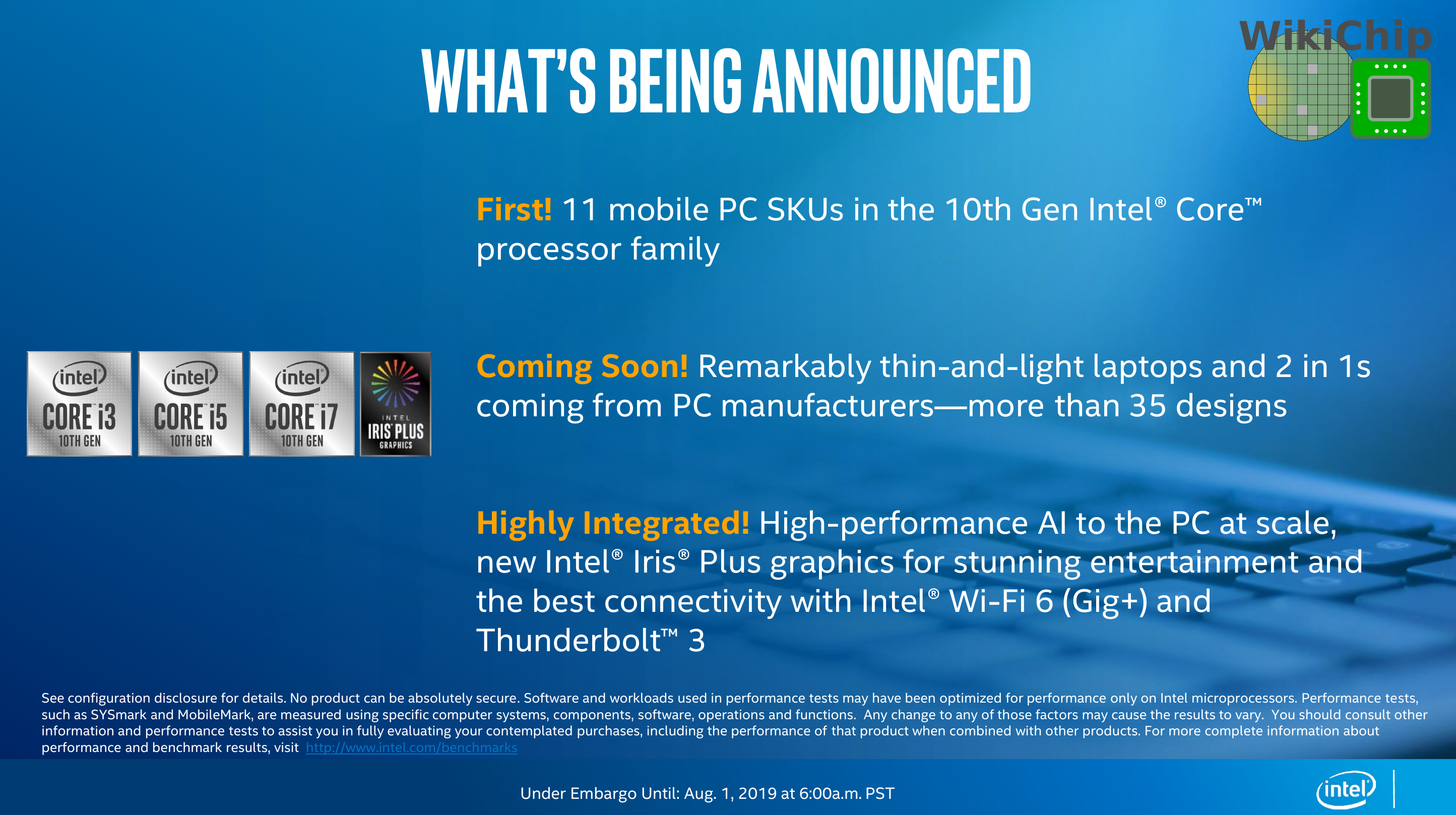 Ice Lake Naming Scheme
Client Ice Lake processors are branded as 10th Generation Core processors. But since 10th Gen comprises multiple architectures, the Ice Lake processors can be recognized by the 'G' suffix which is also used to identify the exact Ice Lake Gen 11 Graphis Tier – from Tier 1 to Tier 7.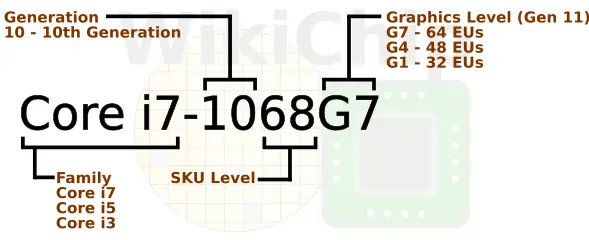 Later this month Intel plans on announcing additional 10th Generation Core processors which will not be based on Ice Lake, therefore the 'G' suffix will become the only way of differentiating among the product lines.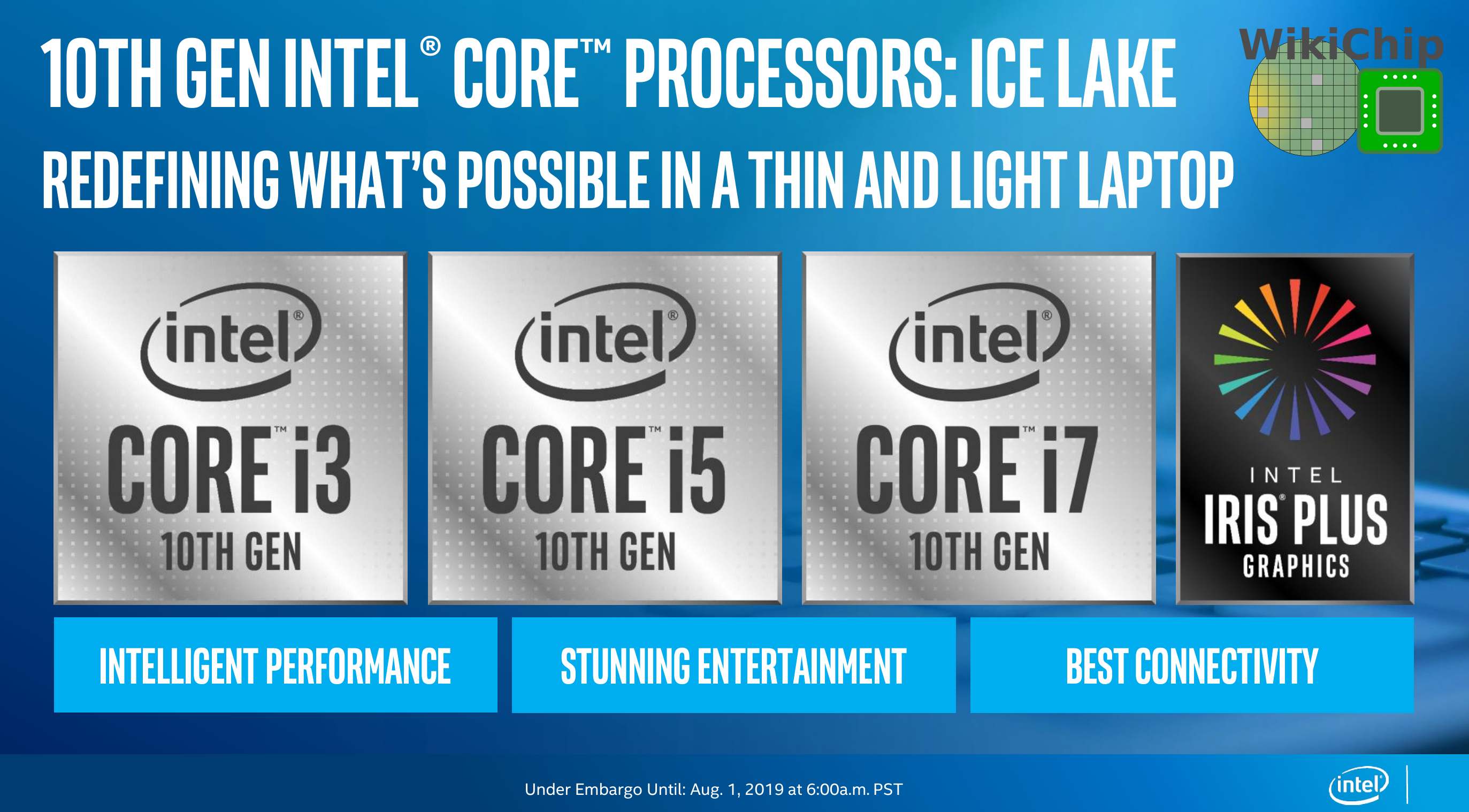 Ice Lake
Ice Lake processors are manufactured on Intel's 10-nanometer process and are packaged along with the 14-nanometer chipset in the same carrier. Those chips incorporate either two or four Sunny Cove cores along with Gen 11 GPU. Ice Lake chips include a new 4th generation IPU which supports up to four 4 camera, supporting up to 16MP stills, and incorporates a new concurrent image pipeline. Additionally, a new Gaussian Neural Accelerator (GNA) was integrated, allowing inference workloads to run in the background while the rest of the chip is in low-power idle mode. All models come with quad-channel 32-bit LPDDR4 memory support with data rates of up to 3733 MT/s for a bandwidth of 60 GB/s. The I/O capabilities of those processors were upgraded as well. Ever part supports up to four direct Thunderbolt 3 ports (i.e., 4x of USB 3 10G, or TB 3, or DP 1.4). And through the chipset, WiFi 6, Optane Memory, SATA 3, and LAN PHY are supported.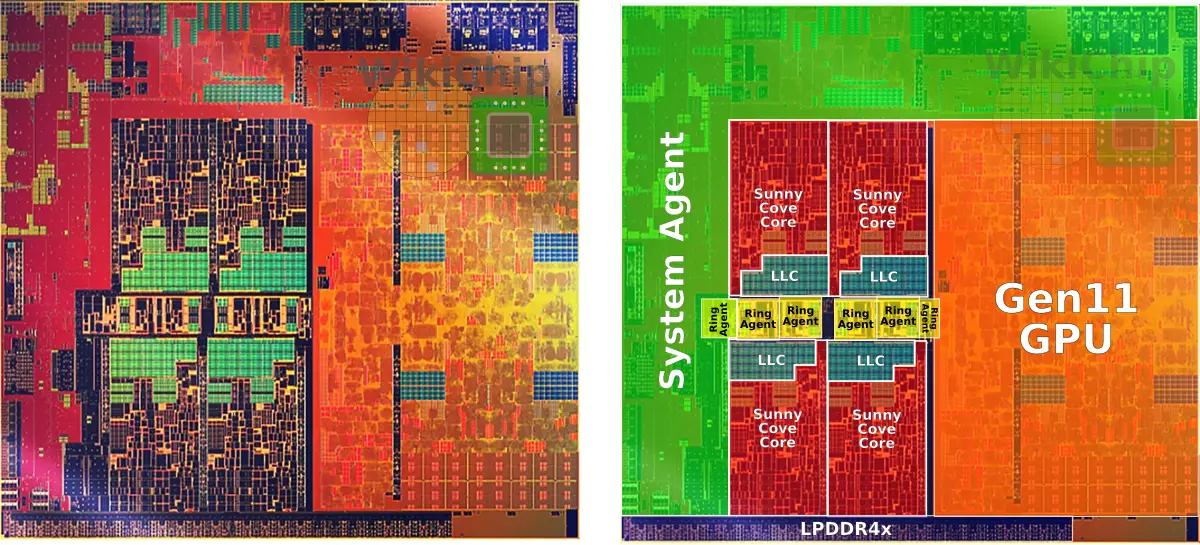 ---
Full details of Sunny Cove can be found here:

Sunny Cove Microarchitectures
Full details of Ice Lake can be found here:

Ice Lake (client) Microarchitectures
---
11 New Processors
Today Intel is launching a total of 11 Ice Lake mobile processors – 6 Ice Lake U parts and 5 Ice Lake Y chips. This is the complete and final Ice Lake SKU list. There are some major changes which are important to highlight.
Ice Lake U
There are a total of six Ice Lake U processors. Apart from the highest performance SKU which has a TDP of 28 W, all Ice Lake U chips are 15 W TDP with a configurable TDP-up of 25 W. With the exception of a single, lowest-end, Core i3 processor, those are all quad-core parts with eight threads. Models vary GPU capabilities through a varying number of execution units – from 32 EUs for a G1 to 64 EUs for a G7. Note that regardless of the number of EUs, all models have higher performance than current Intel GT2 Gen9/9.5 GPUs.
10th Generation Ice Lake U Processors
Model
C/T
L3
Base
Turbo Boost
GPU
Max
All-Core
EUs
Burst
i7-1068G7
4/8
8 MiB
2.3 GHz
4.1 GHz
3.6 GHz
64
1.10 GHz
i7-1065G7
4/8
8 MiB
1.3 GHz
3.9 GHz
3.5 GHz
64
1.10 GHz
i5-1035G7
4/8
6 MiB
1.2 GHz
3.7 GHz
3.3 GHz
64
1.05 GHz
i5-1035G4
4/8
6 MiB
1.1 GHz
3.7 GHz
3.3 GHz
48
1.05 GHz
i5-1035G1
4/8
6 MiB
1.0 GHz
3.6 GHz
3.3 GHz
32
1.05 GHz
i3-1005G1
2/4
4 MiB
1.2 GHz
3.4 GHz
3.4 GHz
32
0.90 GHz
Ice Lake Y
Ice Lake Y come in both dual-core and quad-core configuration. Those processors have a TDP of 9 W which is higher than all prior generations by a fair amount. In fact, prior to Amber Lake, the TDP was mostly 4.5 W so Ice Lake Y effectively doubles this. But there are a few other changes to consider. Current Amber Lake Y chips range from 5 W to 7 W and only come in a dual-core configuration. This is the first series to bring four cores into sub-15W products and it comes with up to the full 64-EUs Gen 11 graphics processor. As far as frequencies are concerned, although the base frequency is oddly low, the single-core and all-core turbos are within a few 100s MHz from the current generation. With the significant uplift in IPC Intel is promising with Sunny Cove, those chips should bring significant single-thread and multi-core performance.
10th Generation Ice Lake Y Processors
Model
C/T
L3
Base
Turbo Boost
GPU
Max
All-Core
EUs
Burst
i7-1060G7
4/8
8 MiB
1.0 GHz
3.8 GHz
3.4 GHz
64
1.10 GHz
i5-1030G7
4/8
6 MiB
0.8 GHz
3.5 GHz
3.2 GHz
64
1.05 GHz
i5-1030G4
4/8
6 MiB
0.7 GHz
3.5 GHz
3.2 GHz
48
1.05 GHz
i3-1000G4
2/4
4 MiB
1.1 GHz
3.2 GHz
3.2 GHz
48
0.90 GHz
i3-1000G1
2/4
4 MiB
1.1 GHz
3.2 GHz
3.2 GHz
32
0.90 GHz