Intel to launch Skylake-D in Q1 2018, followed by Xeons with integrated FPGA
Over the last week, Intel has given out series of slides to publishers which compares Skylake-SP to Naples. Embedded in those slides we found a number of other interesting confirmations.
Skylake-based Xeon-D
The key slide is shown with the bullet highlighted.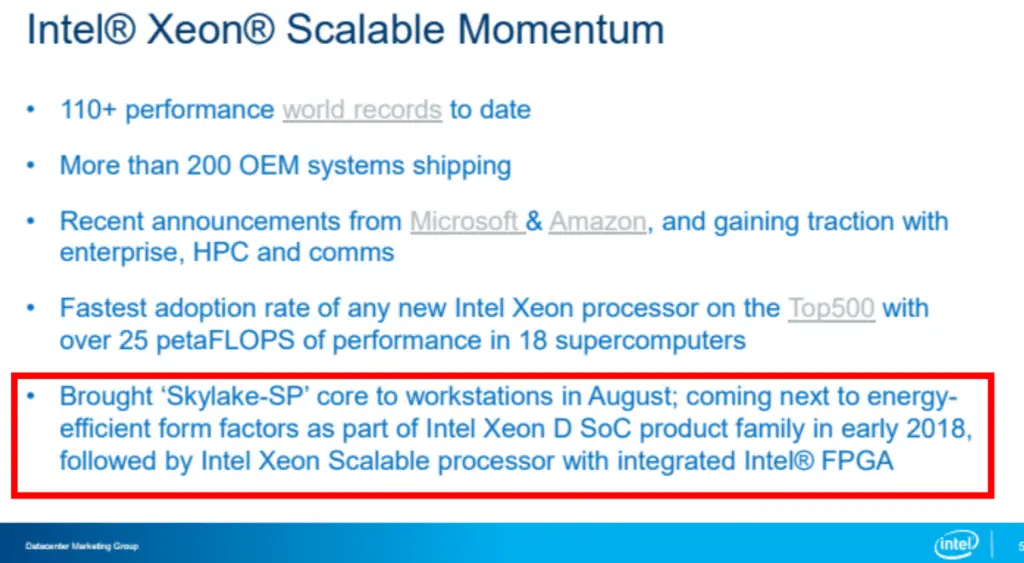 We now have confirmation that Skylake-D is coming in "early 2018" which we are interpreting as first quarter (likely January-February timeframe). Those parts are particularly interesting because they fill the gap between the Atom server parts (Denverton) and the high-performance Xeons (Skylake-SP).


Prior Xeon-D parts were based on Broadwell (Broadwell-DE) which incorporated anywhere from 4 to 16 cores at low TDPs (35 W to 65 W). We expect to see similar TDPs from the upcoming Skylake-based SKUs. Currently those Broadwell models go up to 16 cores. Higher core-count parts should come with this release; at least up to 18 cores which would be the Skylake high core count (HCC) die.
Higher core-count Xeon-D parts based on Skylake should better position Intel against the Centriq family of ARM server processors which were recently launched by Qualcomm.
Xeon with Integrated FPGA
The same slide made a passing mention that we can expect to Xeon Scalable processors with integrated FPGAs after the Xeon D release. It's worth noting that no tentative date was given meaning it could be late 2018 or even 2019. We do believe the initial release will happen in 2018.