8th Gen Coffee Lake and 9th Gen Lineup
In their recent changelog, AIDA64 has disclosed a series of unreleased Intel SKUs they have added support for in their latest version of the program.
8th Gen Coffee Lake
The list discloses a total of 44 SKUS – 6 Celeron, 9 Pentium Gold, 10 Core i3, 12 Core i5, 6 Core i7, and 1 Core i9.
Mobile Parts (CFL-H)
Of the 44 models, only 5 are mobile models. All models are Coffee Lake H parts. The most interesting processor is a new flagship mobile Core i9 part that is being planned by Intel. There is currently only one known i9 model and it is the only one to have an unlocked multiplier.
No clock frequencies or turbos are currently known and although the TDP is also unknown, it's most likely going to be in the 35W – 45W range as with prior generations.
Desktop Parts (CFL-S)
The remaining 39 models are all desktop parts.
8th Gen Coffee Lake S Models
Celeron
Model
C/T
L3$
G4900, G4900T, G4920, G4930, G4930T, G4950
2 / 2
2 MiB (2 × 1 MiB)
Pentium Gold
G5400, G5400T, G5420, G5420T, G5500, G5500T,
G5600, G5600T, G5620
2 / 4
3 MiB (2 × 1.5 MiB)
Core i3
Model
C/T
L3$
i3-8000, i3-8000T, i3-8020, i3-8020T, i3-8100T,
i3-8120, i3-8120T, i3-8300T, i3-8320, i3-8320T
4 / 4
6 MiB (4 × 1.5 MiB)
Core i5
Model
C/T
L3$
i5-8400B, i5-8400T, i5-8420, i5-8420T, i5-8500,
i5-8500B, i5-8500T, i5-8550, i5-8650, i5-8650K
6 / 6
9 MiB (6 × 1.5 MiB)
Core i7
Model
C/T
L3$
i7-8670, i7-8670T, i7-8700B, i7-8700T
6 / 12
12 MiB (6 × 2 MiB)
The lineup itself is very similar to the full Kaby Lake lineup. The only difference of course is the core count bump which was seen with the initial CFL parts that were introduced in October. So there is very little surprise here. We can expect most of the parts to have a TDP of 65 W with a few of the lower end models at ~51 W. Likewise, the "T" models should have a TDP of 35 W. Other than the actual frequencies, the only real unknown here is the meaning of the newly introduced "B" suffixed models. This is a suffix Intel had not previously used.
Xeon E
The more mysterious parts in the list are the two Xeon E parts:
Xeon E-2176M
Xeon E-2186M
While we do not know much of anything about those parts. This is not the first time we came across the mention of a "Xeon E" family. Early this year when Intel introduced the Xeon Scalable Processor based on Skylake-SP, they listed "Xeon E" as one of the new families that are based on the Skylake server microarchitecture.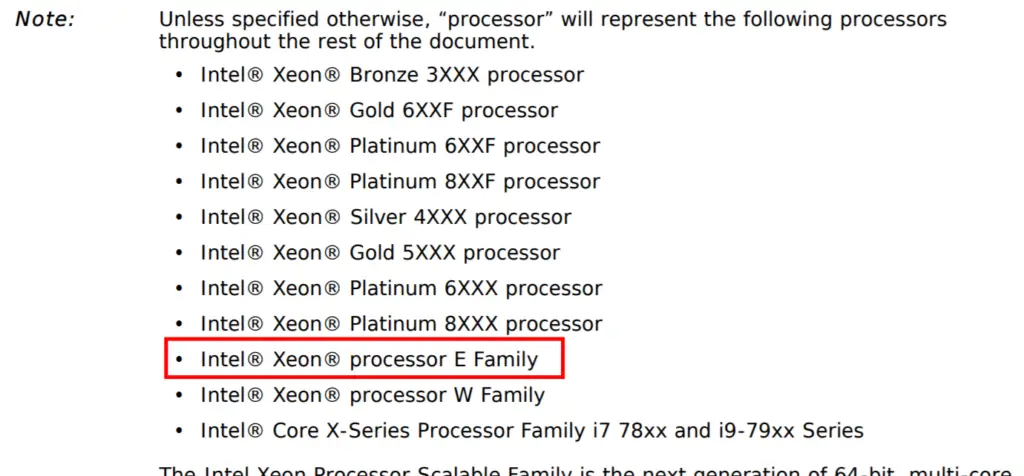 It would appear those are a special variant of the Skylake server processors.
9th Gen Ice Lake
In addition to exposing the Coffee Lake lineup, 9th generation SKUs were also disclosed. After talking to a source of ours, we believe those SKUs are indeed Ice Lake SKUs and not a Coffee Lake Refresh or alike. Unfortunately other than part numbers there is additional information to go on.
After talking to a well-known motherboard manufacturer, we do believe that every one of the Core families will have Intel's Hyperthreading. That is, the Core i3 will have 4 cores with 8 threads, the Core i5 will have 6 cores with 12 threads, and the Core i7 will be bumped to 8 cores with 16 threads. At this time we really don't know anything more about those parts (or supposedly Ice Lake) so your guess would be as good as ours. It should be noted that those early SKUs may or may not be the final product despite being pushed to the repository by Intel and are added by AIDA64.
Update: We have updated the article with some additional information we have pieced together after talking to a motherboard manufacturer.
Source: AIDA64 ChangeLog for version 5.92.4397 beta