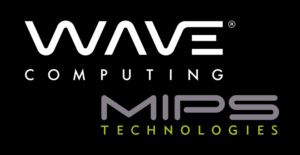 Wave Computing, a Silicon Valley fabless AI start-up will be acquiring MIPS Technologies, sources familiar with the matter told WikiChip. Wave plans to publicly announce the acquisition in the near future. The news comes just 7 months after Imagination Technologies sold the RISC pioneer to Tallwood VC as they themselves were being sold to Canyon Bridge, a Chinese equity fund.
Wave was founded back in 2010 and has since been working on their own unique Dataflow Processing Units (DPUs). Last year they announced an early access program for its compute appliance. The acquisition itself isn't really surprising. Over the last half-decade Wave raised close to $120-million in funding. Most recently, they raised $56.7M in funding led by Tallwood Venture Capital – the current owners of MIPS.
This is a fairly bold move by Wave and a reversal from the usual norm where existing vendors buy new players. The reason for the acquisition can be seen as a defensive move. While Wave Computing holds over 60 patents, MIPS holds 100s. As Wave plans to enter the market – a market largely dominated by Nvidia – they might be seeing MIPS as an added layer of protection. It's also possible Wave plans on using more of MIPS technology portfolio in the future. In fact, just in March, Wave announced that they will be integrating the 64-bit MIPS IP cores into their future DPUs. The integration is done in order to allow existing MIPS-based RTOS to handle the control and management functionalities of the chip. Conversely, Wave might be seeing an opportunity by injecting their IPs into the MIPS existing ecosystem. MIPS software and tools are quite mature and can certainly accelerate Wave's development.
Wave Computing is not disclosing how much it has paid for MIPS but we do expect a formal public statement in the near future.