Marvell Lays Out ARM Server Roadmap
While Marvell has been busy marketing its ThunderX2 family of Arm server-grade microprocessors, the company has been largely silent about its future plans – until now.
Gopal Hegde, VP and GM of the server business unit at Marvell was back at the Linley Processor Conference to discuss the company's current and future plans.
The Current Situation
Hegde said that when Cavium first entered the server market it was to create a second alternative to Intel's offering. Unfortunately for Marvell, AMD made a massive comeback, taking away much of the attractiveness from their current product stack. We will come back to this in more detail in a bit.
Currently, the company focuses on its ThunderX2 server processors. The microarchitecture itself is not an evolution of their original ThunderX processors. Instead, it's based on the Vulcan microarchitecture which Cavium acquired from Broadcom, one of the best purchases Cavium has made. The current lineup ranges from 16 to 32 cores and from 1.6 GHz to 2.5 GHz.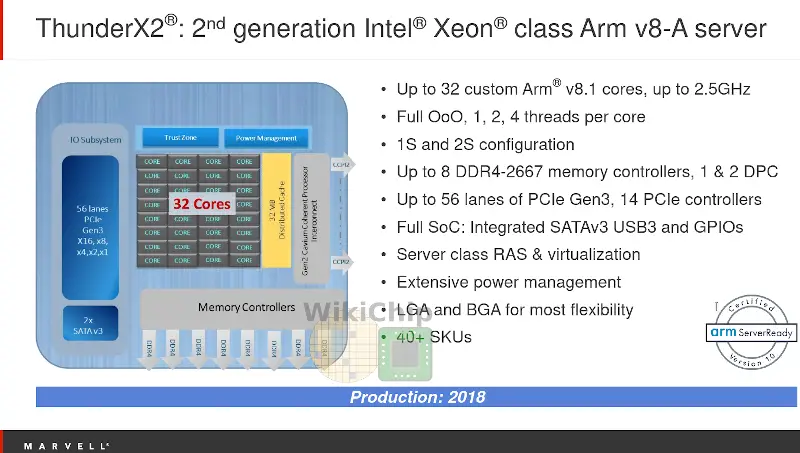 Since announcing ThunderX2 in 2016, Cavium (now Marvell) has presented the chip at many events. Originally, TCO was a big selling point. Getting 32 cores at a fraction of the price of Intel Xeon CPUs was a no-brainer. Though not quite there in terms of single-thread performance, with eight memory channels compared to the six Intel has, the large memory bandwidth made it a champion in many memory-bound workloads. AMD has since won that argument back with Naples. More recently, with the launch of Rome, the TCO argument is quite a bit weaker.
Marvell knows where it currently stands and the value proposition argument has shifted. Currently, the company is positioning its processors as good candidates for cloud-based native Arm app development and native Android emulation. Additionally, it argues that large device farms that currently rely on a large amount of Arm SBCs such as the Raspberry Pi 4 could be replaced by a single ThunderX2 32-core part and deliver higher performance at lower power. That argument itself is not without merit. Data Center SBC server farms with 1000s of devices do exist and are used to run 'virtualized' Arm on Arm instead of emulating it using x86 servers. Our friends over at ServeTheHome compared an actual SBCs farm to a ThunderX2 if you are interested. No matter how you look at it, the current value proposition is rather weak. Marvell is going to have to step up its game with its next generation of chips if it wants to compete with AMD.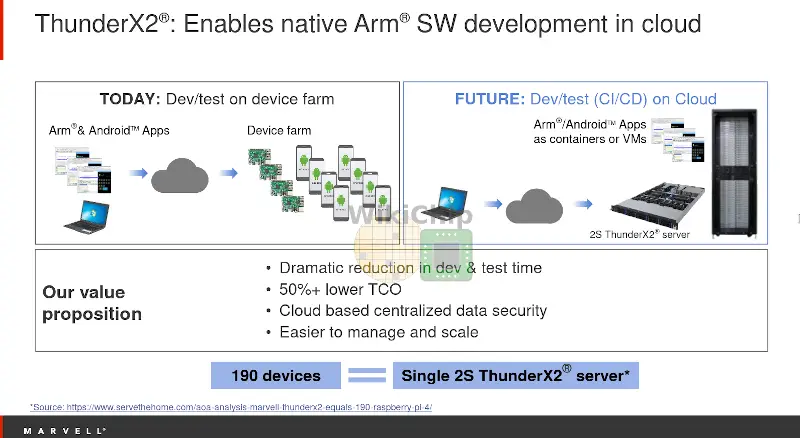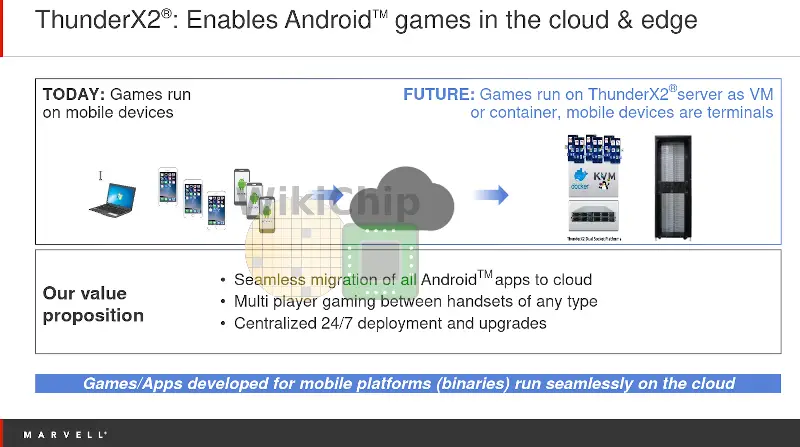 A Brighter Future Roadmap
Looking a bit further out Marvell is looking much more optimistic. Hegde says that Marvell roadmap going out keeps the 2-year cadence they have had so far. "Our first-generation product entered general availability in 2016, we introduced ThunderX2 to market in 2018, we will be releasing ThunderX3 in 2020, and ThunderX4 will be around 2022," Hegde said. Marvell plans on talking about ThunderX3 as early as late this year or early next year. Based on a DoE roadmap we know ThunderX3 core is called Triton, borrowing from Arm's Greek gods' codename theme. Hegde disclosed some initial tidbits about Triton including the fact that it will feature 4 128-bit NEON SIMD units (double that of Vulcan) and that it will still be using eight memory channels.
As far as performance is concerned, Marvell is promising over 2x system-level performance generation-over-generation. "What we are driving generation-over-generation is more than 2x performance. Compared to ThunderX, ThunderX2 is roughly over 2x better. And ThunderX3 will be over 2x better performance over ThunderX2. Likewise, ThunderX4 will be over 2x better performance over ThunderX3," hedge added. The performance and power efficiency are coming from both the process node improvement and architectural improvements. Hegde also brought up Arm's Scalable Vector Extension (SVE) and said that Marvell plans on supporting some of the SVE capabilities in those future products – in either TX3, TX4, or possibly both. He wasn't specific.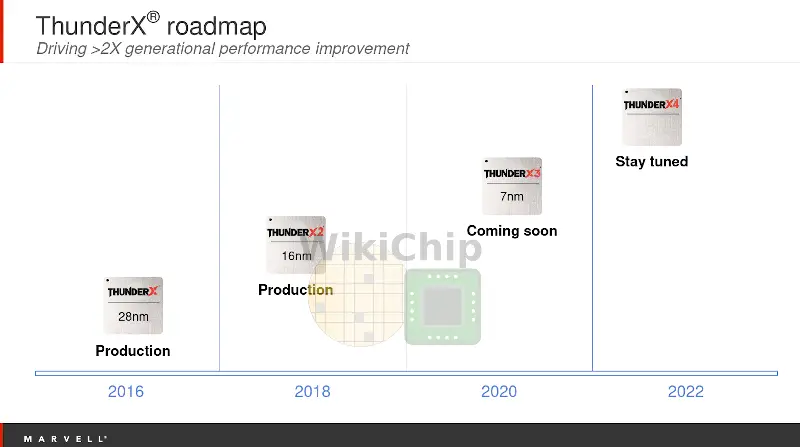 "Our current core is a classic out-of-order superscalar architecture and that gives us a lot of room to scale and improve performance for our next-generation product and by going to a better process it also gives us better frequency and lower power," Hegde said. Marvell is looking to significantly improve the frequency and power efficiency over the next two generations through better process nodes. ThunderX3 will be fabricated on TSMC 7-nanometer process and it's likely we will see ThunderX4 on N5.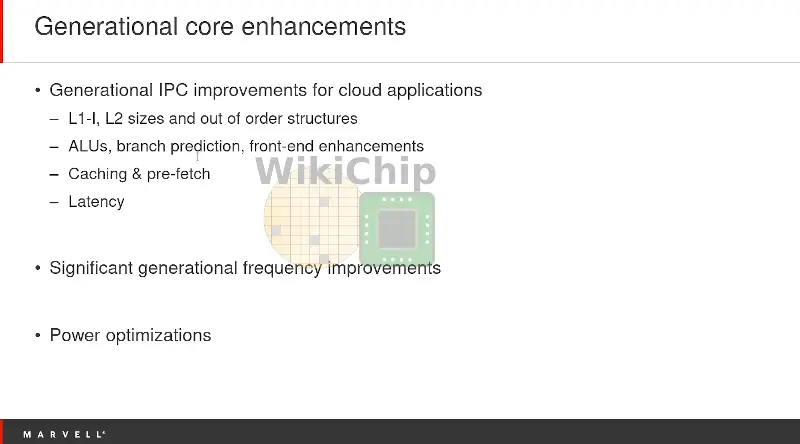 What About Arm's IP?
Over the past two years, Arm has been promoting its own server IP cores. Most recently, Arm launched the Neoverse N1 core. Many in the industry view it as an attempt to compete with its own customers. At the conference, during the Q&A session, Hegde was asked if Marvell had any plans on using those cores. "We are developing the core from scratch with our architectural license. In the server space our customers want higher single-thread performance and some of the advanced capabilities that we have in the core such as multithreading so we plan to continue to develop our own core," Hegde added.