Alibaba Open Source XuanTie RISC-V Cores, Introduces In-House Armv9 Server Chip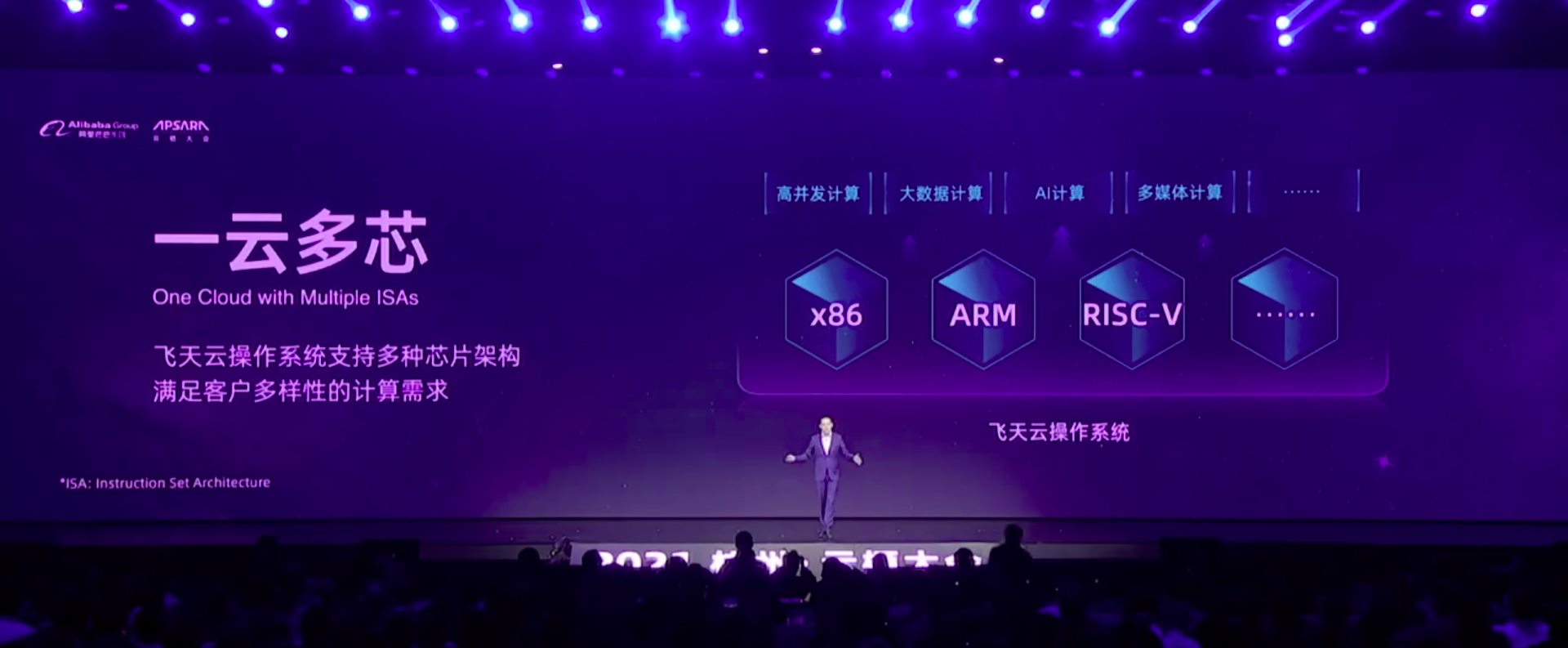 In 2018, Alibaba founded T-Head, a fabless semiconductor subsidiary with the intention of designing custom in-house ASICs. T-Head has since introduced a number of custom chips including the Hanguang 800 neural processor and various RISC-V processors. At the company's Apsara Conference 2021, Alibaba introduced their latest addition to the last – the Yitian 710.
Alibaba's Apsara cloud comprises compute and accelerator nodes powered by various chips. "We have taken a multiple ISA strategy. Today, our cloud computing provides the most number of ISAs. We have x86, ARM, RISC-V, and many more. And our clients can actually choose Intel and other solutions and I believe this is great progress and the biggest benefit of cloud computing as we've made it more interoperable and more compatible on this platform that we can support on one cloud multiple ISAs," said Jeff Zhang, President of Alibaba Cloud Intelligence.
At the conference, Zhang highlighted their RISC-V development progress which includes their four high-performance RISC-V cores XuanTie E902, E906, C906, and C910. Alibaba announced it has opened sourced those cores which will now go under a new name called OpenE902, OpenE906, OpenC906, and OpenC910 respectively. Those cores are now available on the T-Head Semiconductor GitHub.
Alibaba says it has shipped more than 2.5 billion of those IPs. "Today, we are embracing RISC-V. We have had 11 different RISC-V chips and have seen compatibility of those products with multiple operating systems. It is quickly becoming the largest group of products. We are working on creating an ecosystem in the industry with our partners not just on IoT side but also on the compute side there will be great progress and today Alibaba in RISC-V is leading in the world. We have many customers and hundreds of partners building the ecosystem alongside us," Zhang added.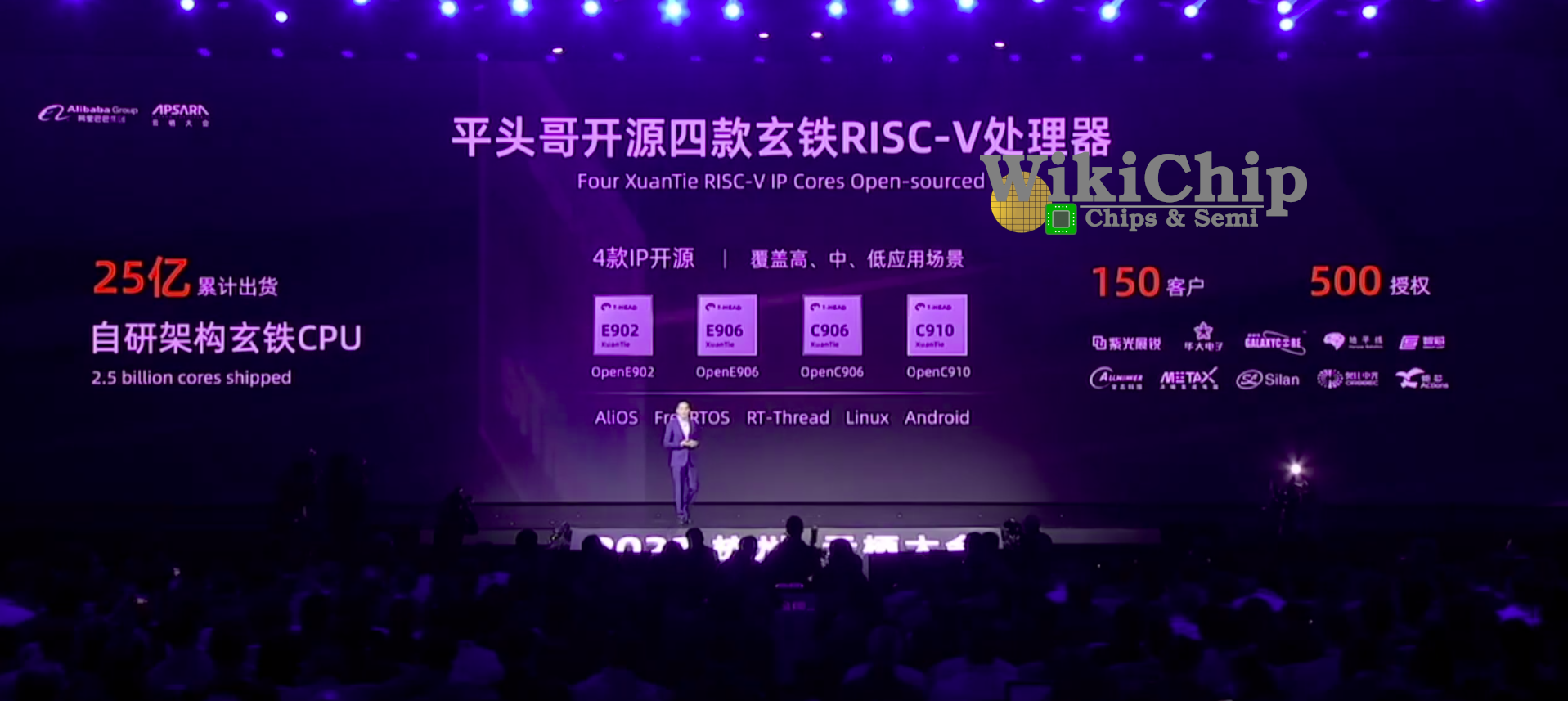 Yitian 710
At the Apsara Conference 2021, Zhang introduced the Yitian 710, a server SoC designed for their cloud. The move comes as many of the Super-7 are developing custom chips in-house. Google has its series of TPUs for AI acceleration. Amazon has been developing its own series of server chips (Graviton and Graviton2) as well as the Inferentia NPU. Baidu has its Kunlun series of neural processors. Even Alibaba has developed and deployed their custom Hanguang 800 AI accelerator in their data center.
The Yitian 710 server chip was taped out earlier this year and has been deployed in their cloud since July 2021. Fabricated on a 5-nanometer leading-edge process, the Yitian 710 packs 60 billion transistors on a massive 628 mm² die.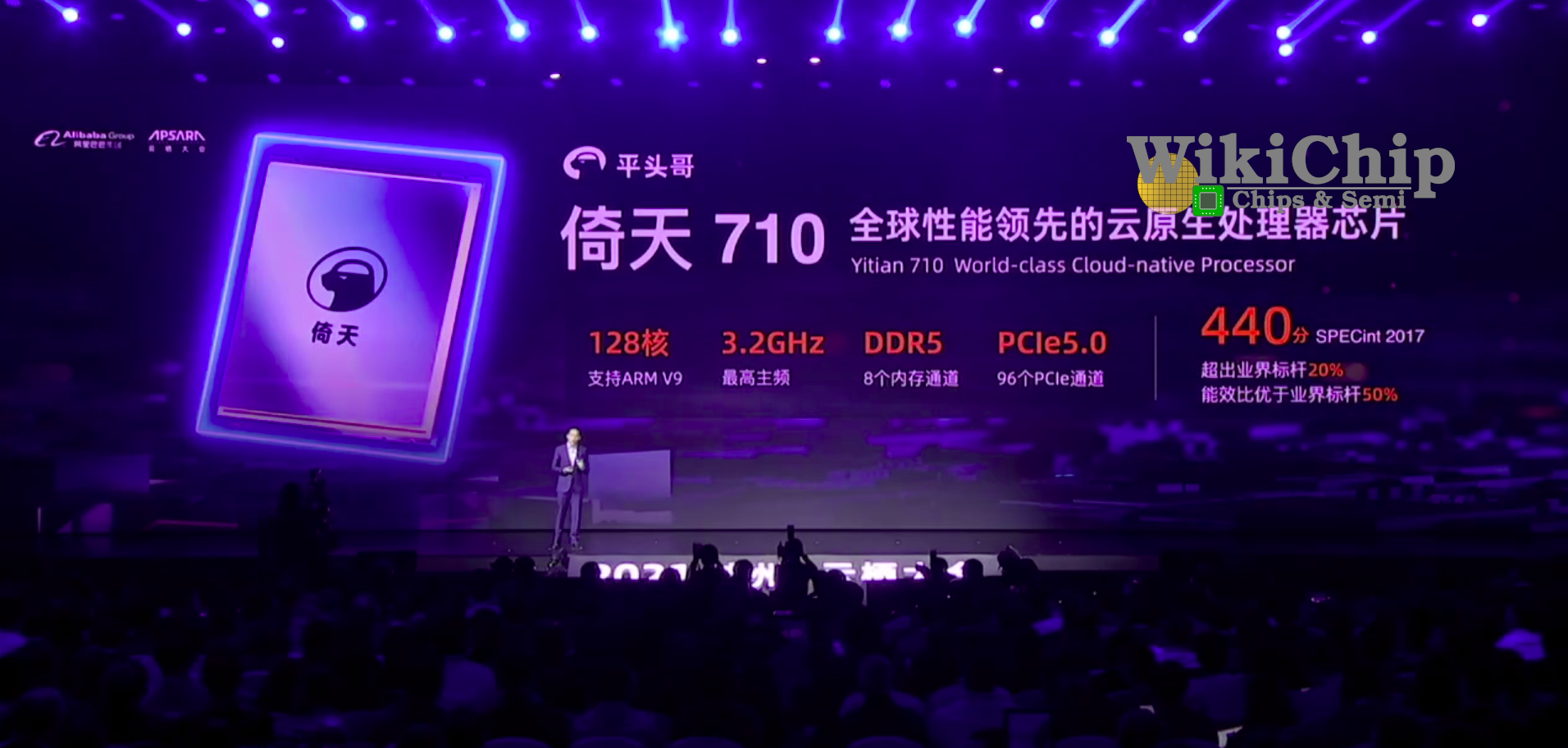 The Yitian 710 integrates 128 custom-designed ARMv9 cores. Those cores are said to clock as high as 3.2 GHz. Alibaba says the chip is capable of 440 on SPECint2017 and beats the current state-of-the-art Arm server processor by 20% in performance and 50% in energy efficiency. The 440 score refers to the multi-threaded score of SPEC int 2017. Although it's hard to scrutinize the geometric mean of the individual tests, if we compare it to some recent measurements of Ampere Altra, AMD EPYC, and Intel Xeon, taken by Andrei over at AnandTech, the Yitian 710 should be fairly competitive at 128 cores.
In terms of I/O, this chip integrates eight channels of DDR5 memory along with 96 lanes of PCIe 5.0.
In tandem with the development of the Yitian 710, Alibaba also developed a series of proprietary servers based on those chips called Panjiu.