Intel Pushes Out Flagship Premium Tiger Lake Mobile Chips
Earlier this week Intel launched the second half of its 11 Gen Core mobile processors based on the Tiger Lake microarchitecture. In September of last year, the company launched the first half of the series (Tiger Lake U) which targets most consumer laptops and tablets. Those processors were generally within the 15 W TDP. The new microprocessors target the high-performance premium segment of devices – those that would normally be paired with a discrete mobile GPU and are generally on the higher range of TDP. Devices that fall into this category include gaming laptops as well as workstations and desktop replacements.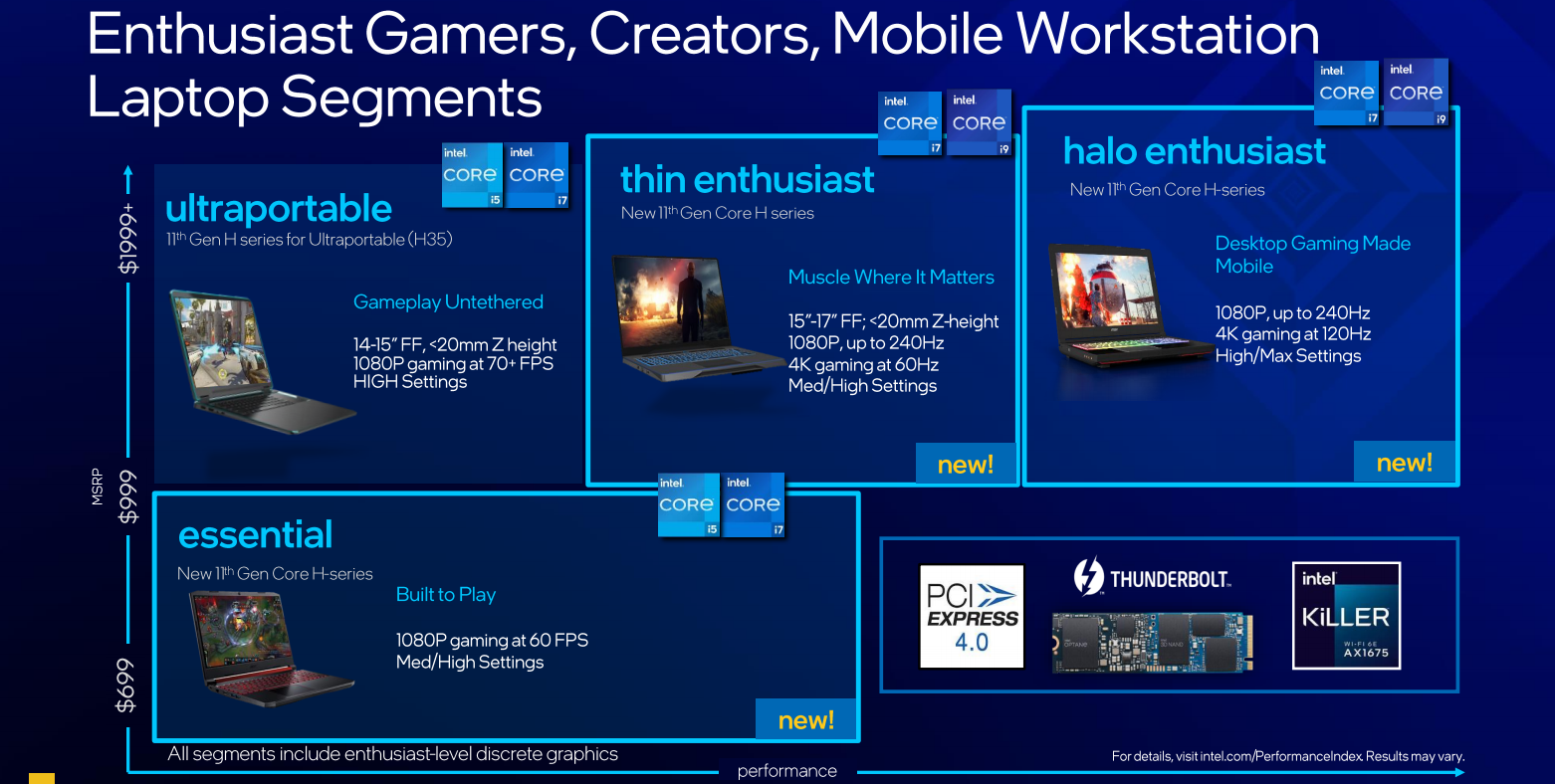 Tiger Lake H
There isn't a lot new to this announcement but overall Tiger Lake H introduces a mixed bag of pros and cons versus last year Tiger Lake U parts found in most recent laptops. The largest positive change by far is doubling the number of cores from four to eight. This is aligned with AMD's Cezanne APUs. There is now support for up to 20 PCIe Gen 4 lanes which have some unique benefits in this specific market segment. Specifically, it enables considerable bandwidth improvement between the CPU and both a GPU and storage. On the downside, the Tiger Lake H series drops LPDDR4x support. However, the biggest drawback compared to Tiger Lake U CPUs is the halving of the number of execution units on the GPU which is a rather disappointing move considering Tiger Lake's Xe GPU is the brightest feature of the new SoC.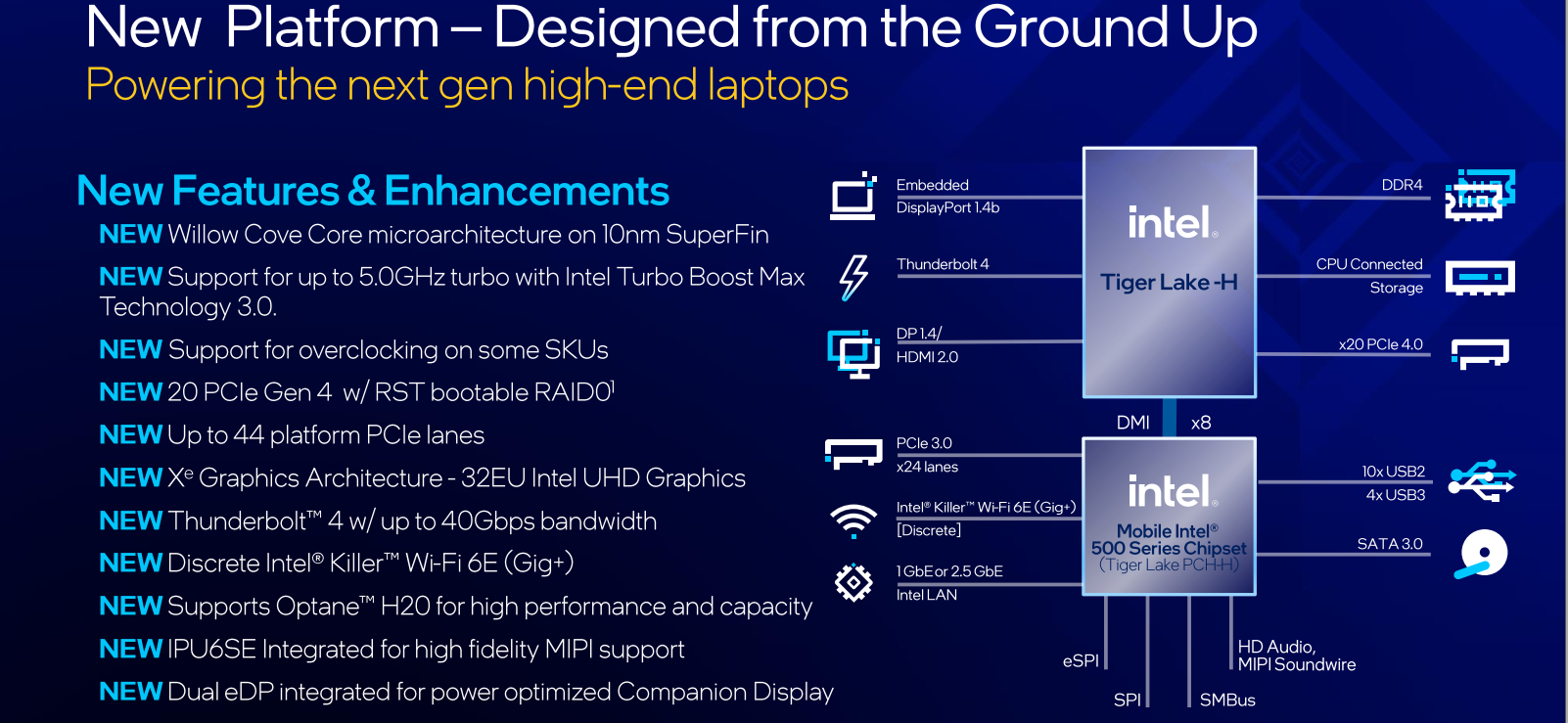 If you scrutinize the slide above you'll notice a few things on the platform level that are new. Perhaps the most important change which is actually not listed as a bullet point is the "x8" DMI link. This is double the width of prior generations which used to be a problematic bottleneck under various configurations. The chipset now supports Wi-FI 6E ("E" being new).
The 32 execution units on TGL-H vs 96 on TGL-U do not equate to half the performance. It's worth pointing out that – as you'll see later on – all the new SKUs have a GPU burst frequency of around 1.45 GHz which is around 15-30% higher than Tiger Lake U which were 1.1-1.35 GHz. One could make the argument that since this CPU is to be paired with a discrete mobile GPU, there is no real need for SKUs with more execution units, unlike Tiger Lake U which almost always relies on integer graphics as its only source of acceleration. Another argument can be made that the full-size Xe GPU like Tiger Lake U would balloon the die size to an uneconomical size. Both are plausible explanations, maybe even a combination of both. Regardless of the reason, it eliminates any opportunity to leverage the rather good full mobile Xe GPU performance along with eight Willow Cove CPUs.
SKUs
Intel kept the number of SKUs to a minimum with just five SKUs with just core count and frequency differentiating them. The Core i5 is a hexa-core while the rest are all octa-core parts. There is no i3 SKU likely because there is no need for a quad-core TGL-H processor in this segment anymore. It would also create too much overlap with the TGL-U (i3-1120G4) quad-core SKU. All SKUs have 32 EUs and support DDR4-3200.

11th Gen Core (Tiger Lake H) Mobile Processors
SKU
Price
Frequency
GPU
Base
Base


(TDP-up)

Turbo Bins
EUs
Base
Burst
1C
2C
4C
6C
8C
i5-11260H
$250
2.1 GHz
2.6 GHz
44
44
42
40
N/A
16
350 MHz
1.40 GHz
i5-11400H
$250
2.2 GHz
2.7 GHz
45
45
43
41
N/A
16
350 MHz
1.45 GHz
i7-11800H
$395
1.9 GHz
2.3 GHz
46
46
45
44
42
32
350 MHz
1.45 GHz
i9-11900H
$546
2.1 GHz
2.5 GHz
49
49
48
46
44
32
350 MHz
1.45 GHz
i9-11980HK
$583
2.6 GHz
3.3 GHz
50
50
49
47
45
32
350 MHz
1.45 GHz
The two Core i9 SKUs achieve 4.9-5 GHz with TBM 3.0. Except for the i9-11980HK, all those processors have a TDP of 35 W with a TDP-up of 45 W that offers a higher base frequency. The i9-11980HK is unique in a number of ways. For one, it's a 45 W part with a TDP-up of 65 W which makes it borderline mobile-desktop. As historically been denoted with the 'K' suffix, this SKU is fully unlocked, making it the first overclockable 10-nanometer part from Intel.
Commercial SKUs
In addition to the standard SKUs, Intel is also introducing five more commercially oriented processors. Those processors are very similar to the standard version but come with ECC memory support, Intel vPro, TXT, and stable image.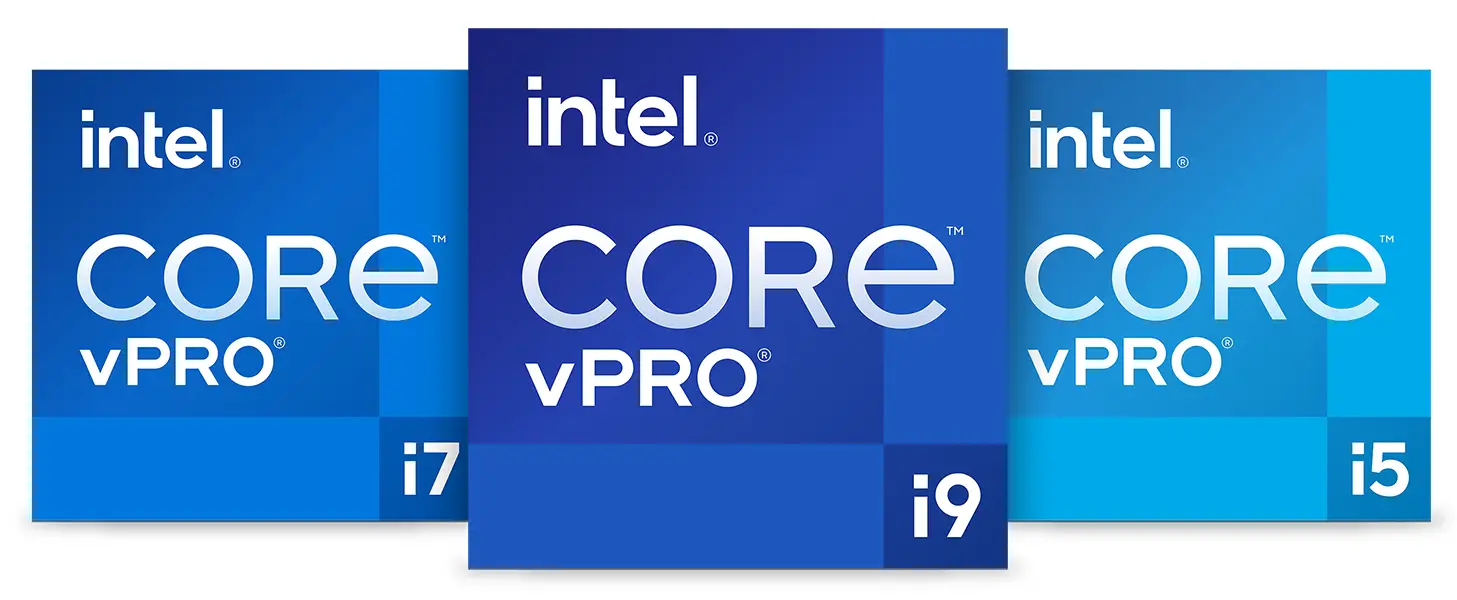 11th Gen Core (Tiger Lake H) Commercial Mobile Processors
SKU
Price
Frequency
GPU
Base
Base


(TDP-up)

Turbo Bins
EUs
Base
Burst
1C
2C
4C
6C
8C
i5-11500H
$250
2.4 GHz
2.9 GHz
46
46
44
42
N/A
32
350 MHz
1.45 GHz
i7-11850H
$395
2.1 GHz
2.5 GHz
48
48
48
46
43
32
350 MHz
1.45 GHz
W-11855M
$450
2.6 GHz
3.2 GHz
49
49
47
44
N/A
32
350 MHz
1.45 GHz
i9-11950H
$556
2.1 GHz
2.5 GHz
50
50
49
47
44
32
350 MHz
1.45 GHz
W-11955M
$623
2.4 GHz
2.9 GHz
50
50
49
47
45
32
350 MHz
1.45 GHz
While very similar to the other set of processors, there are still a few subtle differences in the specifications. For one, the lower-end SKUs have higher base and turbo frequencies when compared to their consumer counterparts. Additionally, the turbo frequencies for across the board are higher as well. This is despite the fact that all the processors above are 35 W TDP with a TDP-up of 45 W which comes with a slightly higher frequency. On the commercial size, all SKUs have 32 EUs Xe integrated GPU and they all have the same base and burst frequency. Intel is mixing in a new "Xeon W-11000 mobile workstation series" but with no rhyme nor reason since it has no real differentiation other than branding.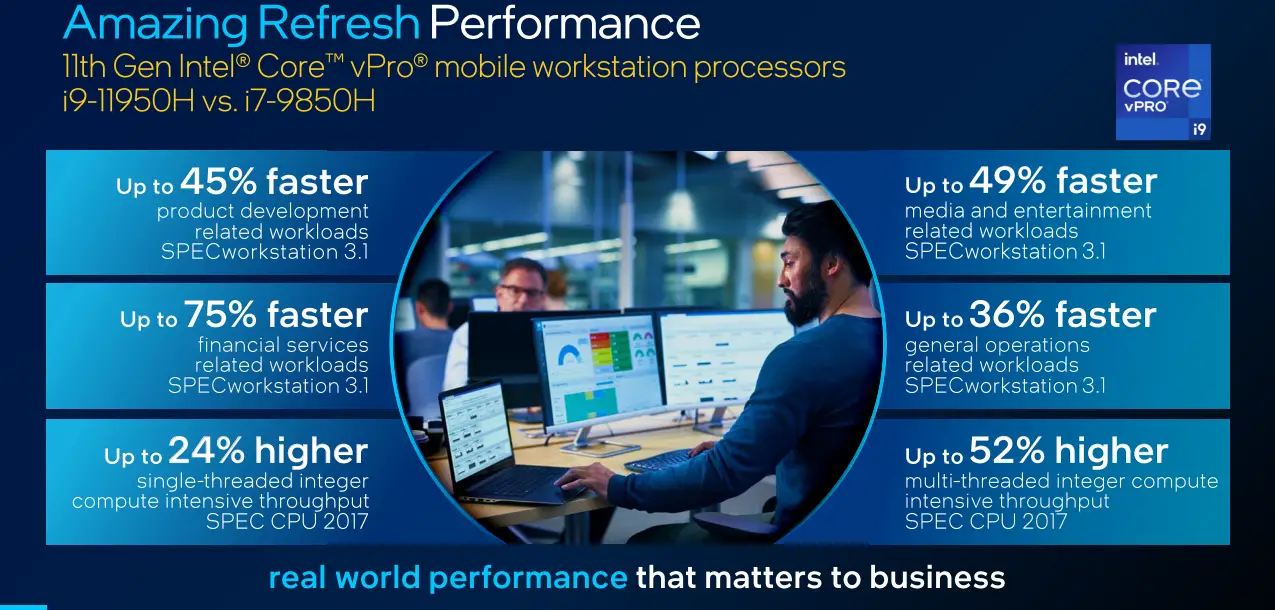 Tiger Lake H processors are shipping today with Intel touting over a million units shipped by initial retail availability. Intel stated the new Tiger Lake H processors can be found in over 80 device designs, many of which should start launching in the coming months.