Intel Launches 10th Gen Comet Lake vPro Processors
Following its recently Desktop launch of its Comet Lake processors, today Intel is completing the lineup with the introduction of Comet Lake vPro-enabled business-oriented processors along with a new Xeon W series based on the same SoC.
10th Gen Comet Lake vPro Processors
As with all mainstream Comet Lake processors, the new chips utilize the new LGA-1200 socket. The new processors are offered with four to ten cores covering everything from Core i5 to Core i9. The main differentiation for these processors is Intel vPro technology, bringing enterprise features such as AMT and AME on the management side as well as 15-month stable image protection on the firmware side.
In total 18 vPro processors are being list below, however, some of them were already announced back in April. This includes some chips that were previously not part of the vPro program such as the flagship and overclockable Core i9-10900K and Core i7-10700K. Interestingly enough, the cheaper SocS with the integrated graphics disabled do not qualify for the vPro program (e.g., Core i9-10900KF and Core i7-10700KF).
All mobile processors have a TDP of 15 W and 45 W for the high-power versions. The standard desktop version has 65 W TDP while the lower-thermal profile variant are 35 W and the high-performance version is 125 W. For the most part, Intel is offering one from each of the TDP ranges in each of the major Core i families. All chips come support up to dual-channel DDR4-2933 ECC memory and come with UHD Graphics P630.
10th-Gen Comet Lake vPro Processors
Model
C/T
TDP
L3
Frequency
Base
Turbo
Desktop vPro Processors
i5-10500T
6C/12T
35 W
12 MiB
2.3 GHz
3.8 GHz
i5-10500
6C/12T
65 W
12 MiB
3.1 GHz
4.5 GHz
i5-10600T
6C/12T
35 W
12 MiB
2.4 GHz
4.0 GHz
i5-10600
6C/12T
65 W
12 MiB
3.3 GHz
4.8 GHz
i5-10600K
6C/12T
125 W
12 MiB
4.1 GHz
4.8 GHz
i7-10700T
8C/16T
35 W
16 MiB
2.0 GHz
4.5 GHz
i7-10700
8C/16T
65 W
16 MiB
2.9 GHz
4.8 GHz
i7-10700K
8C/16T
125 W
16 MiB
3.8 GHz
5.1 GHz
i9-10900T
10C/20T
35 W
20 MiB
1.9 GHz
4.6 GHz
i9-10900
10C/20T
65 W
20 MiB
2.8 GHz
5.2 GHz
i9-10900K
10C/20T
125 W
20 MiB
3.7 GHz
5.3 GHz
10th-Gen Mobile H-Series vPro Processors
i5-10400H
4C/8T
45 W
8 MiB
2.6 GHz
4.6 GHz
i7-10850H
6C/12T
45 W
12 MiB
2.7 GHz
5.1 GHz
i7-10875H
8C/16T
45 W
16 MiB
2.3 GHz
5.1 GHz
i9-10885H
8C/16T
45 W
16 MiB
2.4 GHz
5.3 GHz
10th-Gen Mobile U-Series vPro Processors
i5-10310U
4C/8T
15W
6 MiB
1.7 GHz
4.4 GHz
i7-10610U
4C/8T
15W
8 MiB
1.8 GHz
4.9 GHz
i7-10810U
6C/12T
15W
12 MiB
1.1 GHz
4.9 GHz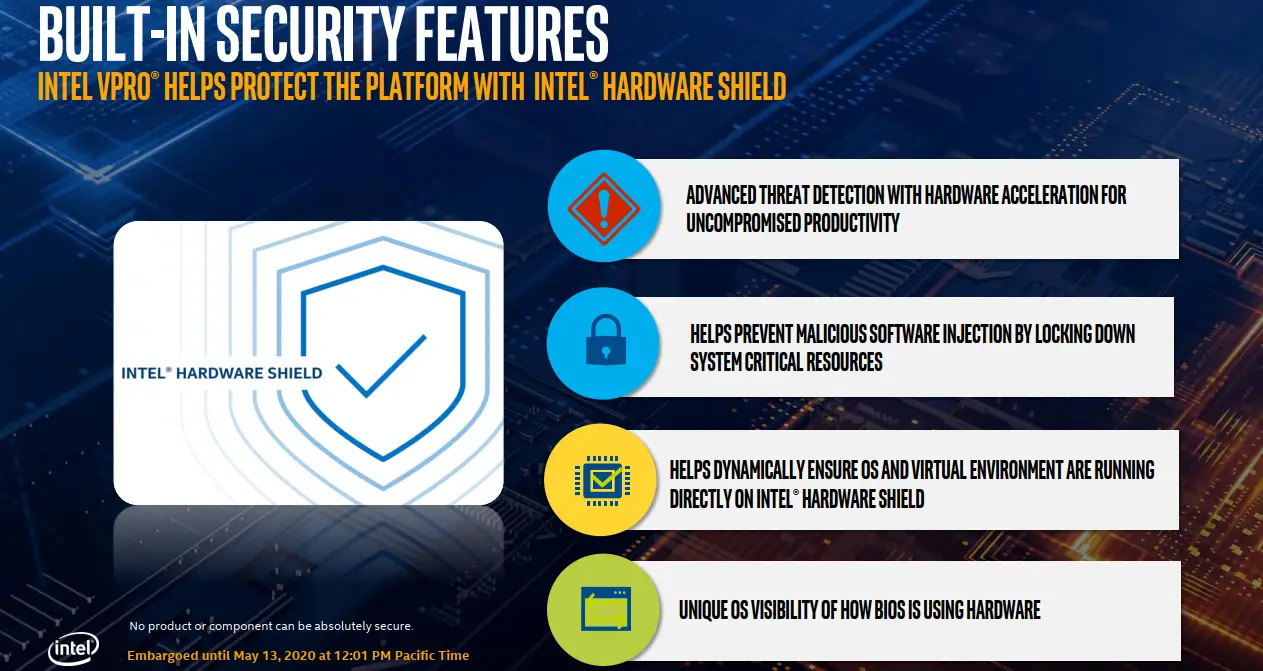 ---
Related Articles
---