AMD Launches Ryzen PRO 3000 Series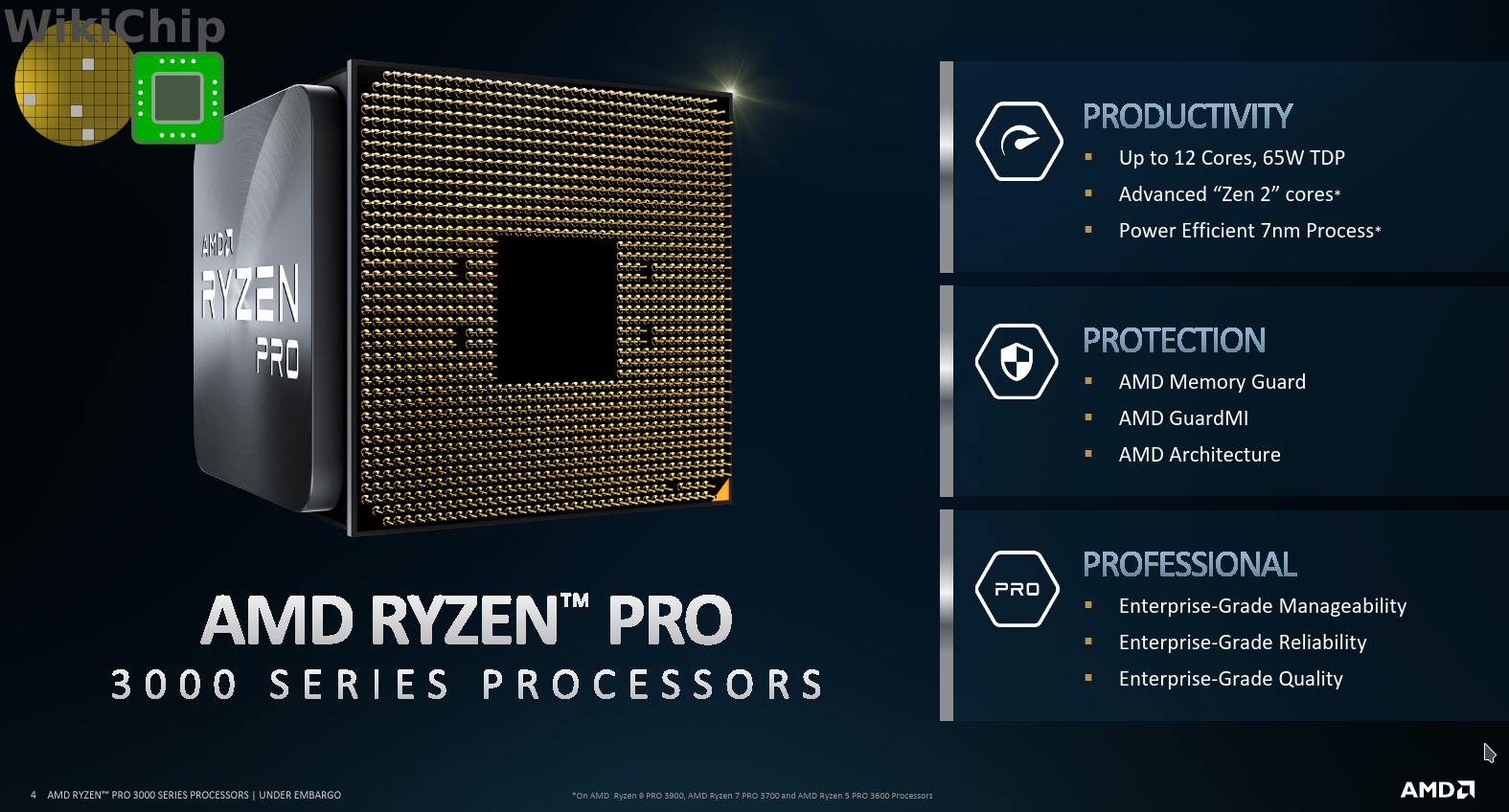 Earlier this week AMD launched its new AMD Ryzen PRO 3000 Series desktop processor lineup. These processors are aimed at small business users who rely heavily on productivity software, content creators, and all the way to enterprise with an IT team that manages a whole fleet of PCs. A key feature of the PRO series is GuardMI which is AMD's set of security features that utilize the embedded secure processor on the chip. A notable feature of GuardMI is Memory Guard which is essentially another name for Transparent SME technology which enables cryptographic AES encryption of the entire system memory. For the enterprise segment, the PRO models come with various manageability features such as remote management and asset inventory.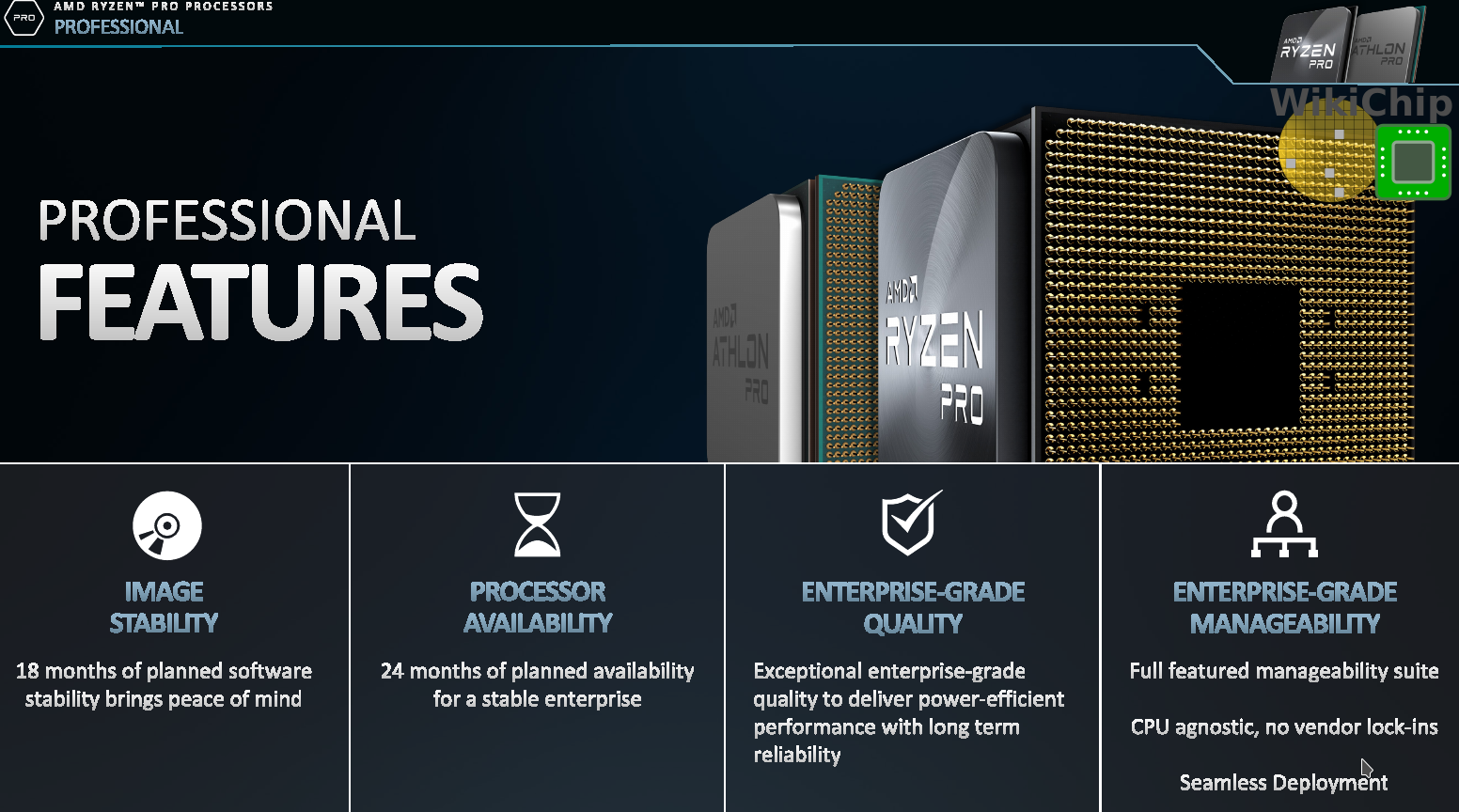 With this launch, AMD is actually introducing two distinct series which are quite different architecturally. The two series are desktop processors ranging from entry-level to mainstream APUs to high-performance.
Entry-level to Mainstream PRO 3000 APUs
The first two series are for entry-level and mainstream desktops. Those are AMD's PRO APUs, formerly codename Picasso, based on the Zen+ microarchitecture and Vega GPUs. These processors are fabricated on GlobalFoundries 12-nanometer process. In the entry-level category, AMD is launching the Athlon PRO 300GE which is a direct successor to the PRO 200GE which was launched late last year which brings almost identical specs but with 200 MHz higher clock. In the mainstream category, AMD is introducing four new PRO SKUs.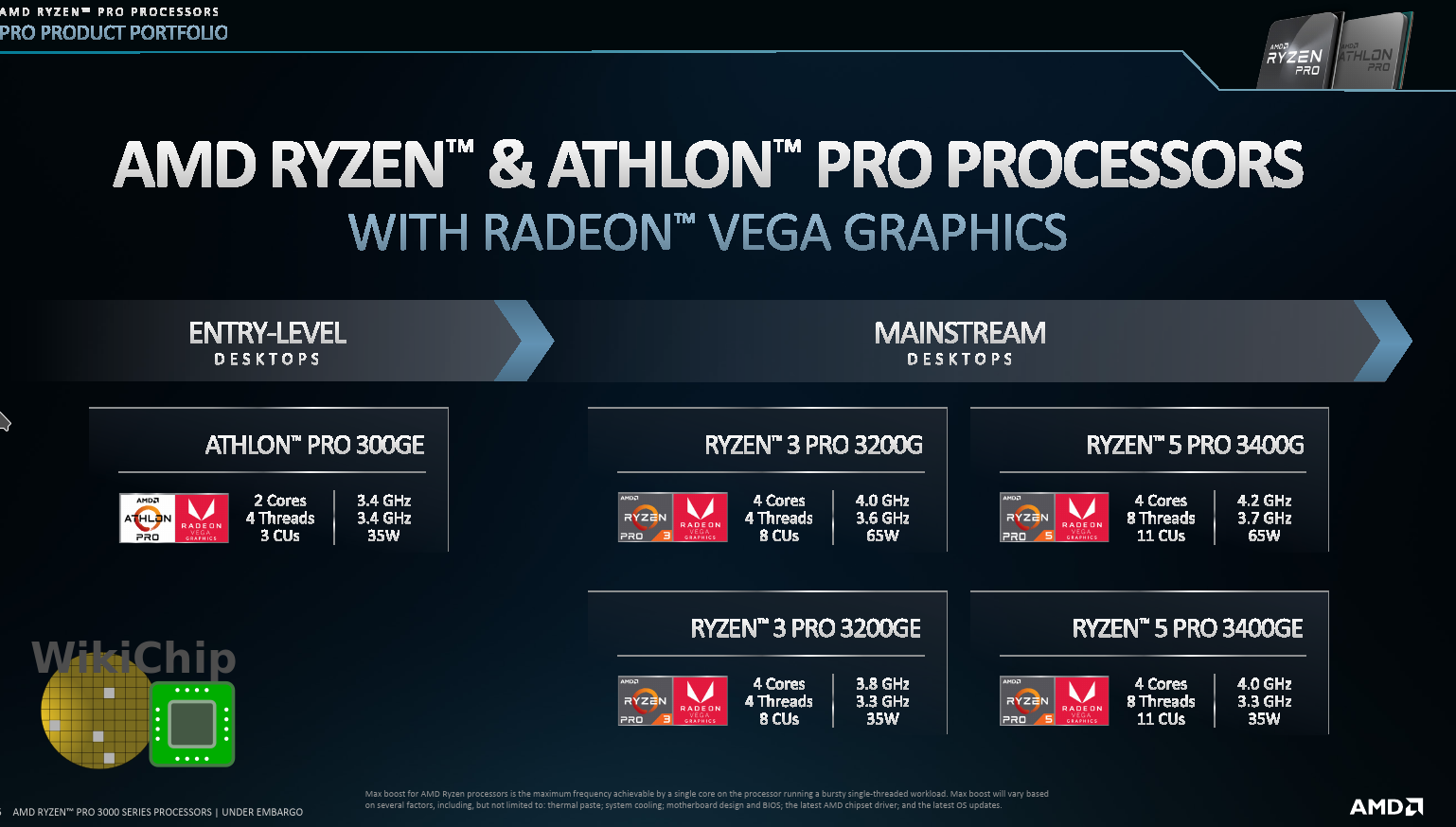 The new 3000-series APUs have a 100 MHz higher base frequency and 200-300 MHz higher boost. Note that the integrated Vega GPUs are identical in compute units and has a slightly higher frequency.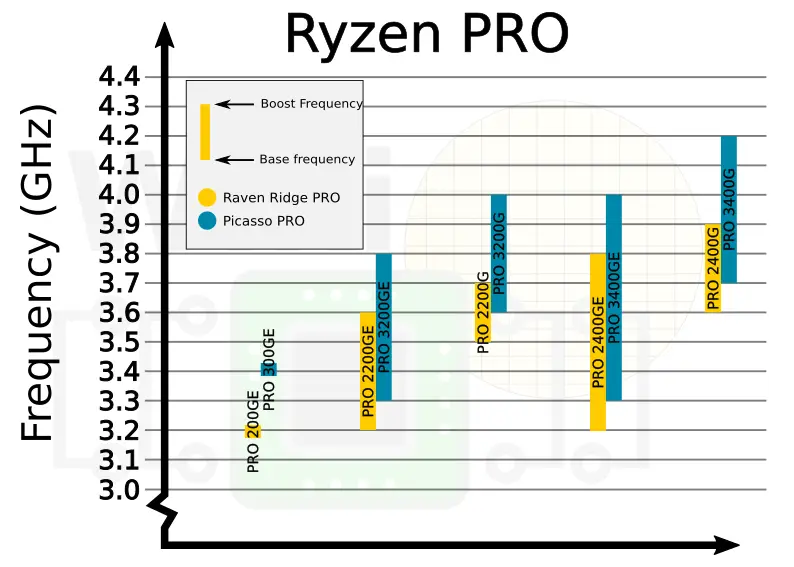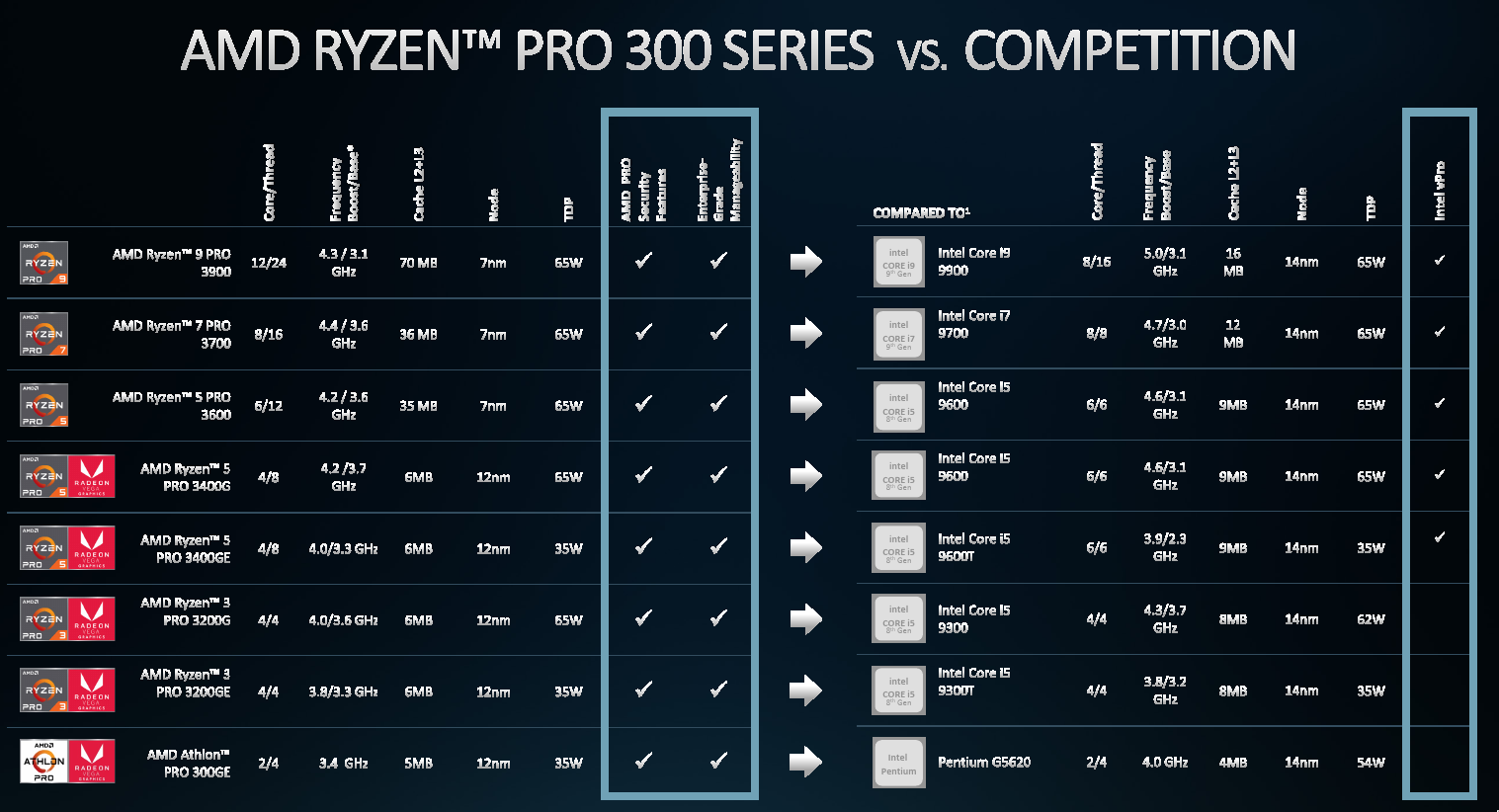 Zen 2-based PRO 3000 Processors
At the high-performance end of the market segment, AMD is three new Matisse, Zen 2-based, desktop processors – the PRO 3600, PRO 3700, and PRO 3900. These range from six to twelve Zen 2 cores. Since those processors are capped at 65 W, they have a slightly lower base and turbo frequencies compared to their 105 W X-suffixed counterparts. What's a little unusual about this launch is that AMD is introducing the PRO SKUs prior to their non-PRO versions. This might indicate they are prioritizing enterprise over the DIY segment. Apart from the PRO-specific features, the two SKUs are usually identical in specs (i.e., cores, frequency, and TDP). Apart from the 3600, AMD has not announced the Ryzen 3700 and 3900 (non-PRO) SKUs but we do expect them to have identical specs.
Ryzen PRO 3000 Desktop Processors
Model
C/T
TDP
Frequency
Cache
Cores
Threads
Base
Boost
L2
L3
Ryzen 9 PRO 3900
12
24
65 W
3.1 GHz
4.3 GHz
6 MiB
64 MiB
Ryzen 7 PRO 3700
8
16
65 W
3.6 GHz
4.4 GHz
4 MiB
32 MiB
Ryzen 5 PRO 3600
6
12
65 W
3.6 GHz
4.2 GHz
3 MiB
32 MiB
All the newly launched processors are available worldwide today.
---
Updated WikiChip pages: Matisse, Picasso, Ryzen 3, Ryzen 5, Ryzen 7, and Ryzen 9.
---