Intel Rolls Out 13th Gen Core, Raptor Lake Processors; Cranks Up The Frequency

Early this week, at the Intel Innovation 2022 Event, the company launched its 13th Generation Core processors, formerly codename Raptor Lake. Succeeding prior-generation, Alder Lake, the new processors offer higher frequency and more cores which produce both higher single and multi-threaded performance.
A total of six initial desktop processors have been announced – two Core i5s, two Core i7s, and two Core i9s. Each SKU pair is identical apart from integrated GPU support – 'K' parts come with Intel UHD Graphics 770 while the 'KF' has no integrated graphics and is sold at a $25 discount off the recommended customer price (RCP). The integrated graphics are identical to Alder Lake (including the number). All six processors are unlocked and support 128 GiB of dual-channel DDR4/DDR5 memory with data rates of 3200/5600 MT/s respectively. All SKUs have x20 lanes of PCIe – x16 PCIe 5.0 and x4 PCIe 4.0.
Intel 13th Generation Core Processors
SKU
Cores (C/T)
Frequency (GHz)
GPU
Power (W)
Price
P
E
P Cores
E Cores
Base
Max
Base
Turbo
TBMT
TVB
Base
Turbo
i9-13900K
8/16
16/16
3.0
5.4
5.7
5.8
2.2
4.3
770
125
253
$589
i9-13900KF
8/16
16/16
3.0
5.4
5.7
5.8
2.2
4.3
N/A
125
253
$564
i7-13700K
8/16
8/8
3.4
5.3
5.4
–
2.5
4.2
770
125
253
$409
i7-13700KF
8/16
8/8
3.4
5.3
5.4
–
2.5
4.2
N/A
125
253
$384
i5-13600K
6/12
8/8
3.5
5.1
–
–
2.6
3.9
770
125
181
$319
i5-13600KF
6/12
8/8
3.5
5.1
–
–
2.6
3.9
N/A
125
181
$294
A few notes about processor frequency. All the processors above have a standard turbo boost frequency listed under the Turbo column. Only the Core i7 and Core i9 have Turbo Boost Max Technology 3.0 (TBMT) enabled, bringing the turbo max frequency to 5.4 GHz on the Core i7 and 5.7 GHz on the Core i9. Additionally, the Core i9s have Thermal Velocity Boost (TVB) enabled as well, which can opportunistically increase the turbo by a single bin (100 MHz) if TCASE is at 70°C or lower and turbo power budget is available. This allows the Core i9 SKUs above to reach a maximum turbo of 5.8 GHz. For this reason, TVB is critical for Intel to claim it's the highest clock ever launched to date, surpassing AMD's Ryzen 9 7950X which started shipping 3 days ago.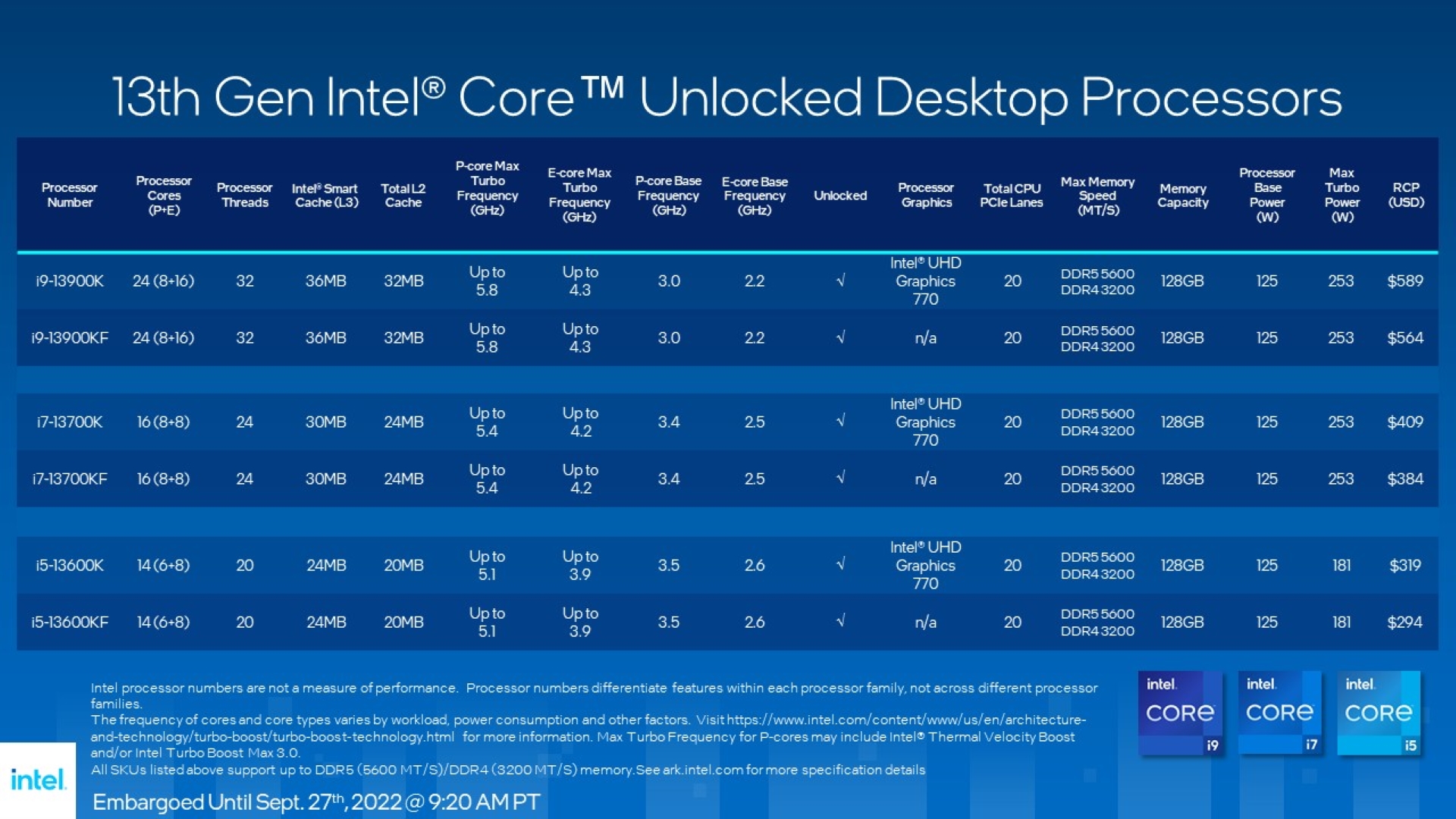 Overview and Changes/Improvements
Raptor Lake is not a redesign but rather an enhancement of Alder Lake. To that end, it features eight Raptor Cove big cores along with up to 16 enhanced Gracemont small cores. Compared to comparable Alder Lake SKUs, the number of big cores has not changed (although some architectural changes did happen), however, the number of small cores has doubled. Raptor Lake still uses LGA-1700 compatible socket, connecting the SoC to the chipset via x8 DMI 4.0. With Raptor Lake, Intel is introducing a new chipset Z790 designed to succeed the Z690 chipset which brings several changes including increasing the PCIe 4.0 lanes from x12 to x20 while halving the number of PCIe 3.0 lanes (from x16 to x8). Z790 also dropped support for Optane memory since the company killed its Optane business.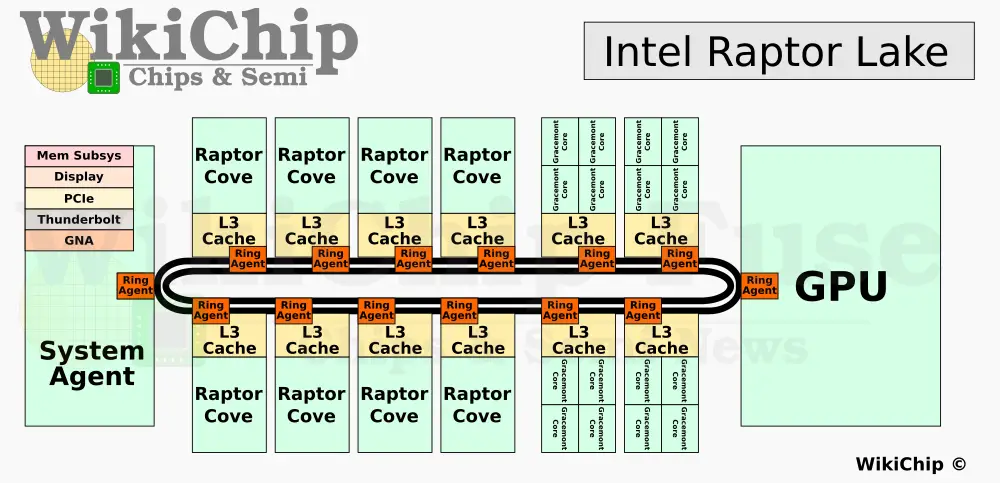 A die shot of the Raptor Lake (8+16) SoC is shown below.

Raptor Lake is fabricated on an enhanced version of the Intel 7 process. Internally it's sometimes referred to as "Intel 7 Ultra", their 3rd generation SuperFin Transistor architecture. This is a full PDK update and Intel says it brings transistors with significantly better channel mobility. At the very high end of the V-F curve, the company says peak frequency is nearly 1 GHz higher now. The curve itself has been improved, shifting prior-generation frequencies by around 200 MHz at ISO-voltage, or alternatively, reducing the voltage by over 50 mV at ISO-frequency.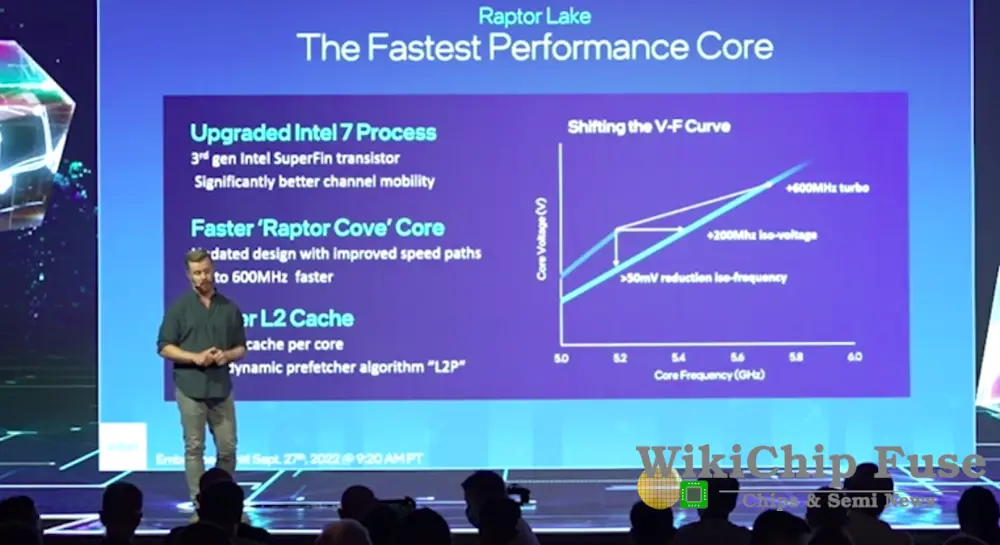 The ramifications of those changes are quite interesting. Given that Gracemont can exchange punches with both Skylake and Zen 2 in terms of IPC, the only thing it couldn't do is achieve their high frequencies. With the introduction of Raptor Lake, we're seeing frequencies comparable to the Core i7-7700K (Kaby Lake flagship SKU) on the small cores, thereby potentially matching the ST performance of the top-of-line SKUs from just a few years ago on the small cores, at considerably better performance-per-watt and area.
At the event, Intel CEO, Pat Gelsinger announced that early next year the company will launch an even more extreme Raptor Lake SKU featuring a max frequency of 6 GHz out of the box. The SKU will be available in limited volumes.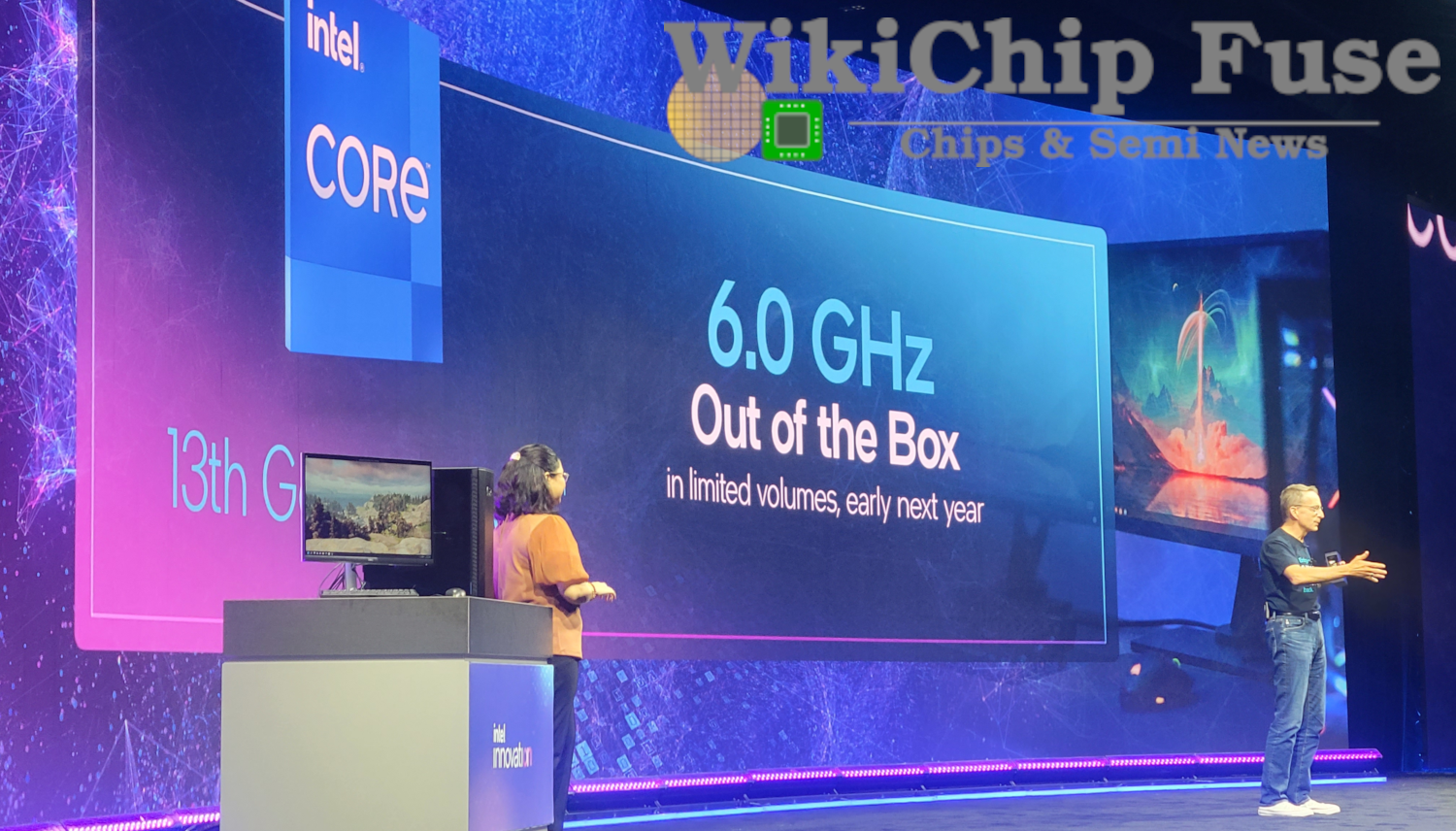 At 6 GHz, not only will this SKU be the highest-frequency commercially available microprocessor ever sold, but it's also the first time the 6 GHz barrier is attained with an off-the-shelf, out-of-the-box product. It's worth highlighting that the microprocessor speed record was broken, not once, but a whopping three times over just one year after nearly a decade of frequency plateauing.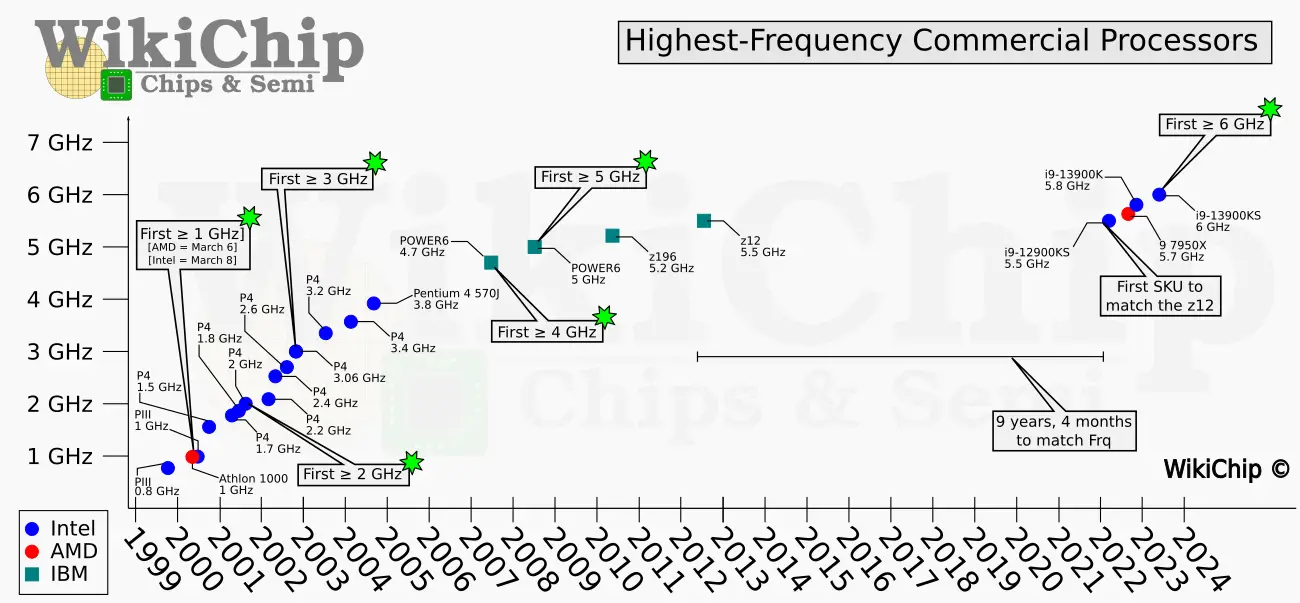 CPU generation such as Raptor Lake which relies heavily on the same platform compatibility (Alder Lake in this case) offers significant advantages. Intel says that utilizing the same underlying architecture and platform compatibility as Alder Lake resulted in a 6-month reduction in the development cycle, enabling a 1-year cadence of Core CPU generation.

Almost all the changes and improvements on Raptor Lake focus on memory optimizations. The big cores in Raptor Lake are called Raptor Cove. Beyond improvements to critical paths to support higher frequencies, the memory subsystem was also altered. Intel said that observing the behavior of top client use cases showed that addressing Alder Lake's LLC cache hits and misses should be the main area of focus to improving performance across a large set of common workloads. Before discussing some of the cache-level changes, we wanted to point out that the new maximum supported DDR5 memory rate has also increased in Raptor Lake from 4,800 MT/s to 5,600 MT/s or a 17% high rate, which means the peak theoretical bandwidth has increased from 76.8 GB/s to 89.6 GB/s. Those bandwidths are now higher than Intel's first-generation Xeon Scalable quad-channel server parts (which supported up to 4x DDR4-2666).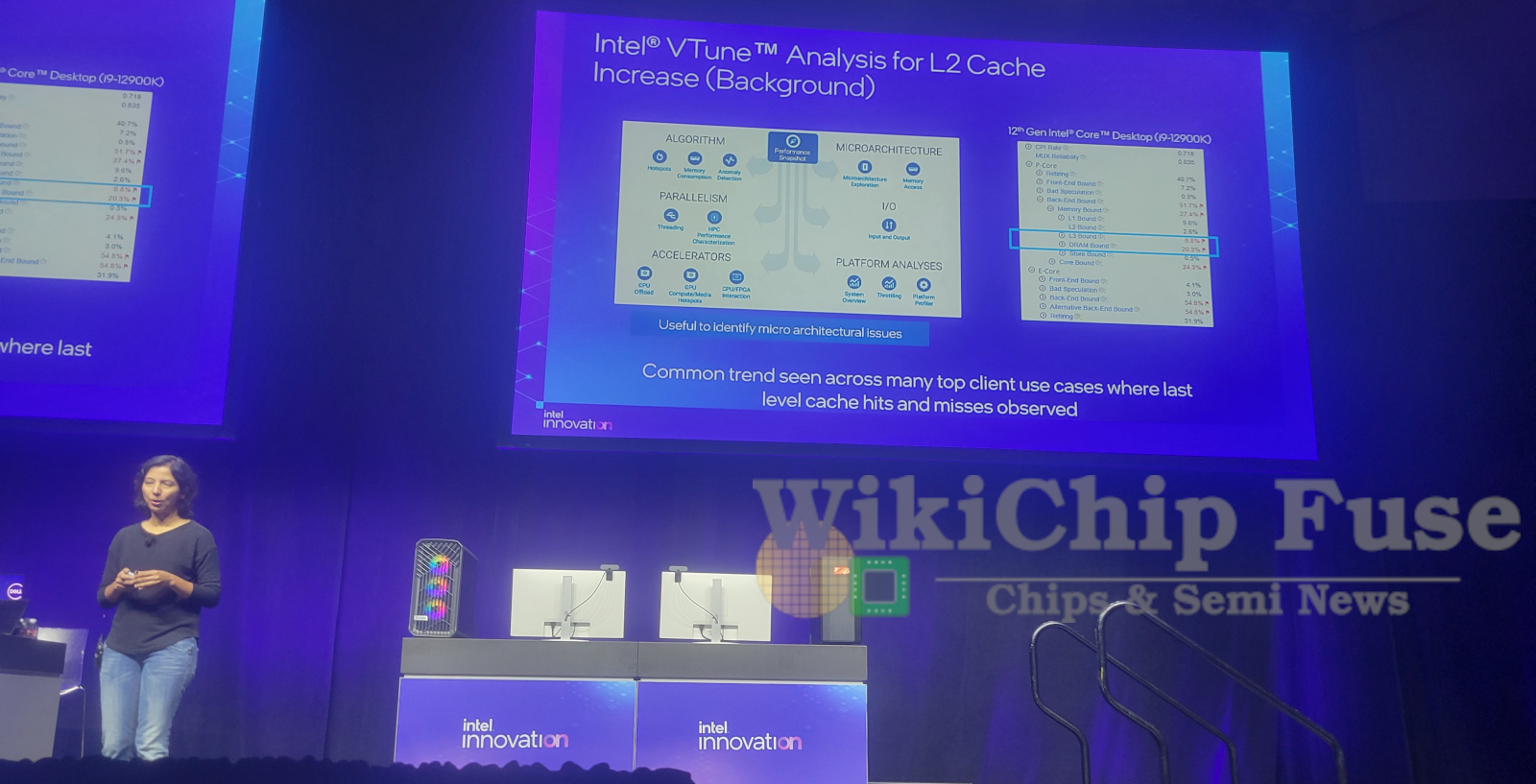 On Alder Lake, each Golden Cove core included 1.25 MiB of private L2 cache along with 3 MiB of shared L3 cache. For Raptor Cove, Intel increased the L2 by 1.6x to 2 MiB. For the Gracemont clusters, Intel doubled the L2 cache from 2 MiB to 4 MiB. The L3 has not changed. However, since Intel added up to eight more small cores, since each cluster comes with 3 MiB of L3, the new processors offer 6 MiB of additional L3 capacity.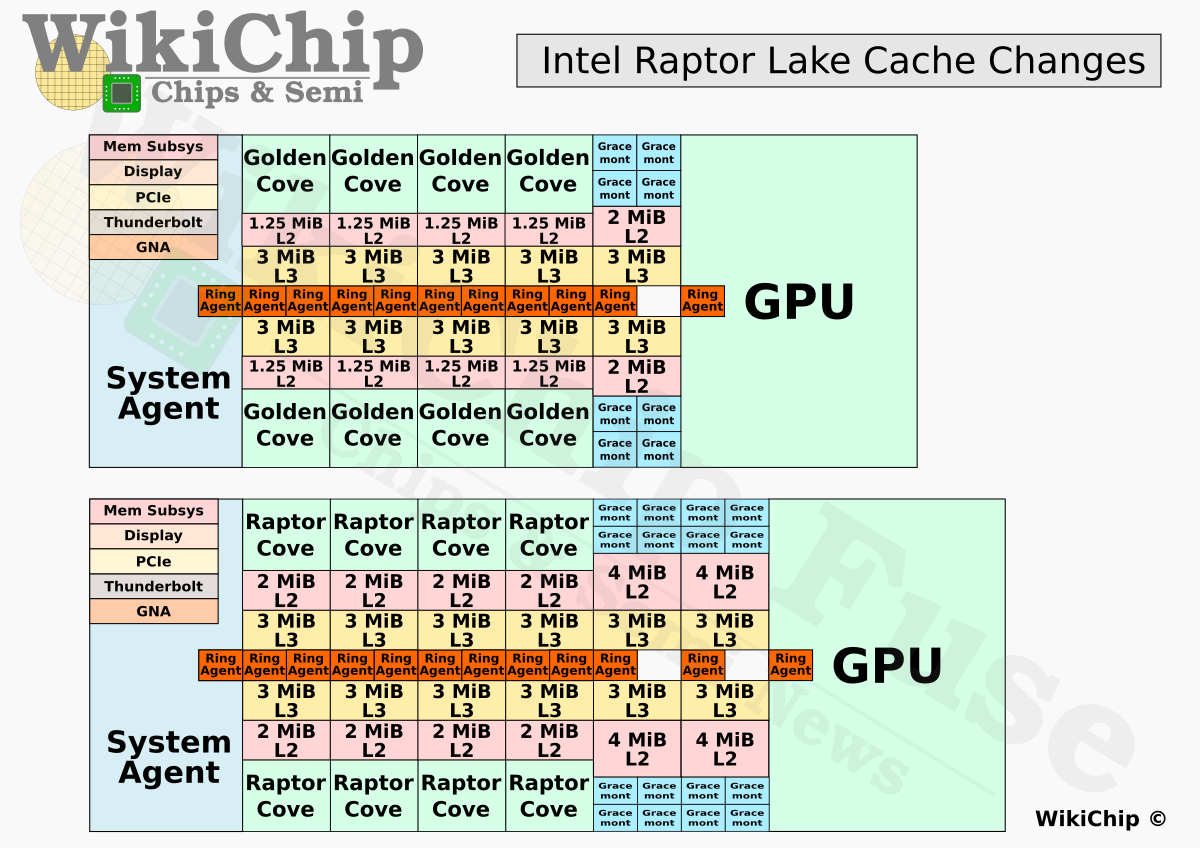 Along with the new L2 cache changes, a new dynamic prefetcher algorithm "L2P" was introduced, a mechanism that attempts to dynamically adjust the prefetcher behavior in real-time based on the currently running workload. For the last level cache, Intel added a new dynamic inclusive/non-inclusive (Dynamic INI) mechanism that attempts to switch between inclusive L3 policy and non-inclusive L3 policy in real-time on the fly based on the memory behavior of the running workload. Overall, the cache changes alone are said to improve performance by as much as 16% depending on the workload.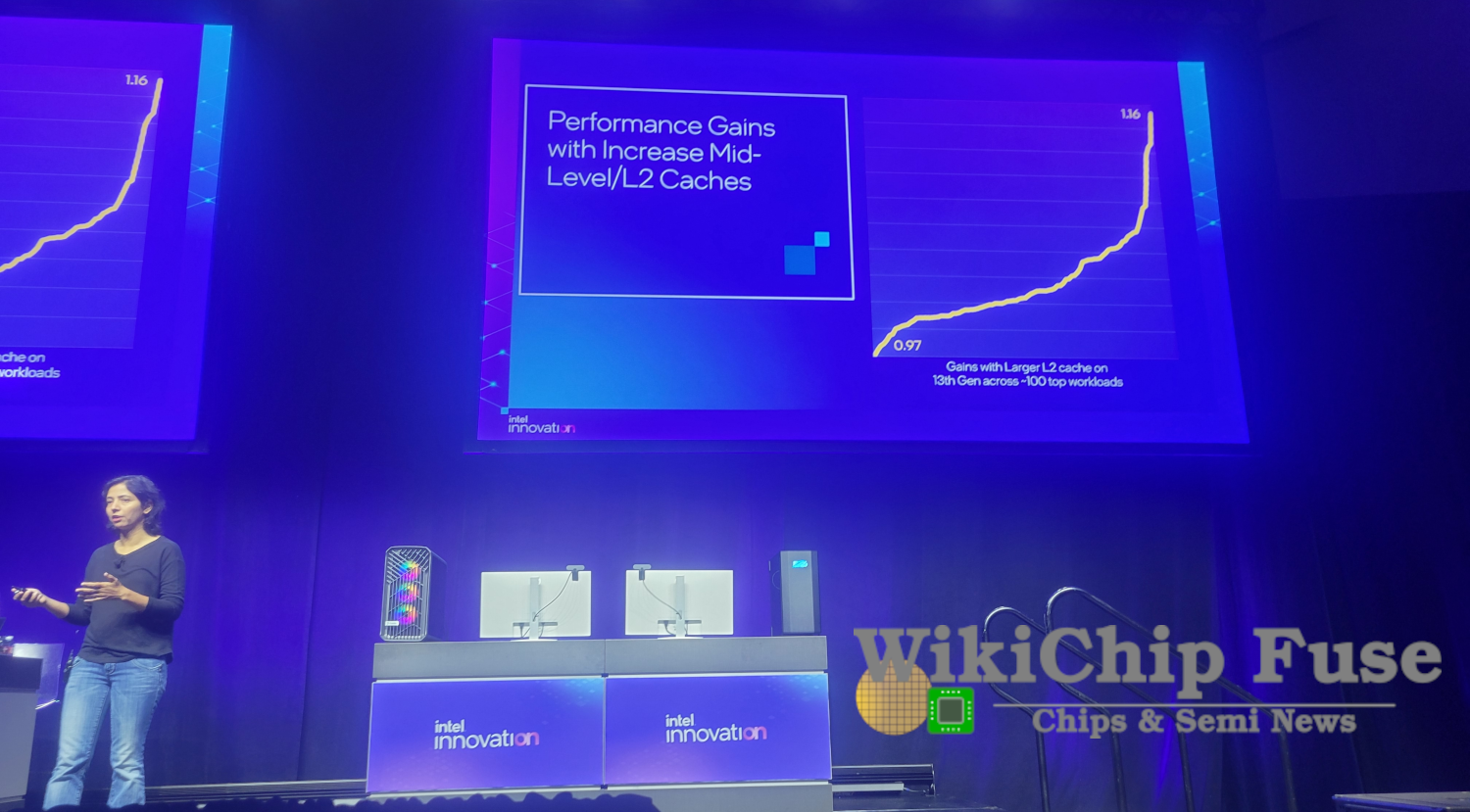 Performance
All in all, Intel says that compared to 12th Generation Core, formerly codename Alder Lake, you can expect to see up to 15% better single-thread performance. The majority (2/3 or 67%) of the single-thread performance comes from frequency improvement, 14% from memory improvements, and 20% from cache changes. Intel says you can also expect up to 41% better multi-thread performance improvement.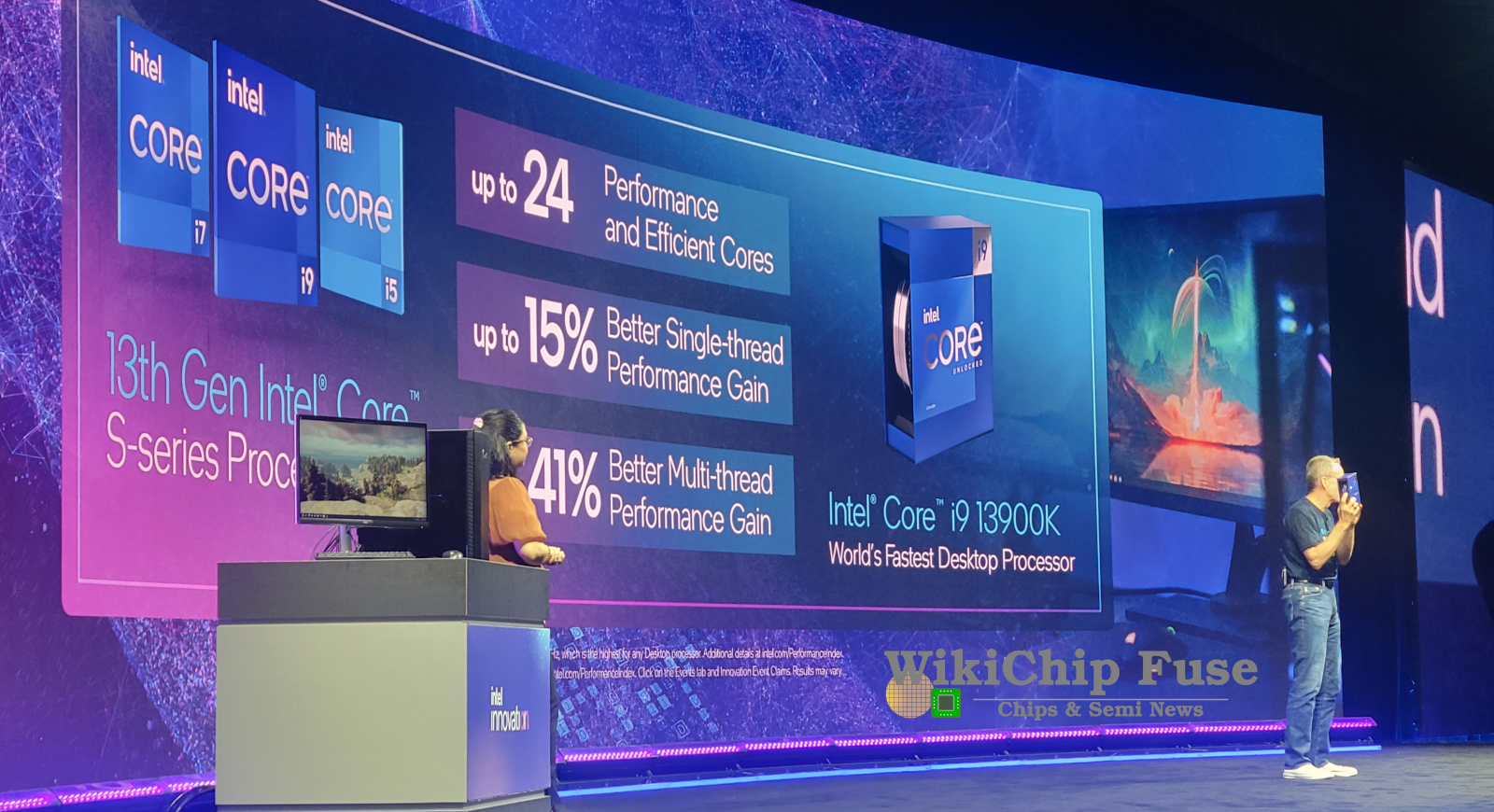 In terms of power, thanks to the 8 new E cores and process improvements, Intel says that for multi-threaded workloads, the Core i9-13900K can achieve similar performance levels as Core i9-12900K's 241 W when capped at just 65 W.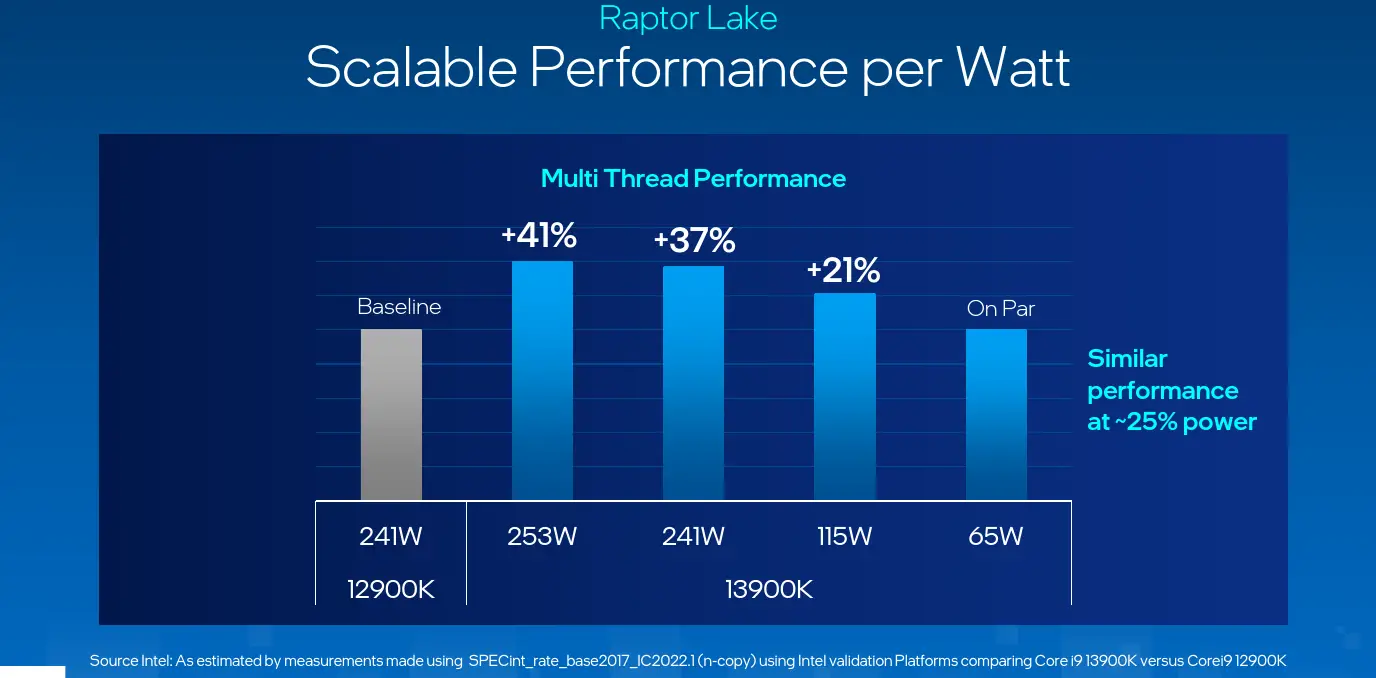 13th Gen Family & Dates
The new 13th Gen Intel Core desktop 'K' processors and the Intel Z790 chipset, along with compatible motherboards, will be available starting October 20, 2022. Although this week's announcement focused on the top desktop enthusiast's SKUs, Raptor Lake will be launched across all segments including budget desktop and mobile. Intel says over 50 SKUs will be available with more than 500 designs, making it one of the largest launches in terms of product selections. In addition to the 125 W desktop SKUs, the usual 65 W and 35 W Raptor Lake-S SKUs will also be available and in the mobile market, Raptor Lake-U/P/H/HX SKUs will also launch. Mobile SKUs will probably be announced either late this year or early next year (probably around CES time).