Core i7-8086K Overclockability Silicon Lottery Stats
Silicon Lottery, a company that sells delidded and binned chips with warranty, has published additional statistics on Coffee Lake. Specifically, the company has published new information on Intel's limited-edition Core i7-8086K that were launched last week.
Unlike the 8700K that were binned into five categories from 4.9 GHz to 5.3 GHz, the 8086K can all reach at least 5 GHz.
8700K / 8086K Overclockability
Core i7-8700K
(As of 6/08/18)
Core i7-8086K
(As of 6/17/18)
Frequency
% of chips
AVX Offset
Vcore
% of chips
AVX Offset
Vcore
4.9 GHz
Top 99%
-2
1.385V
–
5.0 GHz
Top 86%
-2
1.400V
100%
-2
1.400V
5.1 GHz
Top 50%
-2
1.410V
Top 92%
-2
1.410V
5.2 GHz
Top 17%
-2
1.425V
Top 60%
-2
1.425V
5.3 GHz
–
Top 14%
-2
1.435V
At top 14% reaching 5.3 GHz or higher, this is double what Silicon Lottery reported with the 8700K last year, confirming that those are, in fact, the highest-binned silicon.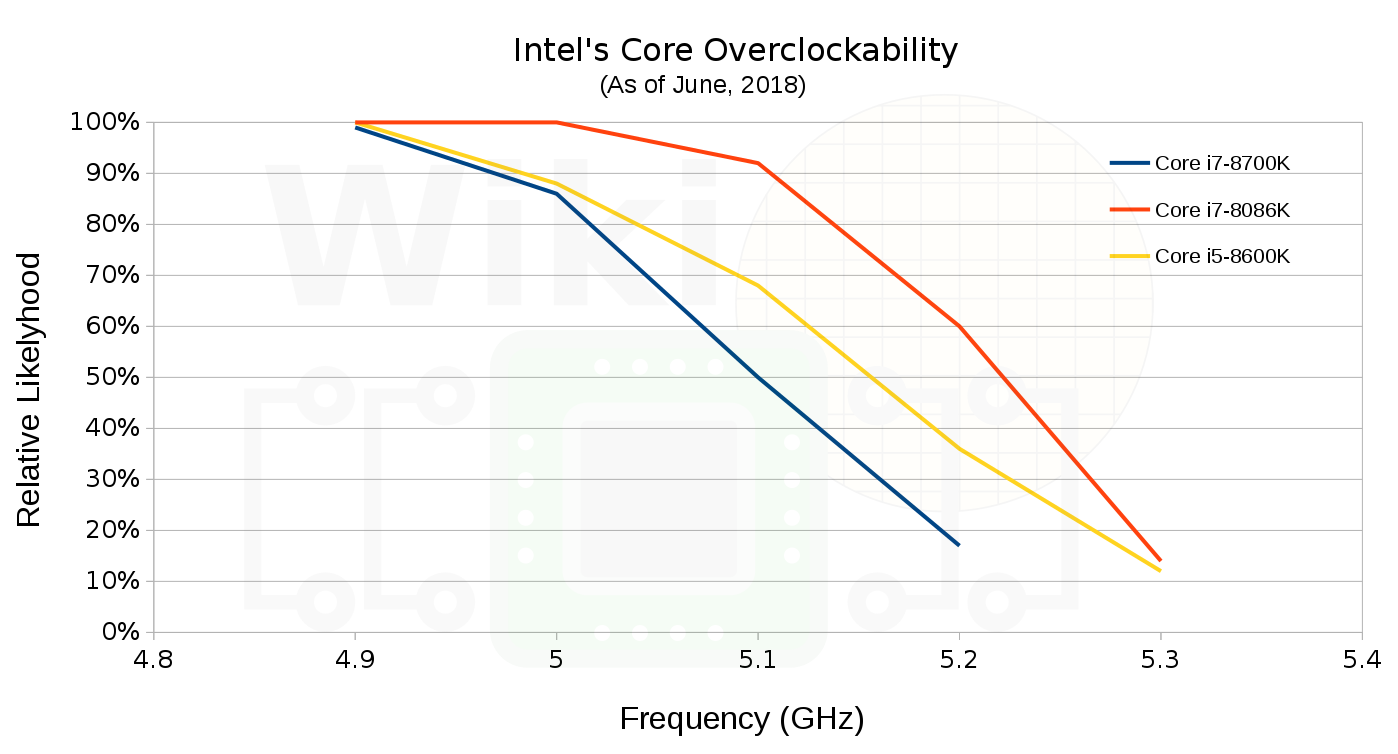 8700Ks Got Better
There have been speculations that Intel is taking out the best binned 8700K to sell as 8086Ks, leaving only inferior silicon to sell as 8700Ks. Silicon lottery numbers for the 8700Ks show that this is not the case. In fact, the 8700K binning has improved since December last year.
8700K Overclockability
 
11/11/2017
12/01/2017
6/08/2018
Clock
AVX
%
Vcore
%
Vcore
%
Vcore
4.9 GHz
-2
100%
1.387V
Top 99%
1.387V
Top 99%
1.385V
5.0 GHz
-2
Top 81%
1.400V
Top 72%
1.400V
Top 86%
1.400V
5.1 GHz
-2
Top 58%
1.412V
Top 43%
1.412V
Top 50%
1.410V
5.2 GHz
-2
Top 30%
1.425V
Top 16%
1.425V
Top 17%
1.425V
5.3 GHz
-2
Top 6%
1.437V
Top 3%
1.437V
 
The high percentages from November last year can likely be attributed to Intel taking extra caution due to higher variations in early silicon which can also help explain the low availability of initial Coffee Lake SKUs from November.