AMD Tech Day: the momentum continues with new products, new prices, and 12nm and 7nm announcements
Yesterday AMD held its CES Tech Day for the press. A lot has been detailed including their planned future products and strategies. Lisa Su stated that "2017 was the best year we've had and I'd like to make 2018 even better." The overall message is clear: AMD's momentum is just getting started.
Desktop Parts
Ryzen APUs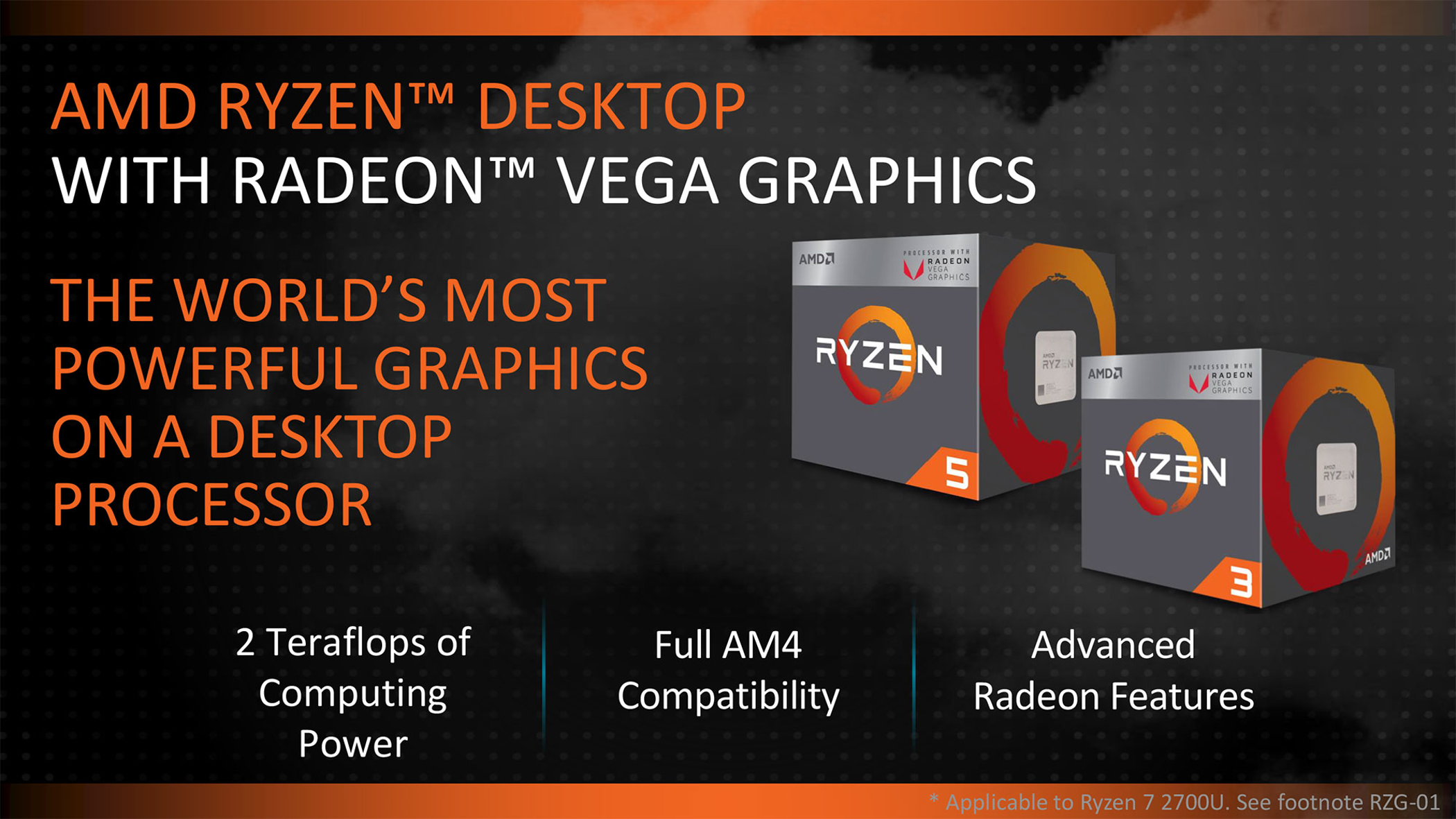 Though AMD no longer uses the term "APU", they have stated they will officially launch Ryzen Desktop Processors with Radeon Vega Graphics on February 12. Formerly known by the code name Raven Ridge, two products are being prepared: Ryzen 5 2400G and Ryzen 3 2200G.
Note that those parts do work with the conventional AM4 socket (assuming the motherboard has a display output). A firmware update might be required.
Ryzen Desktop Processors with Radeon Vega Graphics
Model
Price
C/T
Frequency
cTDP
GPU
Ryzen 5 2400G
$169
4/8
3.6 GHz / 3.9 GHz
45-65W
Radeon RX Vega 11
Ryzen 3 2200G
$99
4/4
3.5 GHz / 3.7 GHz
45-65W
Radeon Vega 8
AMD is offering those parts at very aggressive prices – under one hundred dollars for the 2200G. Those two models have a considerably higher base frequency than the mobile Raven Ridge parts. As usual, AMD provided a series of slides comparing the performance of those parts. We generally skip over that info for all companies since they tend to exaggerate or cherry pick their numbers. We recommend you wait for reviews from sites such as AnandTech and PC Perspective to get a better feel for how they will perform.
Price Adjustments
As the competition against Intel intensifies, AMD has reviewed their prices of other Ryzen products and have carefully adjusted the prices for many of their processors to bring a better balance between price and performance.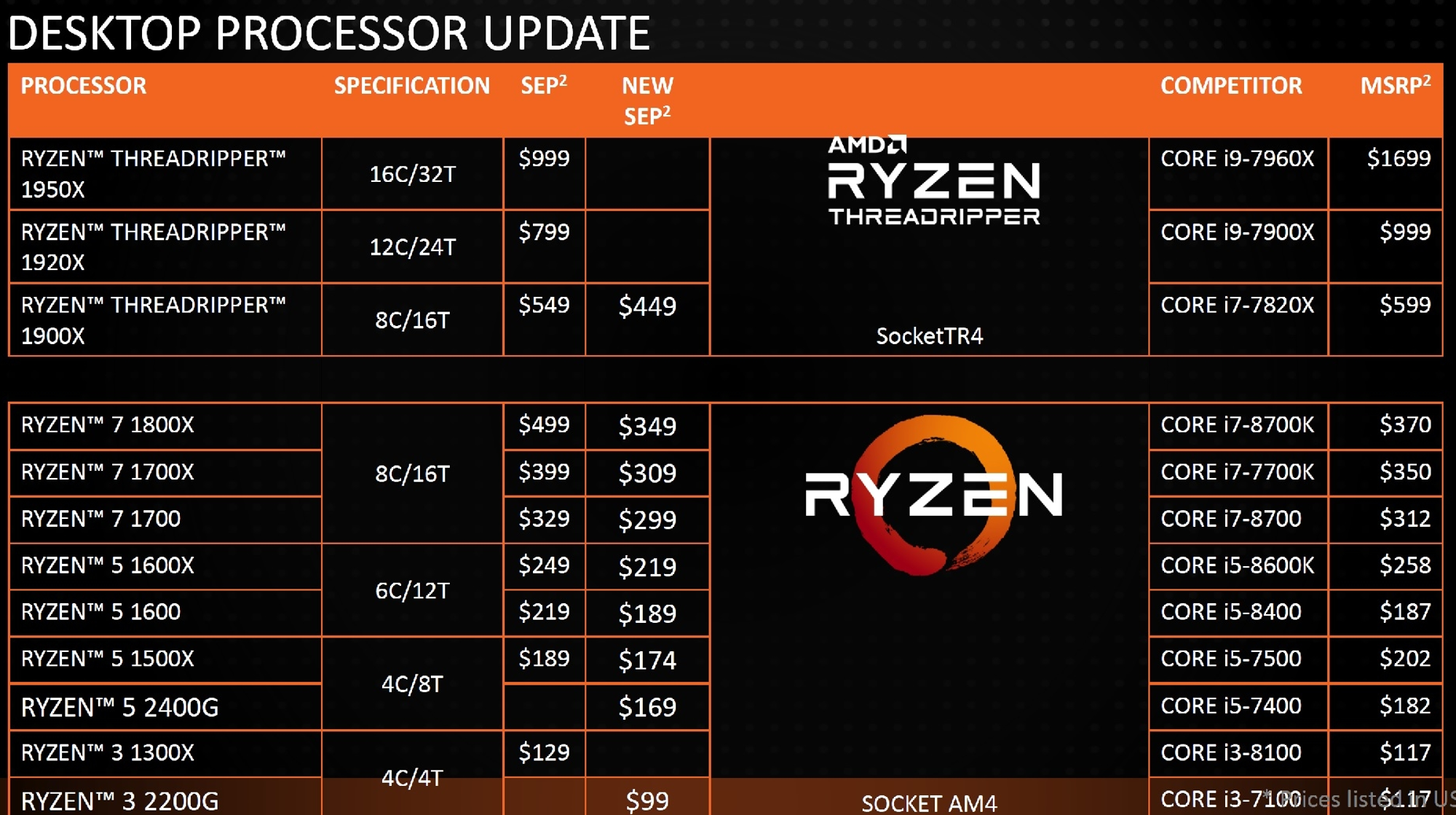 Zen+ (12nm) for April
AMD has stated that they intend on introducing a further enhanced version of those Ryzen SKUs based on GlobalFoundries 12nm process. Those processors will be based on an enhanced Zen microarchitecture AMD is calling Zen+. They intend on launching Zen+ in April of this year.

While the full list of enhancements is currently unknown, Zen+ parts should have a modest speed bump (we were told roughly 10%) over their predecessors and an improved XFR2. We also know those parts will have Precision Boost 2, the technology already found in mobile Raven Ridge parts. Jim Anderson, Senior VP and GM at AMD, has stated that 2nd Generation Zen will work with existing AM4 motherboards, although a firmware update would most likely be required. It's worth noting that in order to avoid a new platform SNAFU with Ryzen 2nd Gen, OEMs are already updating firmware for those new processors.
Ryzen 2nd Generation will also launch simultaneously with the introduction of the X470 chipset. X470 will also work with the AM4 socket and introduce new low-power features. Additionally, a number of fixes have supposedly been done to this chipset and some OEM-related concerns were resolved, although detailed information was not disclosed. It's worth noting that Zen+ based Threadripper processors will also be introduced in the second half of 2018.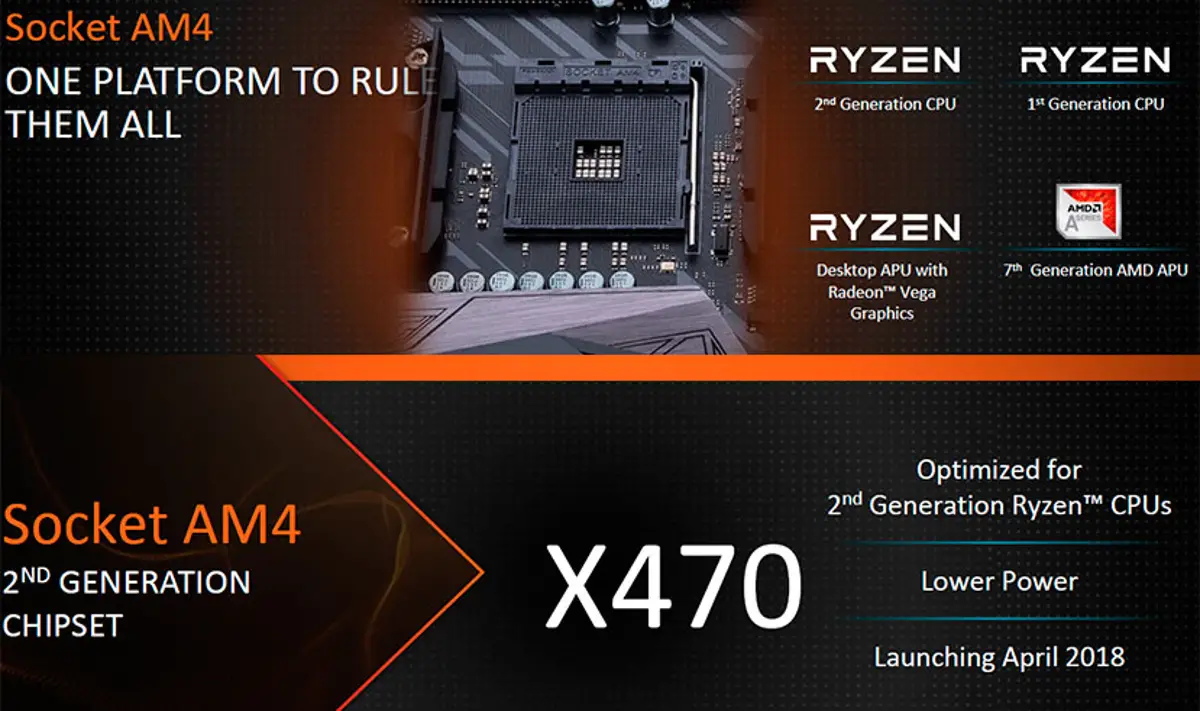 Officially, Ryzen 2nd Generation is set to launch in April. Zen+ based Threadripper processors are scheduled for the second half of 2018, although no exact date was given. Additionally, 2nd Generation of Ryzen Pro processors will launch around the same time. Those parts are geared toward businesses and workstations.

Zen 2, 3
AMD stated they intend on leveraging the latest process technology in order to continue to accelerate improvements. As we mentioned above, Zen+ is an enhancement of Zen which is planned for April of this year. AMD stated that its successor, Zen 2, which is based on GlobalFoundries 7nm process, is "design complete" (we presume it hasn't actually been taped yet). Mark Papermaster, senior VP and CTO, made it very clear that Zen 2 has reached their target performance goals. Finally, Zen 3, which is already being worked on, is planned for GlobalFoundries enhanced 7nm+ process. GlobalFoundries has recently detailed their highly competitive 7nm process at IEDM, check out our summary here.

Note that this roadmap only goes as far as 2020 so we can kind of figure out a rough timeline. We expect Zen 2 to launch sometimes in 2019 (likely more toward the middle to second half) and Zen 3 should launch sometimes in 2020. Of course this timeframe greatly depends on GlobalFoundries abilities to deliver a working process on time as well.

Back in December, we reported about Lisa Su vision for AMD after the keynote speech she gave at IEDM. At Tech Day, AMD continued to reiterate this effort. Anderson noted that the industry trend is roughly 7-8% performance improvement per year. AMD's ambitious goal is to accelerate this trend.