AMD Tech Day: the momentum continues with new products, new prices, and 12nm and 7nm announcements
Mobile
New low-end Mobile SKUs
Back in October, AMD introduced the first Raven Ridge Mobile Ryzen – the 2500U and the 2700U. Today, AMD introduced two new lower-end SKUs: the Ryzen 3 2300U, and the Ryzen 3 2200U.
Ryzen Mobile
Model
C/T
Frequency
TDP
CUs
SPs
Ryzen 3 2300U
4/4
2.0 GHz / 3.4 GHz
15 W
6
384
Ryzen 3 2200U
2/4
2.5 GHz / 3.4 GHz
15 W
3
192
The default TDP for those parts is 15 W, however, they have a cTDP-up of 25 W and a cTDP-down of 12 W. OEMs can decide the TDP based on the cooling solution they have incorporated into their product.
Ryzen Pro Mobile
AMD plans to launch Ryzen Pro Mobile in the second quarter of this year. Those processors are for enterprise and workstation mobile devices.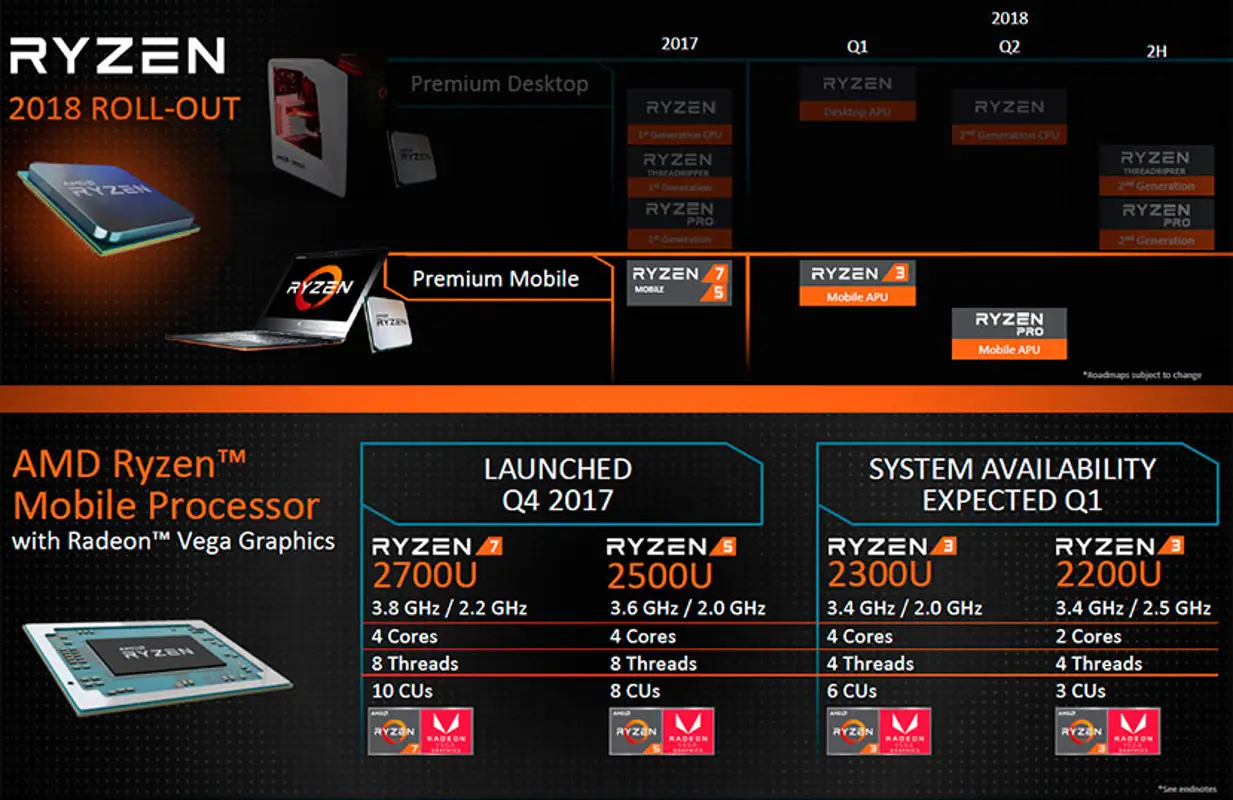 Three SKUs have been announced, one for each of Ryzen series (3, 5, and 7).
Note that the Pro processors are actually identical in specs to the non-Pro SKUs but they offer additional security features geared toward business customers such as a DASH-compliant solution, 18 months of image stability, various other warranties, TPM 2.0, as well as Transparent SME (TSME). It's worth noting that currently Intel doesn't actually have anything similar to AMD's TSME which is why they are rolling their own (albeit far more complex) implementation. Nonetheless, kudos for AMD for being ahead of the curve.
AMD is positioning those SKUs against Intel's i7-8550U/7600U, i5-8350U/7300U, and i3-7100U.
Ryzen Pro Mobile Features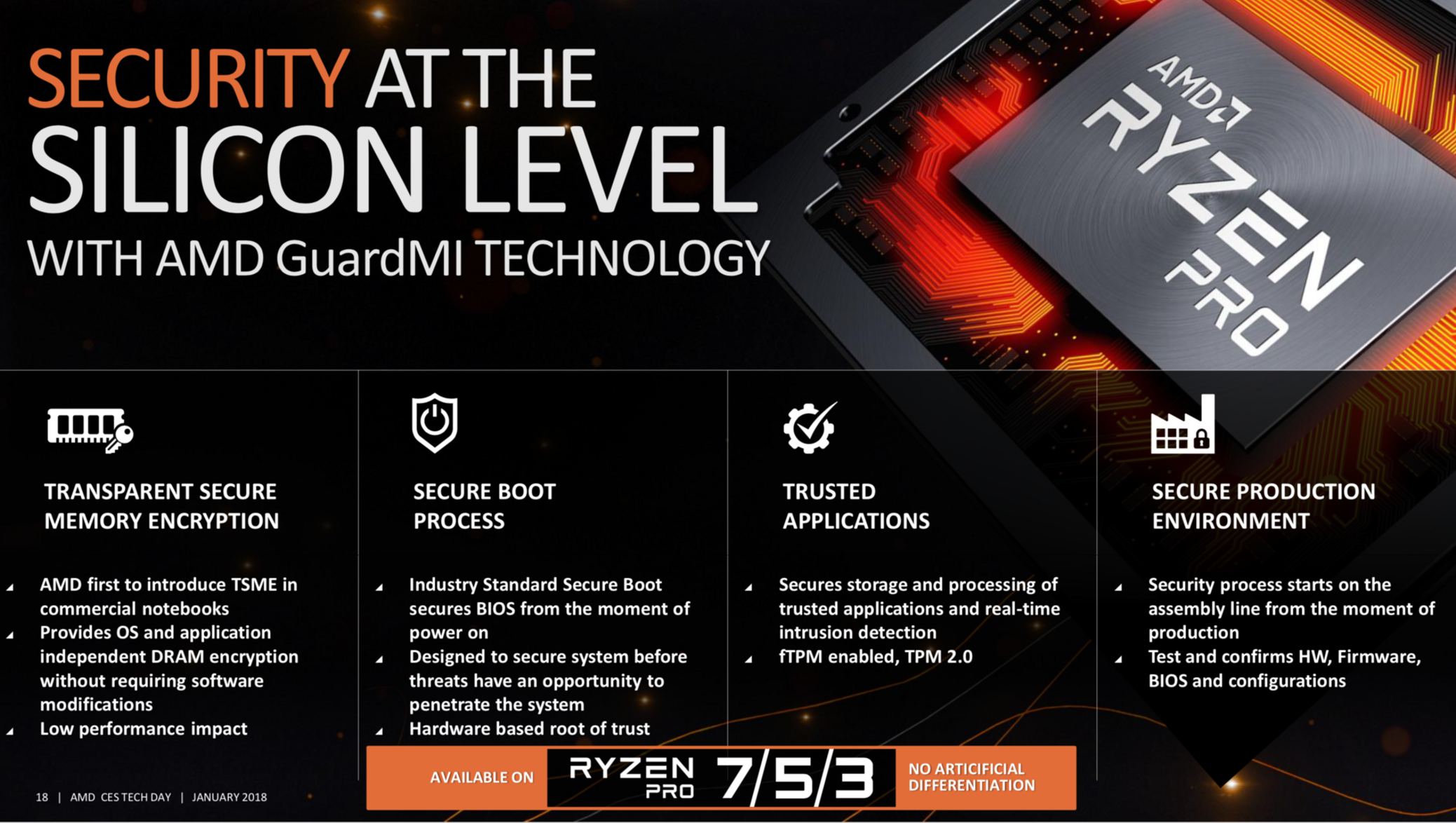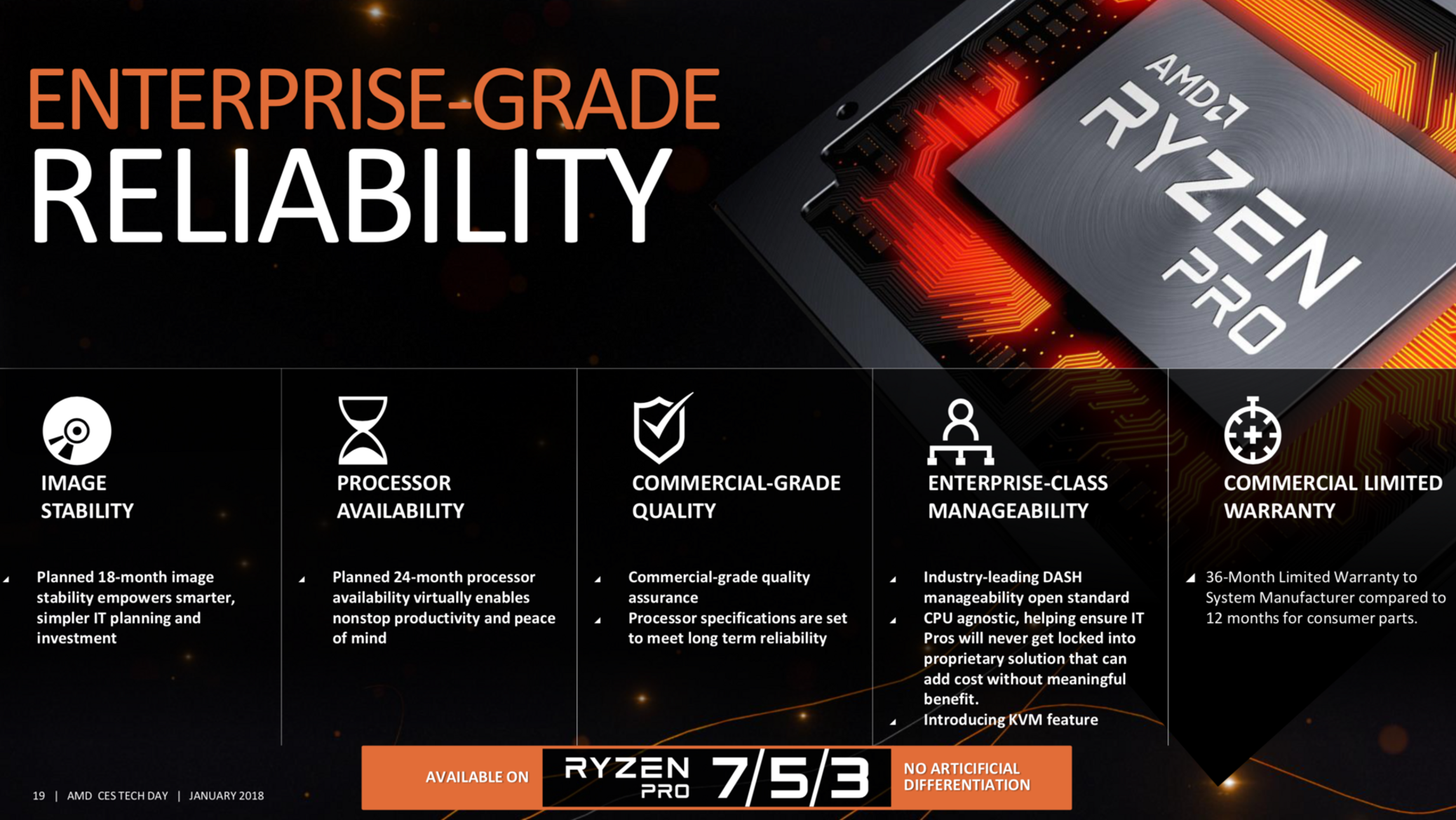 Graphics
Radeon Vega Mobile
AMD first announced their latest graphics microarchitecture, Vega at SIGGRAPH 2017. At the time, two models were launched, the Radeon RX Vega 64 and the Radeon RX Vega 56. Now AMD is adding Radeon Vega Mobile, a new GPU for gaming notebooks and other mobile devices. Those graphics processors will incorporate HBM 2 into the same package.

AMD plans to introduce a number of new features including HDMI 2.1 which was introduced at CES last year and its associated functionality such a variable refresh rate.