Qualcomm Launches The Snapdragon 710, A New Premium Mid-Range SoC
Qualcomm has announced the first model in the Snapdragon 700 family, a series aimed at the premium mid-range market. In practice what this really means is that the high-end 600-series models are getting rebranded as 700-series models. The first model is the Snapdragon 710 and is a direct successor to the Snapdragon 660 which was released almost exactly a year ago.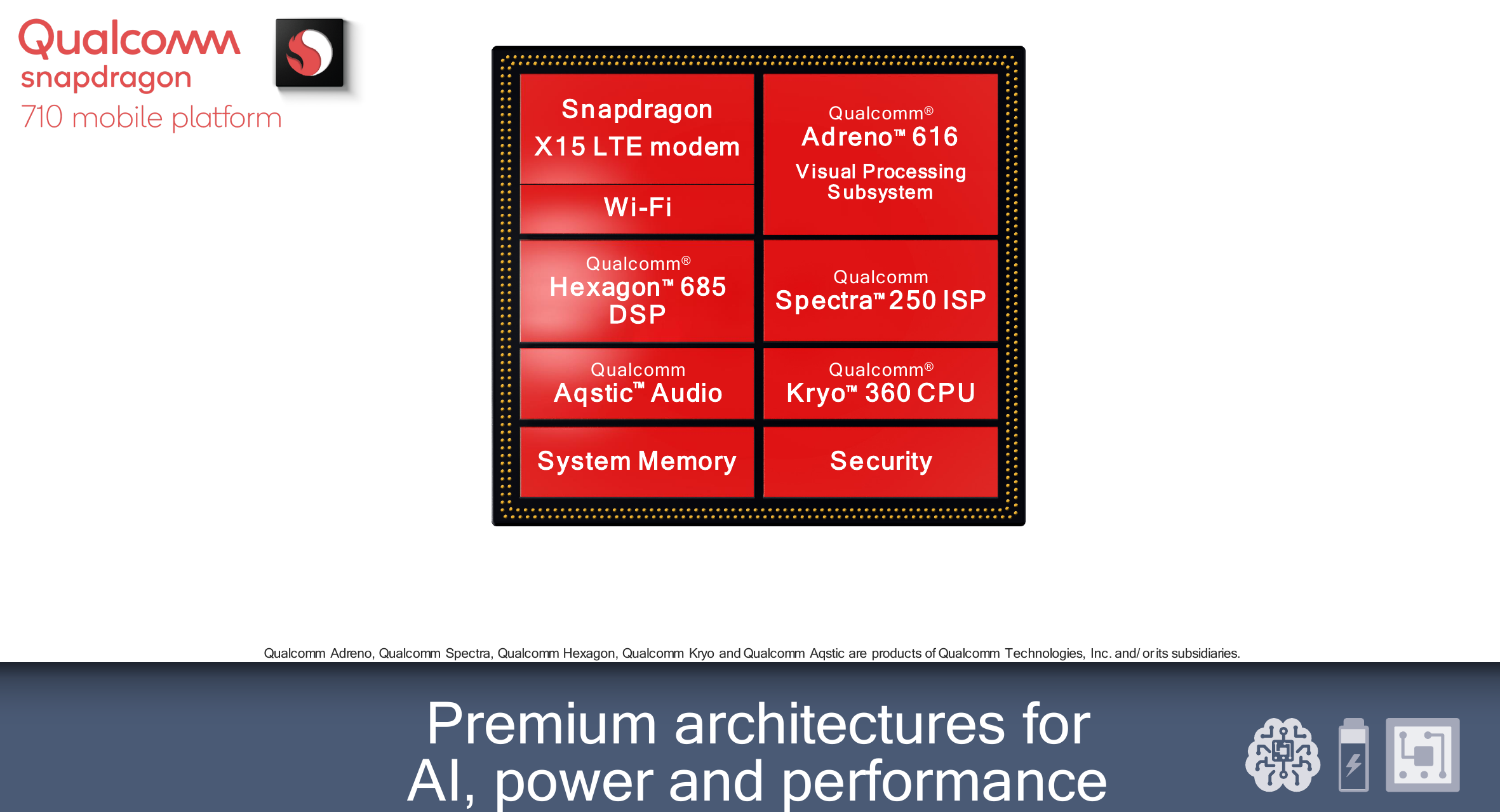 The 710 brings some large changes over the 660. The new chip features upgraded cores, from the Kryo 260 to the Kryo 360. The Kryo 260 Gold and Silver cores are based on the Cortex-A73 and Cortex-A53 cores while the new Kryo 360 Gold and Silver cores are based on the A75 and A55 respectively. By the way, the actual core configuration has changed as well. The new Snapdragon 710 features only two big Kryo 360 Gold cores operating at 2.2 GHz with six high-efficiency Kryo Silver cores operating at 1.7 GHz. Qualcomm says the 710 delivers up to 20% higher performance including up to 15% faster app launch and up to 20% faster web browsing. Those quoted numbers are based on their SpecINT2000 benchmarks compared to the Snapdragon 660.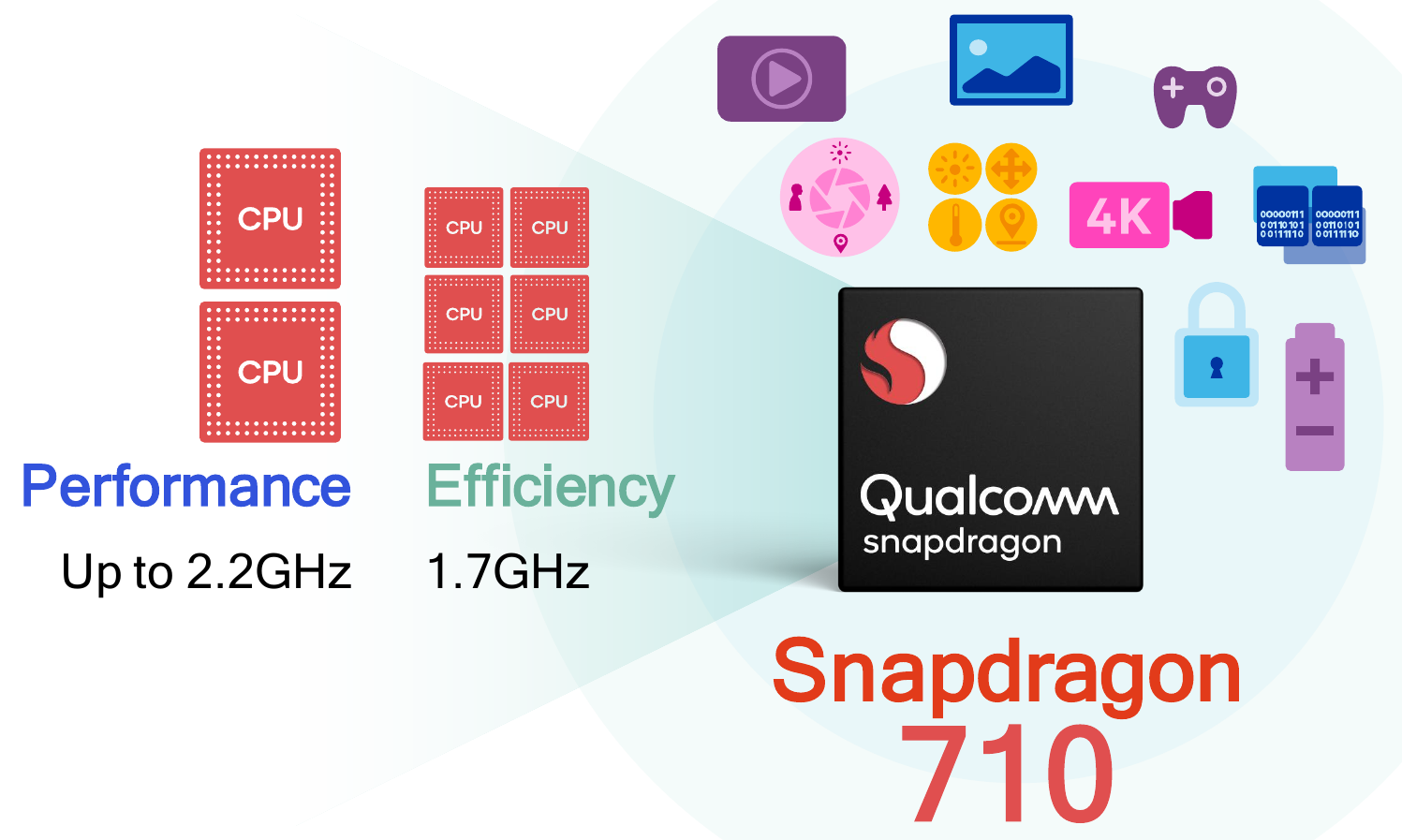 As for the GPU, the Snapdragon 710 incorporates the Adreno 616 which Qualcomm claims is up to 35% faster in graphics rendering versus prior generation. Although not confirmed, the GPU is expected to operate at 750 MHz. In the area of wireless connectivity, the new chip integrated Qualcomm's X15 modem which brings Category 15 with up to 800 Mbps downlink speeds.
Snapdragon 710 versus the 660
Premium Mid-range Snapdragon SoCs
Model
Snapdragon 660
Snapdragon 710
Process
14LPP
10LPE
CPU
4 × Kryo 260 Gold (A73) @ 2.2 GHz
4 × Kryo 260 Silver (A53) @ 1.84 GHz
2 × Kryo 360 Gold (A75) @ 2.2 GHz
6 × Kryo 360 Silver (A55) @ 1.7 GHz
Memory
2 × LPDDR4 @ 1866 MHz
2 × LPDDR4X @ 1866 MHz
GPU
Adreno 512
Adreno 616
DSP
Hexagon 680
Hexagon 685
ISP
2 × Spectra 160 (14-bit)
16 MP (Dual) / 24 MP (Single)
2 × Spectra 250 (14-bit)
20 MP (Dual) / 32 MP (Single)
Modem
Snapdragon X12
Category 13 (uplink) 150 Mbps
Category 12 (downlink) 600 Mbps
Snapdragon X15
Category 13 (uplink) 150 Mbps
Category 15 (downlink) 800 Mbps
The Snapdragon 710 is shipping today and is expected to show up in consumer devices in the second quarter of this year.
---
Derived WikiChip articles: Snapdragon 710.