Samsung Ramps 7nm, Preps 5nm, And Adds 6nm
Today Samsung is reporting a number of updates regarding their process technology roadmap.
Last year, the company's EUV-based 7-nanometer node entered risk production. Today, Samsung is reporting that 7-nanometer has entered mass production.
5 nm
Samsung is also announcing that its development of the 5-nanometer FinFET process technology is complete and is ready for customers' samples. The 5 nm node is said to provide up to 20% lower power at a constant performance or up to 10% higher performance at constant power compared to their 7 nm node.
Samsung 5-nanometer Perf Claims
14 nm vs 28 nm
10 nm vs 14 nm
7 nm vs 10 nm
5 nm vs 7nm
-60% Power or +40% Perf
-40% Power or +27% Perf
-35% Power or +20% Perf
-20% Power or +10% Perf
We believe Samsung's 5-nanometer node is the second-generation 7 nm process Samsung presented at last year's VLSI.
---
Related articles:
VLSI 2018: Samsung's 2nd Gen 7nm, EUV Goes HVM
VLSI 2018: Samsung's 11nm nodelet, 11LPP
VLSI 2018: Samsung's 8nm 8LPP, a 10nm extension

---
Their 5 nm node re-introduces single diffusion breaks (SDB) and possibly mixed diffusion break (MDB) which they now call Smart Diffusion Break (SDB). This node is largely design-rule compatible with their 7 nm design, putting most of the effort squarely on transistor recharacterization rather than redesign.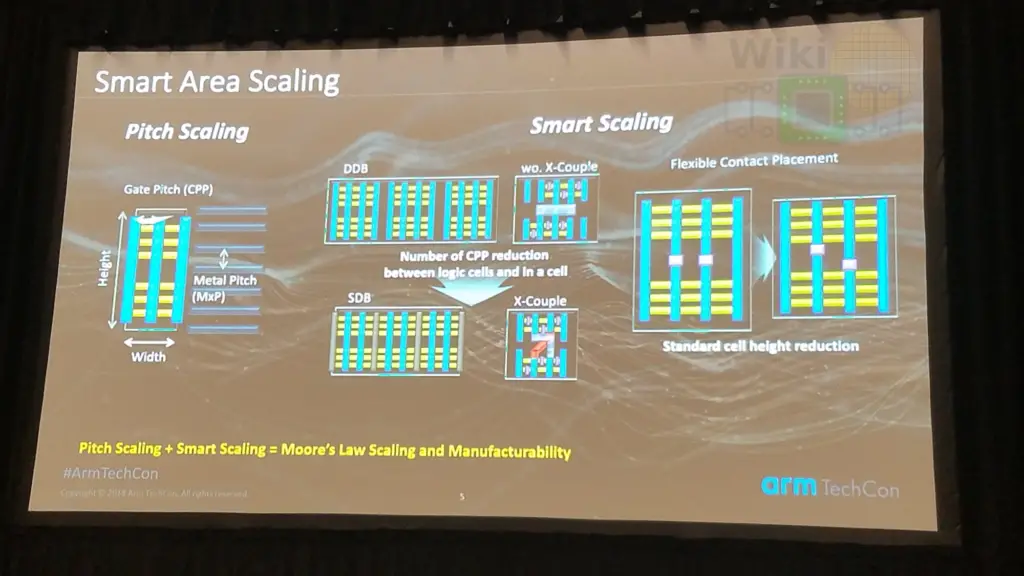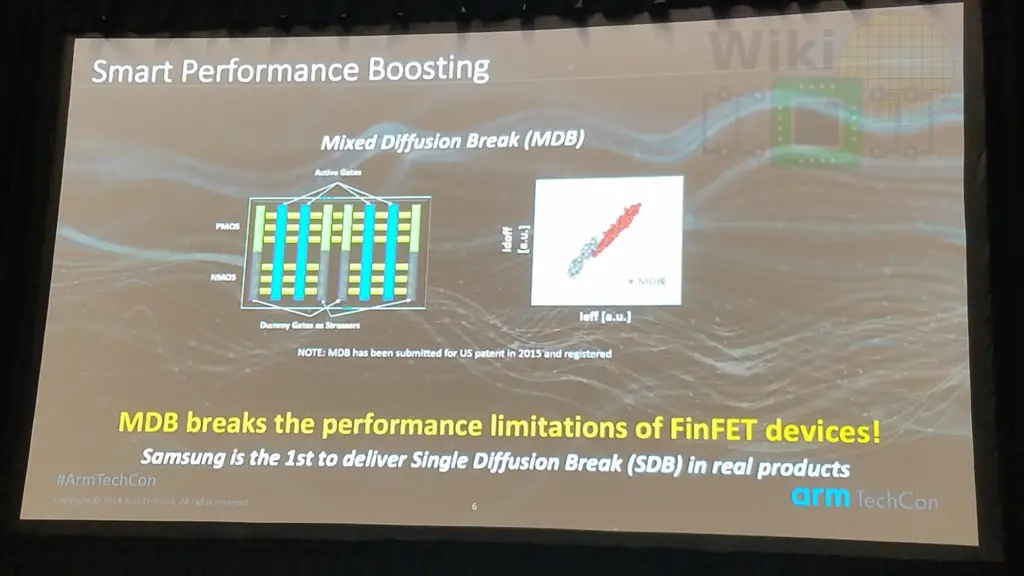 Samsung Technology Comparison
Technology
14nm
10nm
7nm
8nm
5nm
Fin
2nd Gen
3rd Gen
4th Gen
5th Gen
Gate
–
1st Gen
2nd Gen
3rd Gen
S/D Eng
2nd Gen
3rd Gen
4th Gen
5th Gen
SDB
1st Gen
2nd Gen
–
2nd Gen
3rd Gen
Gate Stack
–
1st Gen
2nd Gen
3rd Gen
In terms of density, Samsung is reporting up to 25% increase in logic area efficiency through standard cell architectural improvements. We estimate the density at around 112/106 MTr/mm² depending on whether they are using a 54 or 57 nanometers poly pitch (both numbers were thrown around).
6 nm
In addition to the 5-nanometer node, Samsung mentioned a new 6-nanometer node. At one time Samsung had a 6LPE on their roadmap but has long been removed. In fact, no 6 nm was mentioned at the Samsung Foundry Forums late last year either. Not much is known about this node other than they have had a custom tape-out on it. It's worth noting that TSMC has also announced a new 6-nanometer node today which offers an 18% logic density improvement over their 7 nm node.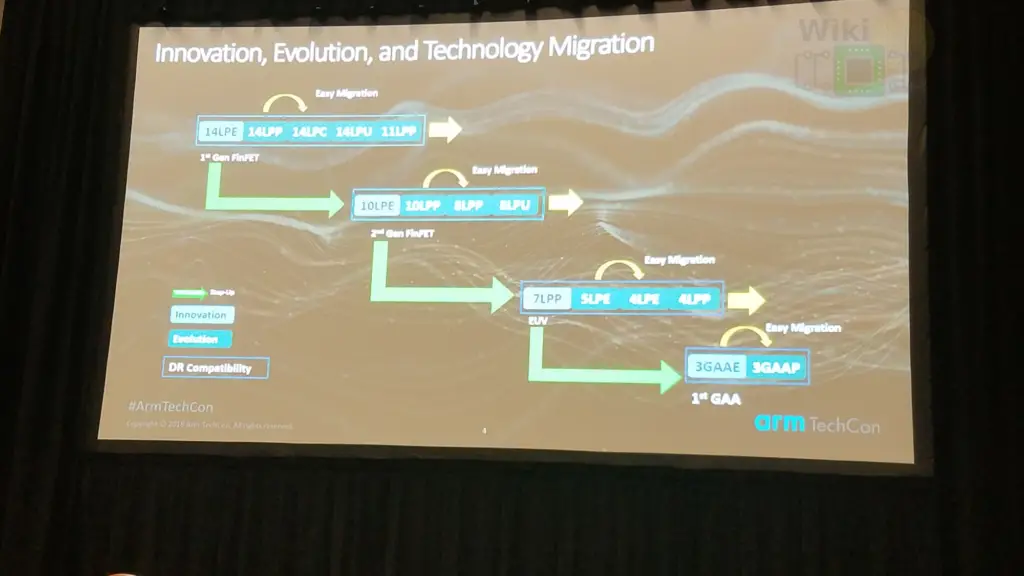 Samsung's current EUV-based process nodes are being manufactured at their S3 line in Hwaseong, Korea. The company plans on expanding its capacity to a new EUV line in Hwaseong. The construction project is expected to complete by the second half of the year with production ramping up for next year.