Intel, SiFive Demo High-Performance RISC-V Horse Creek Dev Platform On Intel 4 Process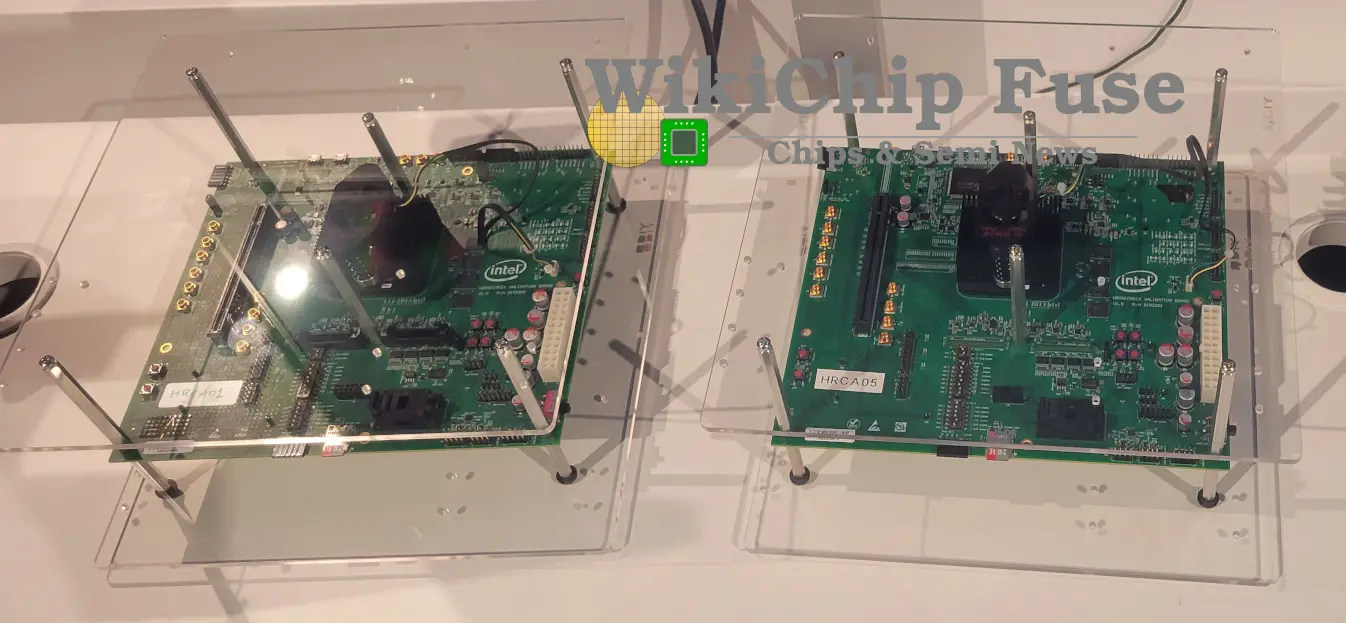 Last year Intel announced the development of the Horse Creek Platform, a partnership with SiFive for the development of a new high-performance RISC-V development system as part of both the company's Intel Foundry Services (IFS) and their effort to catalyze the adoption of RISC-V. The boards were said to be a continuation of SiFive's own HiFive development boards designed to grow the RISC-V ecosystem and accelerate prototyping.
Early this year Intel also announced the IFS Accelerator ecosystem alliance designed to help accelerate chip prototyping and tape-outs through deep collaboration with various semiconductor partners across EDA, IPs, and design services. IFS Accelerator is a comprehensive suite of tools comprising silicon-verified Intel-process-specific optimized IP portfolio (from std cell library, memory, GP I/O, analog, and I/F IPs). Strategically, A large and vibrant ecosystem will be incredibly important for the success of Intel's foundry strategy and IFS Accelerator is one of a piece of that. The company initially started Accelerator in September of 2021 to assist the automotive industry with transitioning to more advanced nodes, however, it has since broadened its effort into other segments.
It's worth noting that SiFive is a member of the IFS Accelerator, saying "SiFive will enable IFS customers to create computing platforms featuring RISC-V, optimized for their market applications. Intel's broad portfolio of IP compliments the SiFive portfolio of performance-driven processor IP such as the SiFive Intelligence and SiFive Performance families of processor IP."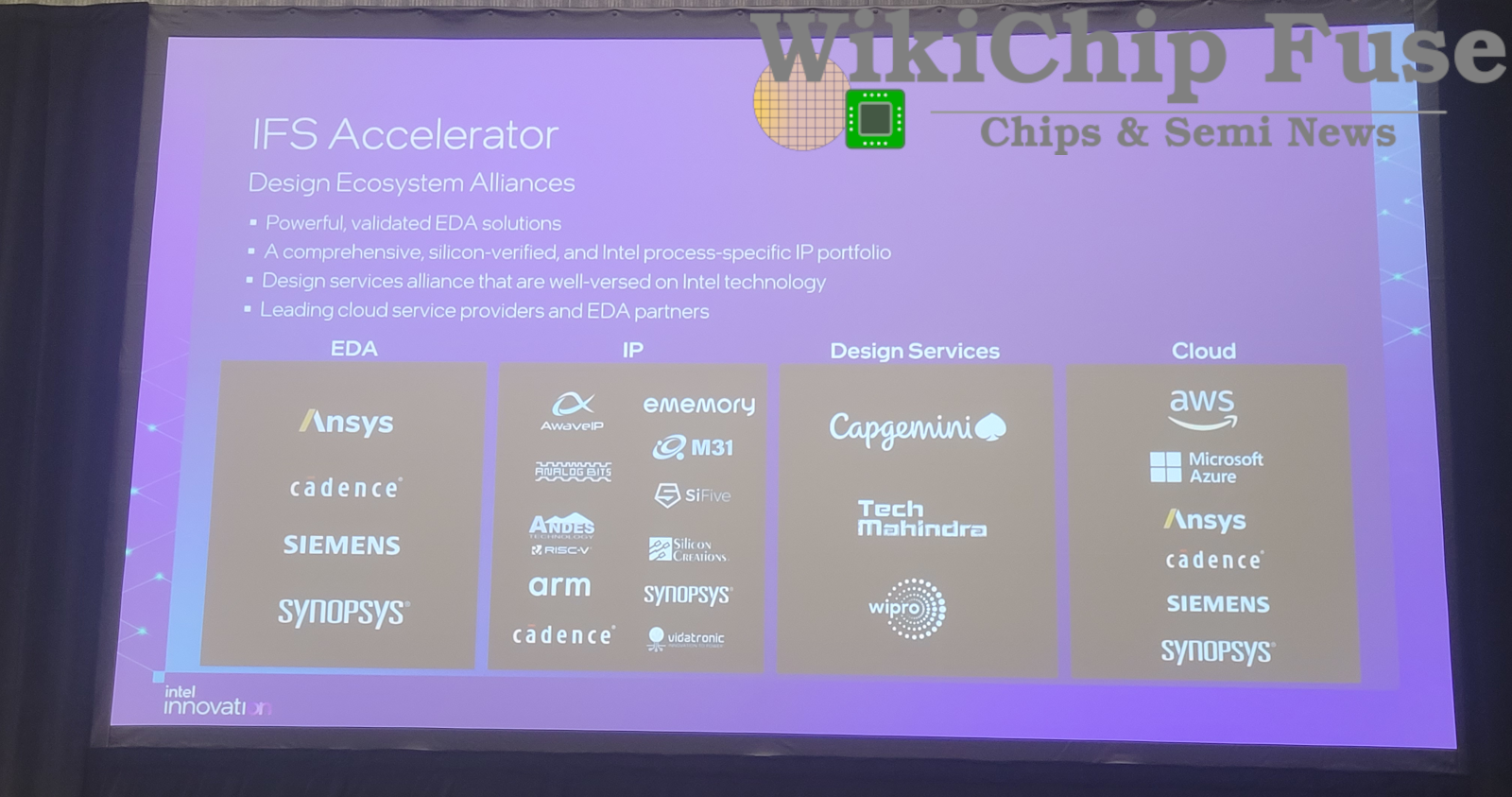 Horse Creek
At the recent Intel Innovation 2022 Developer Conference, the company demoed Horse Creek for the first time in public. Horse Creek is a Raspberry Pi-inspired RISC-V software development board. It's physically quite a bit larger due to a large number of integrated interfaces. For example, there's 8 GiB of DDR5. PCIe 5.0 slot. SPI Flash contains the U-Boot, and a myriad of other monitoring and debugging interfaces.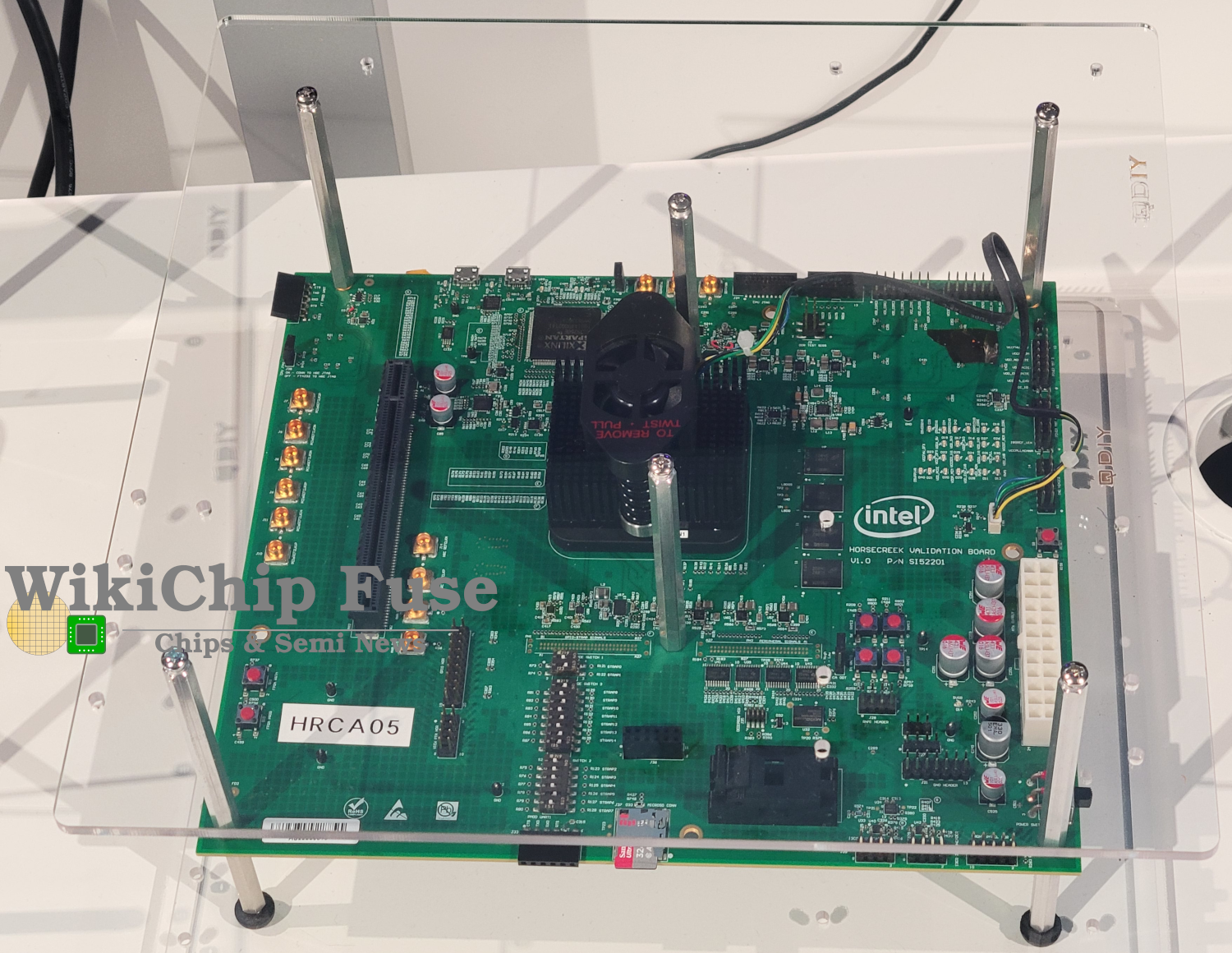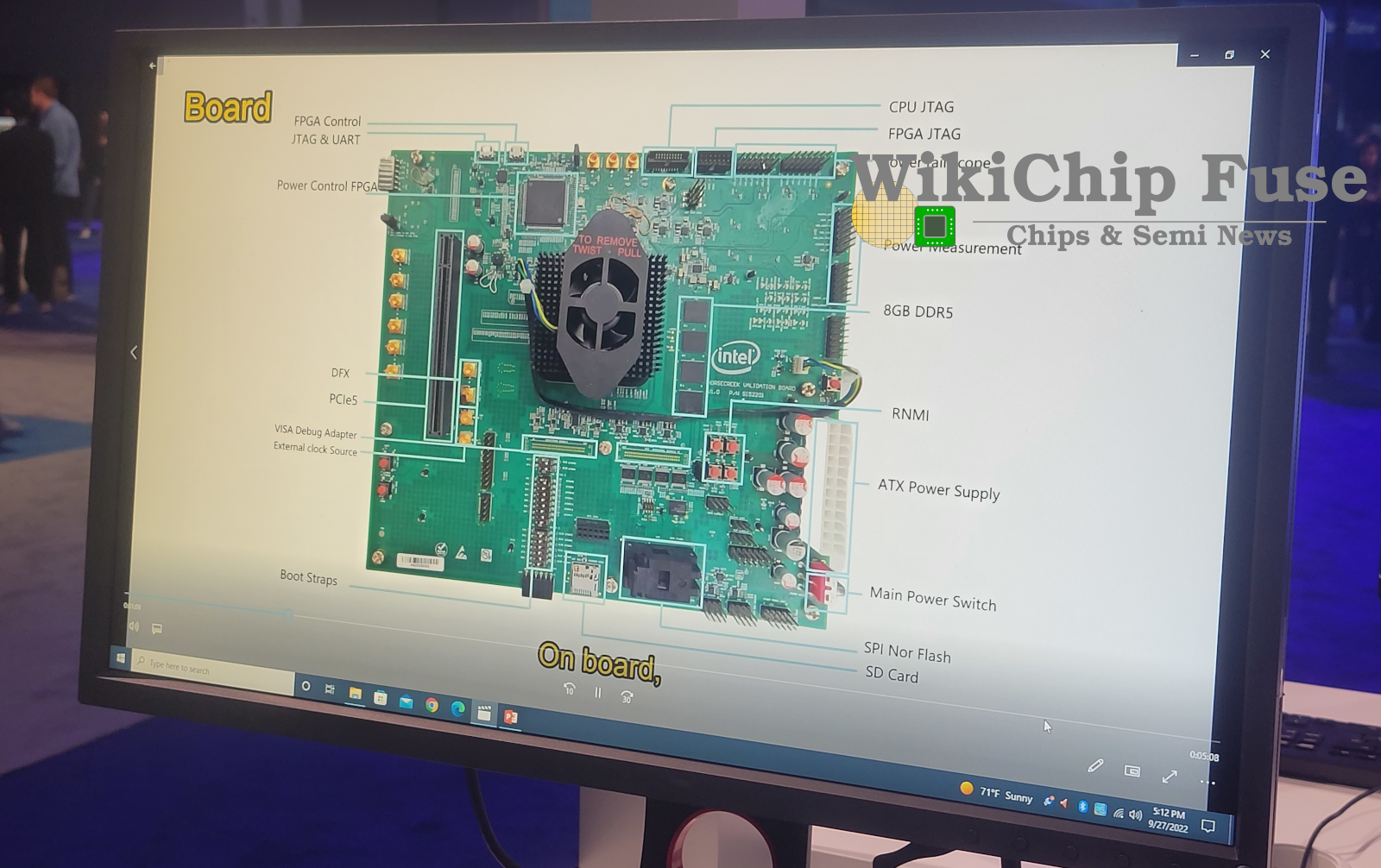 Within 18 months, Horse Creek went from an announcement to a fully working A0 stepping chip running Linux. Manufactured on the company's most advanced Intel 4 process, the die measures just 4 mm by 4 mm and is packaged in a 19 mm x 19 mm BGA package. The chip intends to also demonstrate the interoperability of 3rd-party controllers and IPs along with Intel's own hard IP PHYs. As such the SoC itself integrates a number of advanced interfaces.
The SoC itself integrates quad-core SiFive P550 RISC-V cores. Each core features private L1 and L2 caches with a shared last-level cache – all operating at 2.2 GHz. At the time of tape out those were the highest-performance RISC-V cores. Note that since SiFive actually announced next-generation P650 cores, surpassing them in performance. The SoC integrates Intel's own PCIe 5.0 PHY with x8 lanes along with Synopsys PCIe 5 Controller. It also integrates Intel's DDR5 PHYs supporting 5600 MT/s rates along with Cadence's memory controller. Other Intel's own Intel 4 IPs include 2 MiB of shared SRAM (part of their memory compiler), process monitor, caches, Power/Clock/PLLs, electronic fuses, JTAG, and various cell libraries.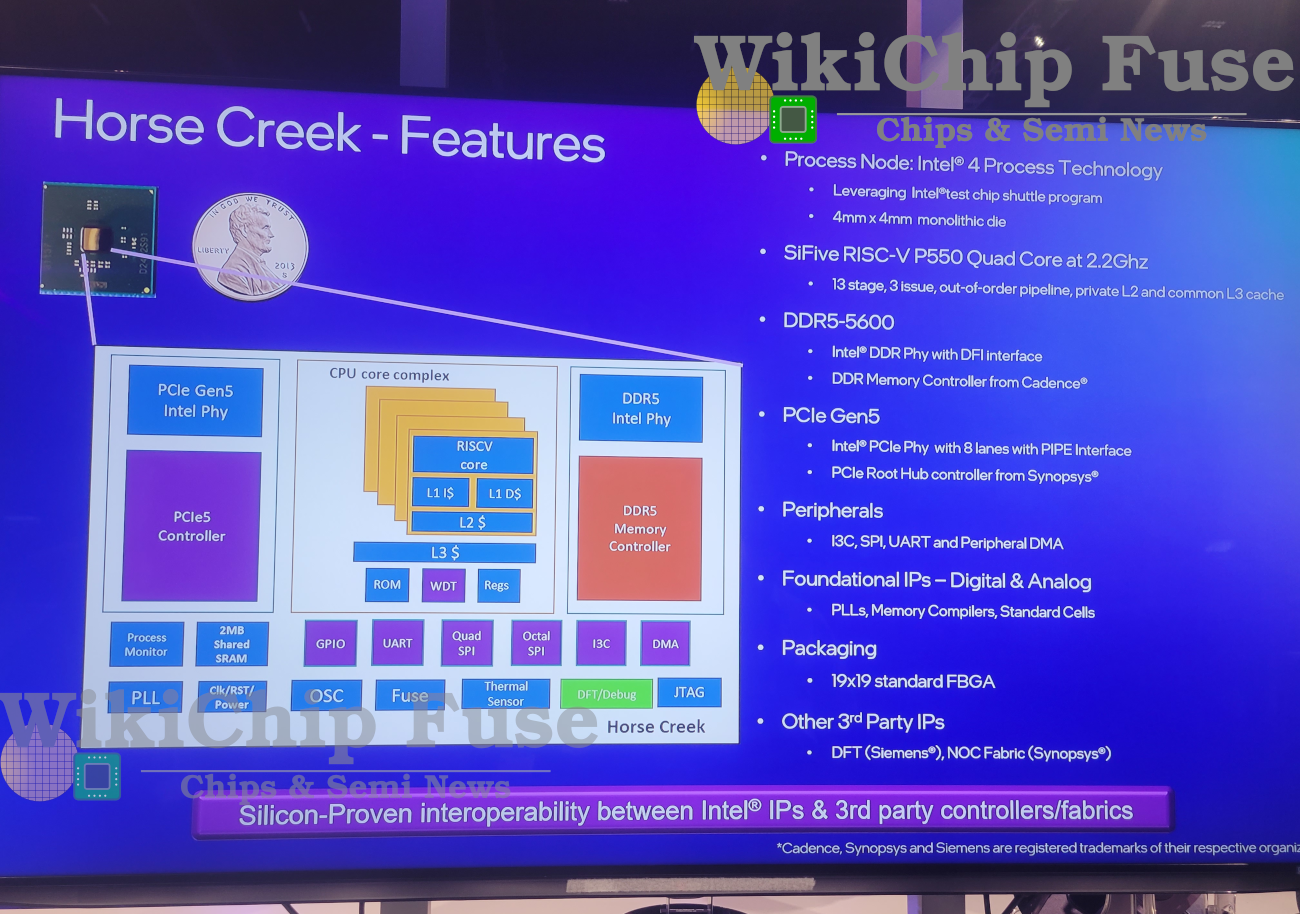 Horse Creek boots up Linux, and Intel demonstrated the chip executing a video game (running on the CPUs as there is no GPU) along with various other applications (media player, playback, browser, etc).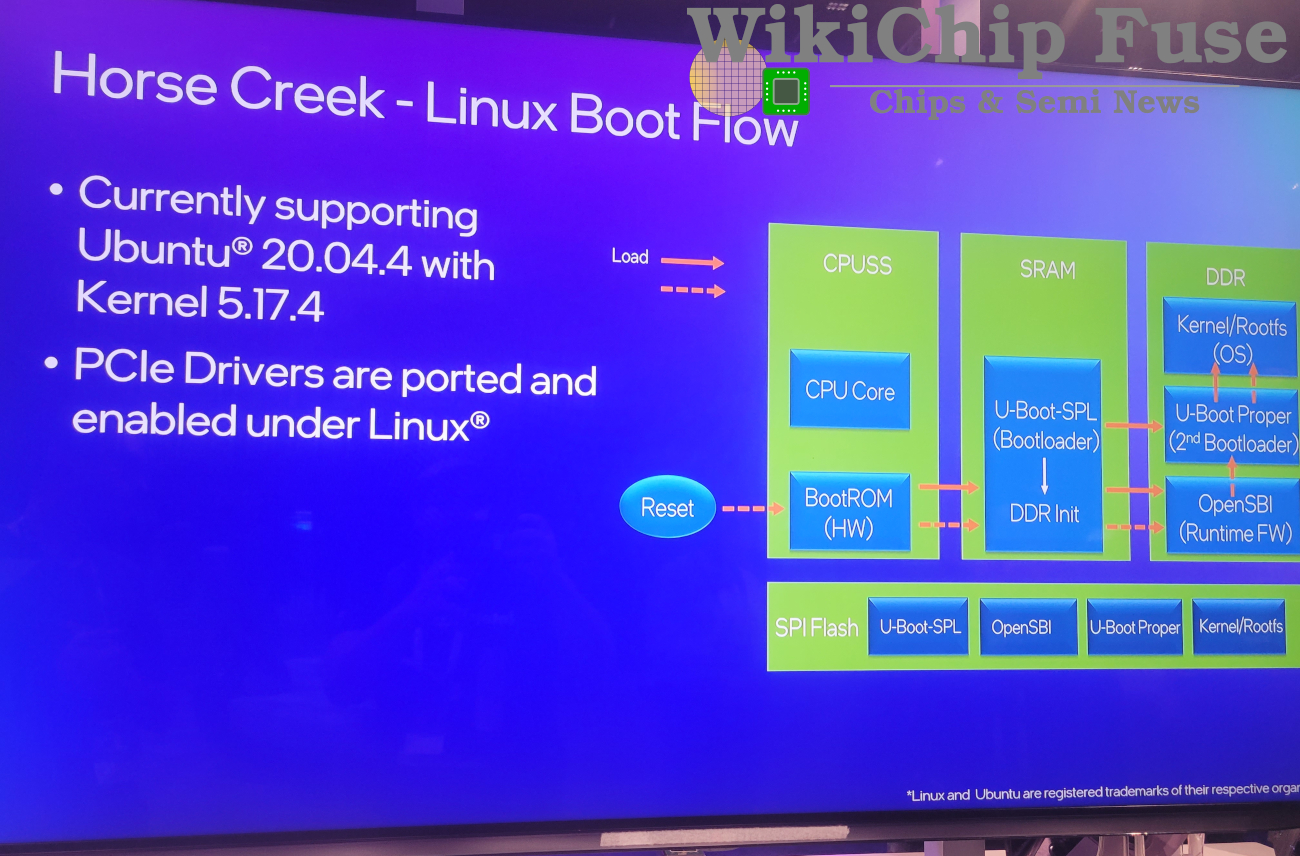 Pathfinder for RISC-V
About a month ago Intel also announced Intel Pathfinder for RISC-V, a rapid prototyping development environment for system integrators. Essentially, it's a suite of IPs, middleware, open-source, and 3rd party tools along with OS support designed to simplify the exploration of pre-silicon RISC-V-based designs. Intel said it is partnering with commercial and open-source RISC-V IP providers to enable a consistent environment for software development across different RISC-V-based processors. On the commercial side, RISC-V core IPs include those from Andes, Codasip, SiFive, MIPS, and others. Pathfinder includes a number of FPGA platforms for RISC-V chip emulations. The starter edition utilizes the Terasic Developer Kit for Intel Pathfinder while the commercial tools include boards based on the Stratix 10 GX for full chip emulation capabilities.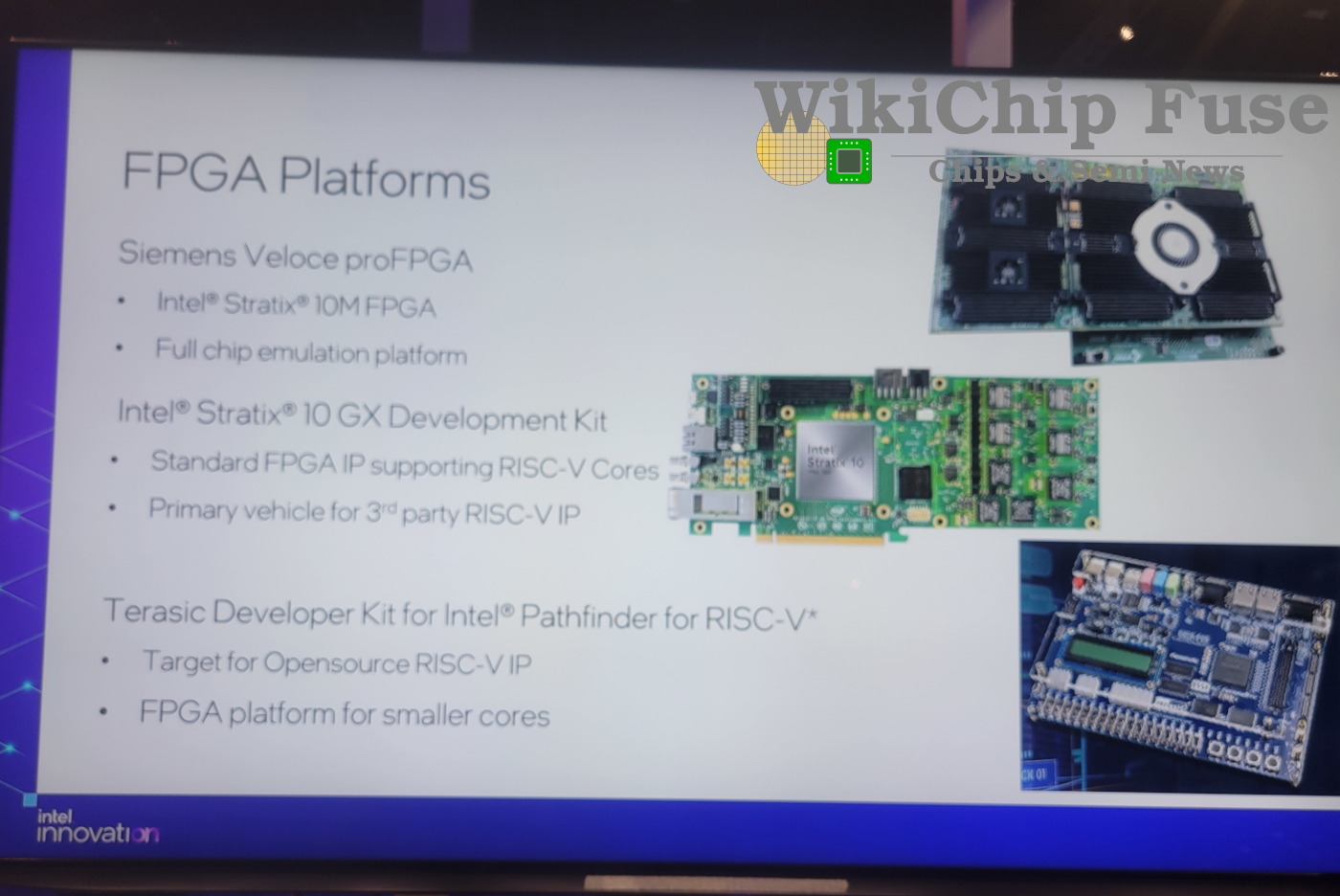 No availability date for the new Horse Creek Dev boards has been announced yet.