Intel Announces Keem Bay: 3rd Generation Movidius VPU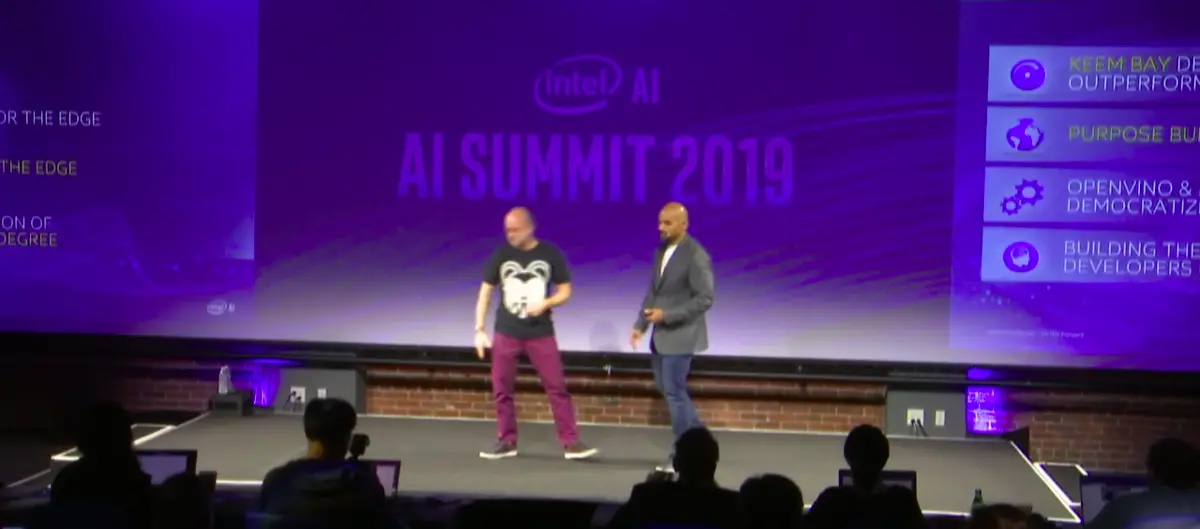 At its 2019 AI Summit, Intel unveiled its next-generation Movidius VPU, codename Keem Bay.
Intended to succeed Myriad X which was launched in August 2017, the new chip is said to be architected specifically for vision and media deep learning operations at the edge. Though the company did not go into too many details, it noted that the chip is equipped with a larger capacity of on-chip memory and a wider memory bus (64-bit) in order to maximize utilization and reduce data transfer. "When you combine this with other unique innovations that we have in the product, we are seeing raw throughput performance of 10x more than our last generation Myriad X," said Jonathan Ballon, VP of IoT Group at Intel.
Similar to the Myriad X, the new VPU targets a number of form factors including embedded applications (e.g. cameras) to M.2 card (similar to Spring Hill) and all the way up to PCIe cards. For the PCIe card, Intel says multiple VPUs may be used on a single board in order to scale the performance of edge acceleration. This is similar to the Myriad X which can also scale to up to eight VPUs.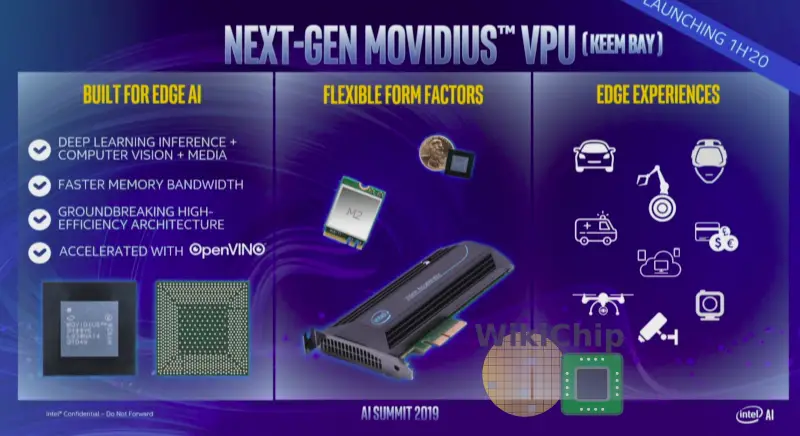 Performance
Intel is positioning the new Movidius VPU against similar edge chips such as the Nvidia Xavier SoC and the Jetson family of products. To that end, Intel is claiming to be 4x faster against the Jetson TX2 and 25% faster than the Huawei Hisilicon Ascend 310 chip. Compared to the Jetson Xavier, Intel is claiming to have a similar performance at 1/5th the power. Intel did not disclose the specific power range of the chip, but it's implied to be in the sub-1W to 5 W range. The performance numbers appear to be based on ResNet-50 benchmark, using Int8, with a batch size of 1, which, although promising, is not sufficient to make a proper comparison.
A slightly different comparison was made with regard to die size. Although no actual numbers were given, Intel says it has nearly 9x higher inference/mm².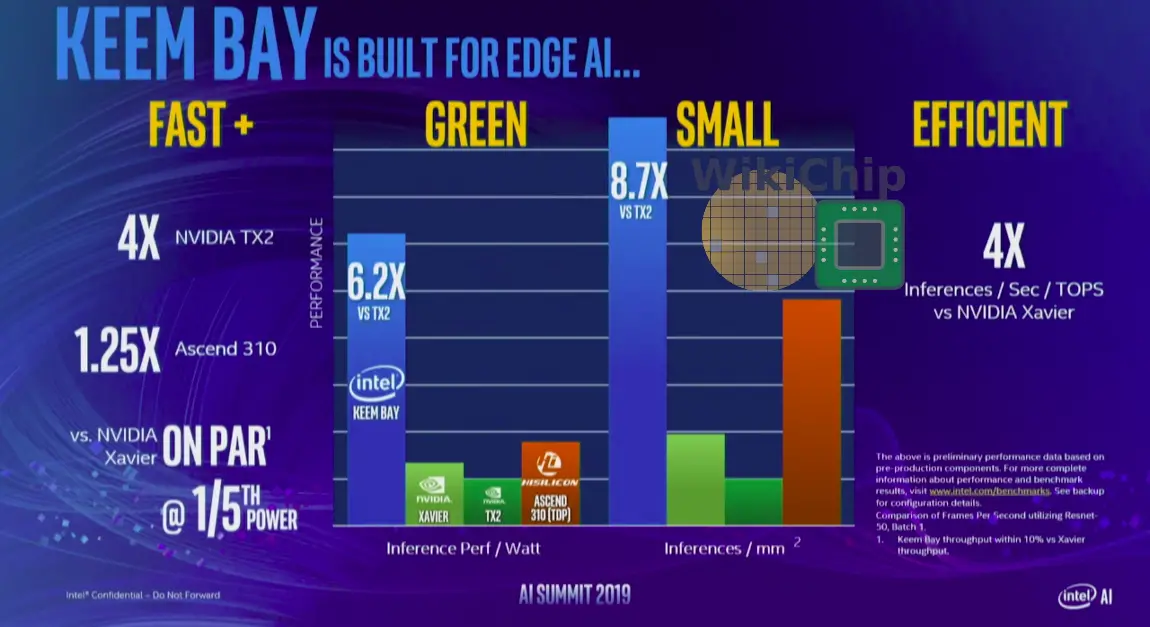 More details will be disclosed close to launch. Keem Bay is planned to launch in the first half of 2020.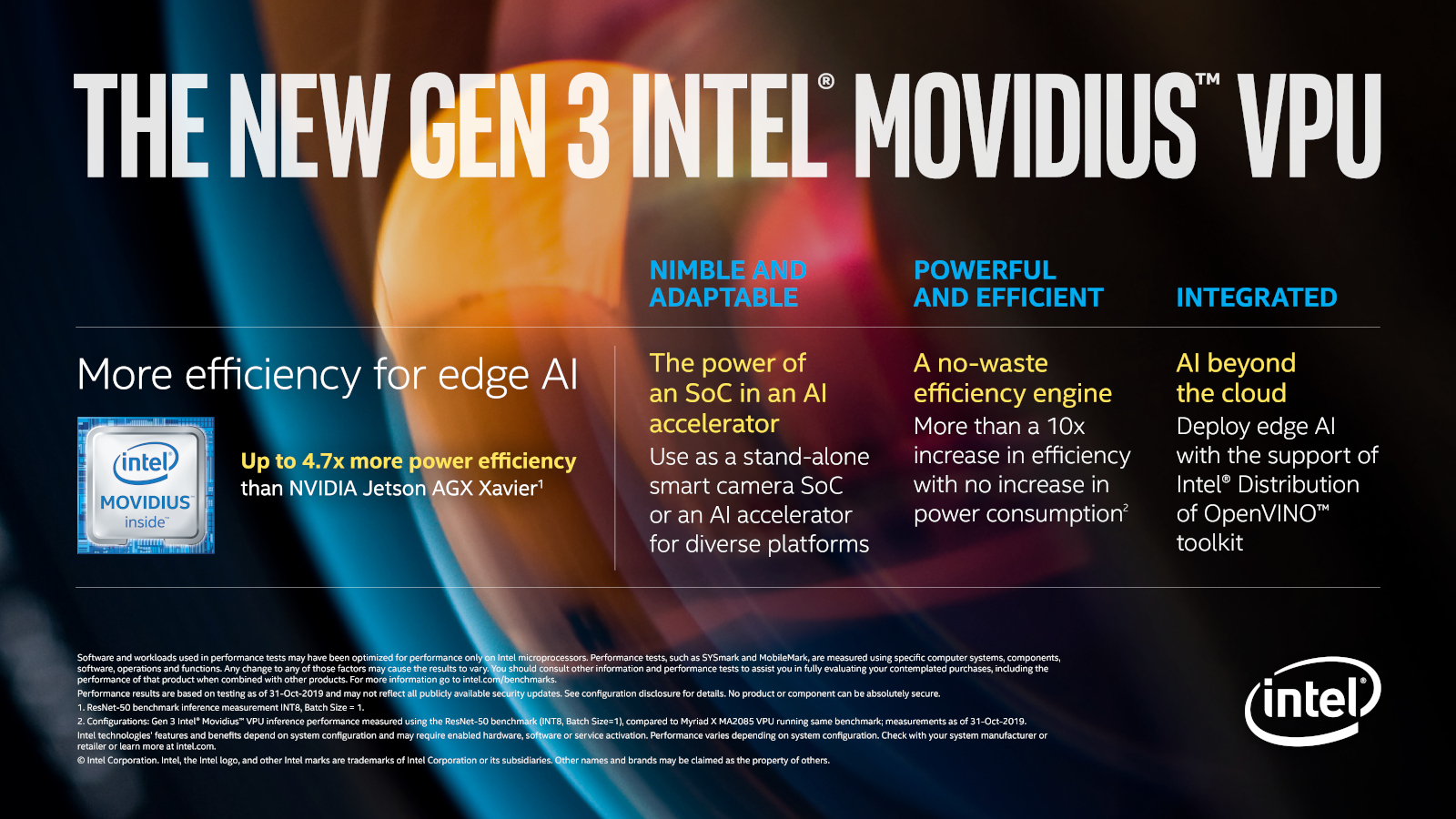 ---
---