At the 2017 IEDM Intel detailed their 22FFL process, a relaxed 14nm process for Intel's custom foundry customers. 22FFL was optimized for mobile, IoT,...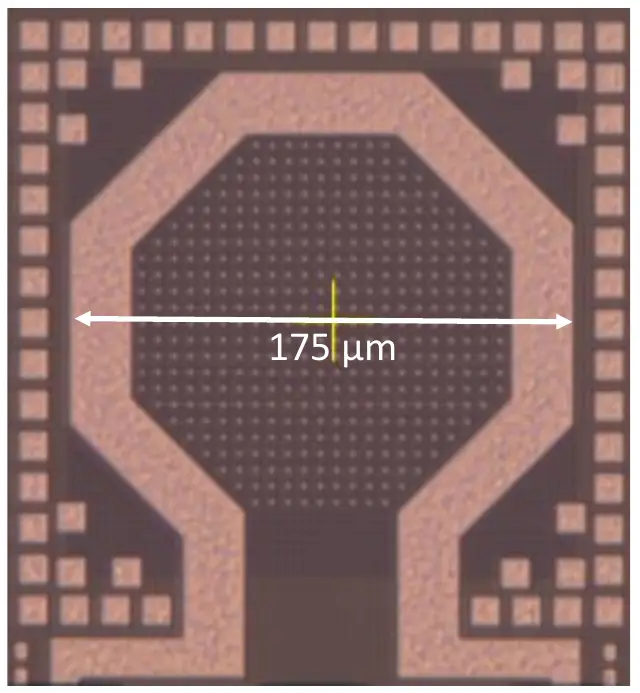 I/O Transistors
22FFL offers I/O transistors which operate at the higher voltage of 1.8 volts. Those transistors are very similar to the logic devices. They have a straight fin with an identical pitch of 45 nm consisting of a high-κ metal gate with strained channel process. Those devices use a gate length of 160nm. Below is the cross section of the fin shown in the left image and a cross section of the gate on the right.
Three thick gate devices were developed to support 1.8 V, 1.5 V, and 1.2 V operations. Those transistors have gate length of 90 nm, 120 nm, and 160 nm respectively (for comparison LL logic Lg = 74 nm). For those devices Intel reported very good drive currents which are considerably higher than what they had in their previous 22m technology. For nMOS they reported around 1.11 mA/um and for pMOS it's around 1.02 mA/um for the highest voltage cells.
Overall, drive current for 22FFL high voltage transistors are roughly 33% for nMOS and 35% for pMOS over their original 22nm process.
Device Summary (Analog and I/O)
We have summarized the six types of analog and high voltage devices offered by Intel's 22FFL.
22FFL Analog and I/O Devices
Analog Transistors
High Voltage Transistors
Device
AL
AL
AL
TGLV
TGMV
TGHV
Vdd
0.7 V
1.2
1.5
1.8
Gate Pitch
144 nm
216 nm
270 nm
216 nm
216 nm
270 nm
Fin Pitch
45 nm
Tox
Thin
Thick
Perf Unit
GM*Rout
IDSAT (NMOS/PMOS)
Performance
47
54
60
0.77/0.61 mA/μm
1.01/0.87 mA/μm
1.11/1.02 mA/μm